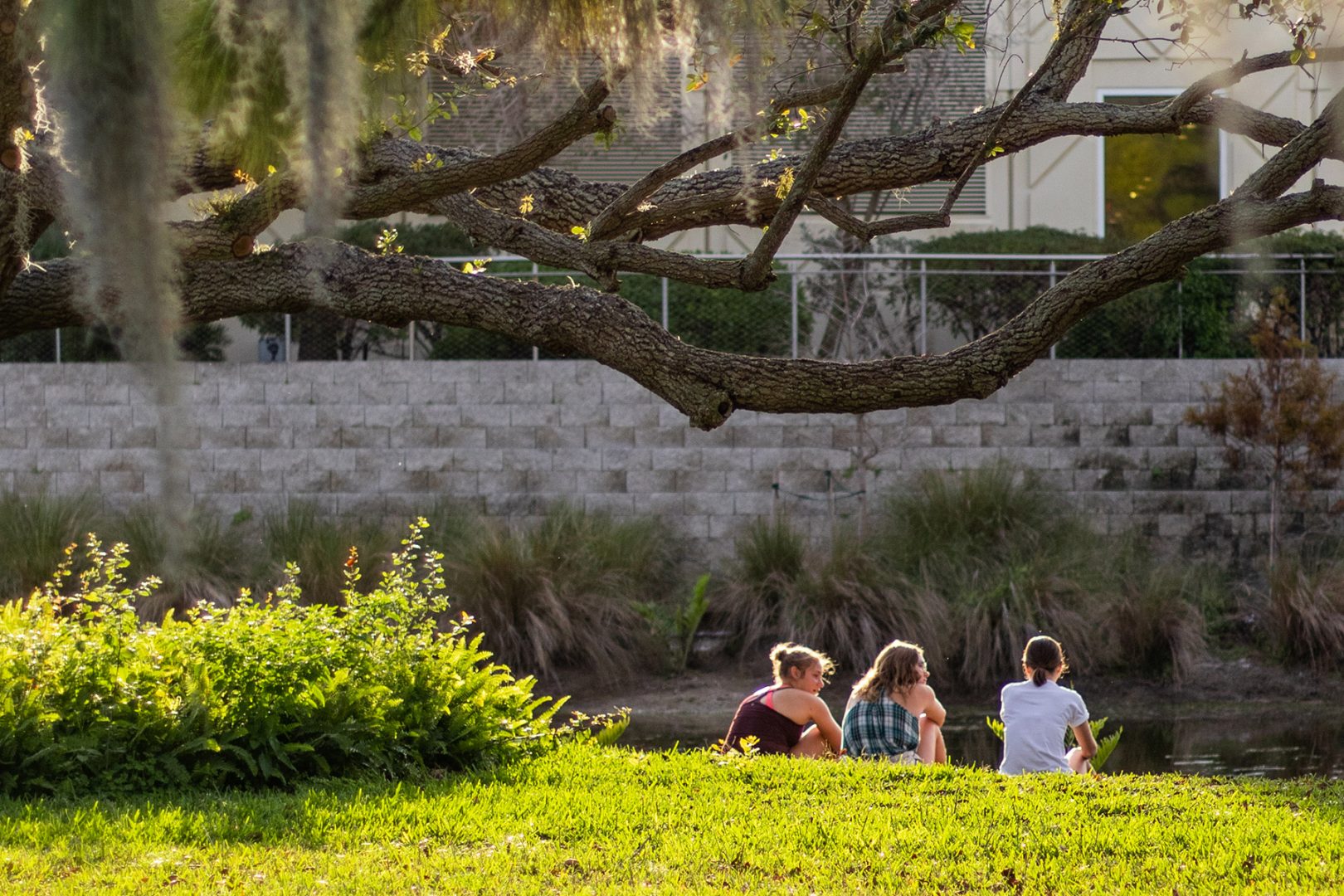 Eckerd College students sit around a pond near the James Center for Molecular and Life Sciences. Photo: Angelique Herring '19
There is more than one way to earn a bachelor's degree, and Eckerd College is partnering with fellow members of the Independent Colleges and Universities of Florida (ICUF) to make the liberal arts a viable option for community college transfers.
Eckerd College was awarded a $50,000 planning grant from The Arthur Vining Davis Foundations (AVDF) and The Teagle Foundation to lead a consortium of institutions in the effort to establish "Transfer Pathways to the Liberal Arts in Florida."
Currently, students of the 28 institutions in the Florida College System (FCS)—the state governing body of community colleges—have a clear articulation agreement with the state's 12 universities that allows for a smooth transition from earning an associate degree to enrolling in a bachelor's program. ICUF, the association of independent schools in Florida, has a similar agreement with the FCS; however, barriers to access still exist. Students aren't considering independent schools because of perceived cost, lack of a common course-numbering system and, in some cases, a lack of awareness of majors offered or time to degree completion when transferring.
"Talent is everywhere. We welcome the opportunity and embrace the possibility of being a place where students come to enhance their education in the liberal arts and sciences," says Damián J. Fernández, president of Eckerd College. "We want to find ways to remove more barriers to access for students at community colleges who seek the high-impact education and mentoring programs that liberal arts institutions provide."
The planning grant will help Eckerd College, Barry University, Edward Waters University, Florida Memorial University, Lynn University, Palm Beach Atlantic University, Rollins College and the University of Miami examine ways to raise the profile of Florida's independent colleges amongst community college transfer students and populate their robust liberal arts programs with more first-generation students, low-income students and students of color from across the state.
According to AVDF, liberal arts education promotes intergenerational mobility. "Outcomes data show clearly that students whose parents are at the bottom 40% of the income distribution and who experience a liberal arts education have a higher likelihood than those who do not of moving to the top 40% of the income distribution by their early 30s."
Planning-grant member institutions are meeting monthly to devise a strategy to boost transfers—including enhancing incentives, working through barriers, creating statewide degree pathways for degrees in high demand, enhancing the information on online portals, and undertaking a coordinated marketing and communications effort.
The end game is to help realize the dreams of the 67% of community college students who plan to earn a bachelor's degree but fail to do so within six years.
"This is an exciting initiative where institutions across the state are coming together to address their students' needs and challenges in transfer, and how to best develop and communicate pathways to degree and future aspirations," says Amy Apicerno, Ed.D., assistant vice president for administration at Eckerd.
The Teagle Foundation and AVDF approved seven new grants in May totaling $700,000 to create transfer pathways for community college students to independent colleges. These grants are part of a multimillion-dollar, five-year initiative to create statewide transfer pathways in 20 states that allow students at two-year institutions to complete degrees at institutions that emphasize the liberal arts.