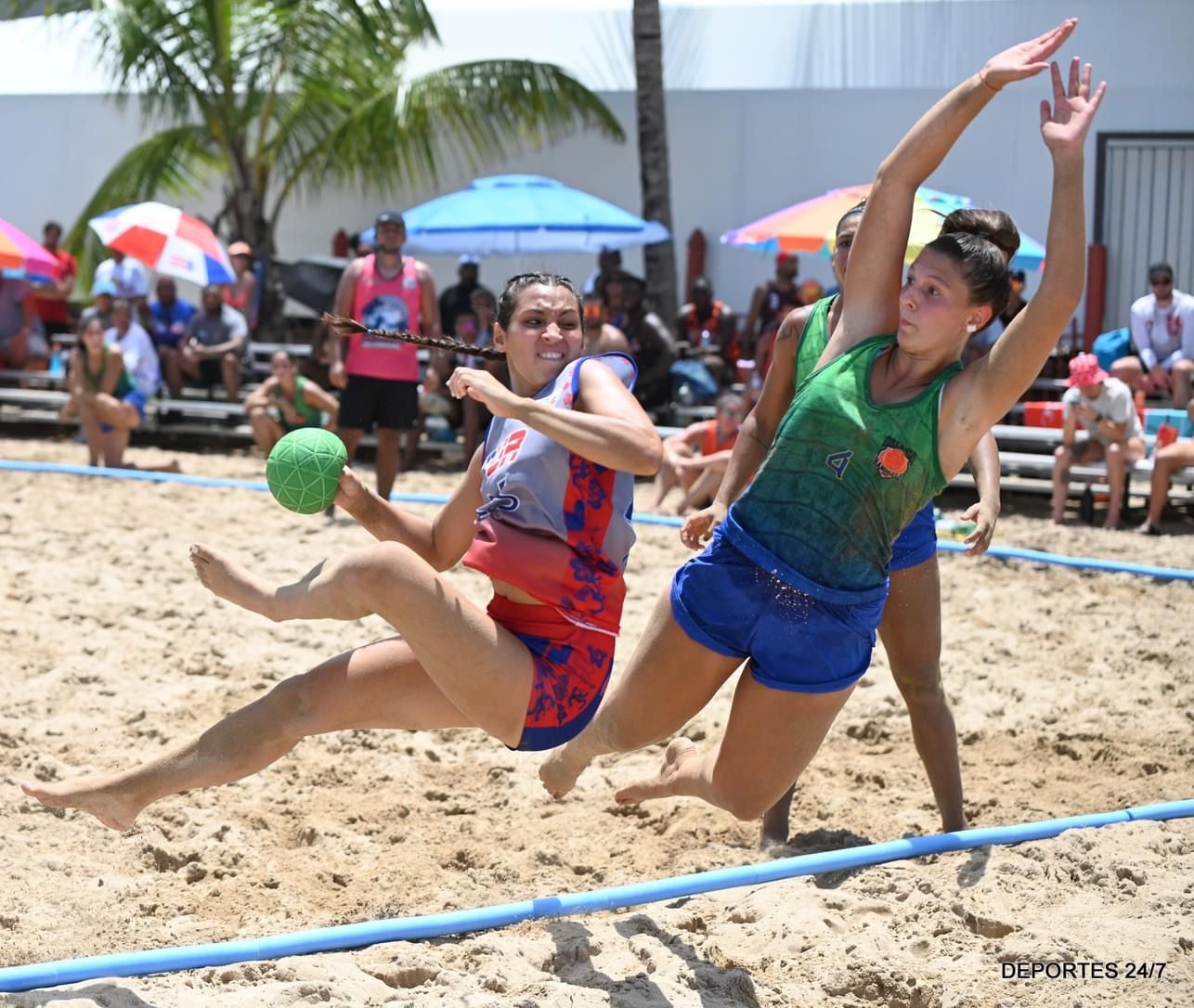 Carolinne Portugal '26 (right) defends the Brazilian National Women's Beach Handball team's goal. Photo courtesy DEPORTES 24
The 2023 fall semester at Eckerd College was just four days old when sophomore Carolinne Portugal had to take off for the beach. A marine science student from Orlando, she is a member of the Brazilian National Women's Beach Handball team that was playing in a three-day tournament—the DRD Internacional Balonmano de Playa—against Canada, the United States, Mexico and the host country, Puerto Rico.
"I had to miss a week of class for the tournament because we also wanted to practice all together before the competition," explains Carolinne, who was born in Sao Paulo, the largest city in Brazil. To emphasize how important she is to the team, all of Carolinne's teammates are older; some in their 40s. Carolinne is 19.
"The first two games I didn't do too well," she says, "but all the other ones after that I did really well. I played mainly on defense, so I blocked many balls. I also played offense in some games and scored goals."
The end result? Carolinne and her Brazilian teammates beat Puerto Rico to win the tournament.
Most Americans may be more familiar with the other handball, a game between two to four players where a small rubber ball is struck with either hand against a wall, and alternating players or pairs are required to make contact with the ball prior to a second bounce.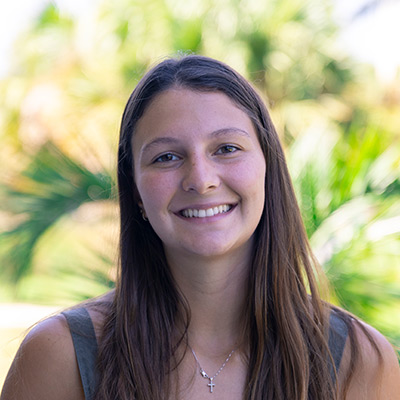 Sophomore Carolinne Portugal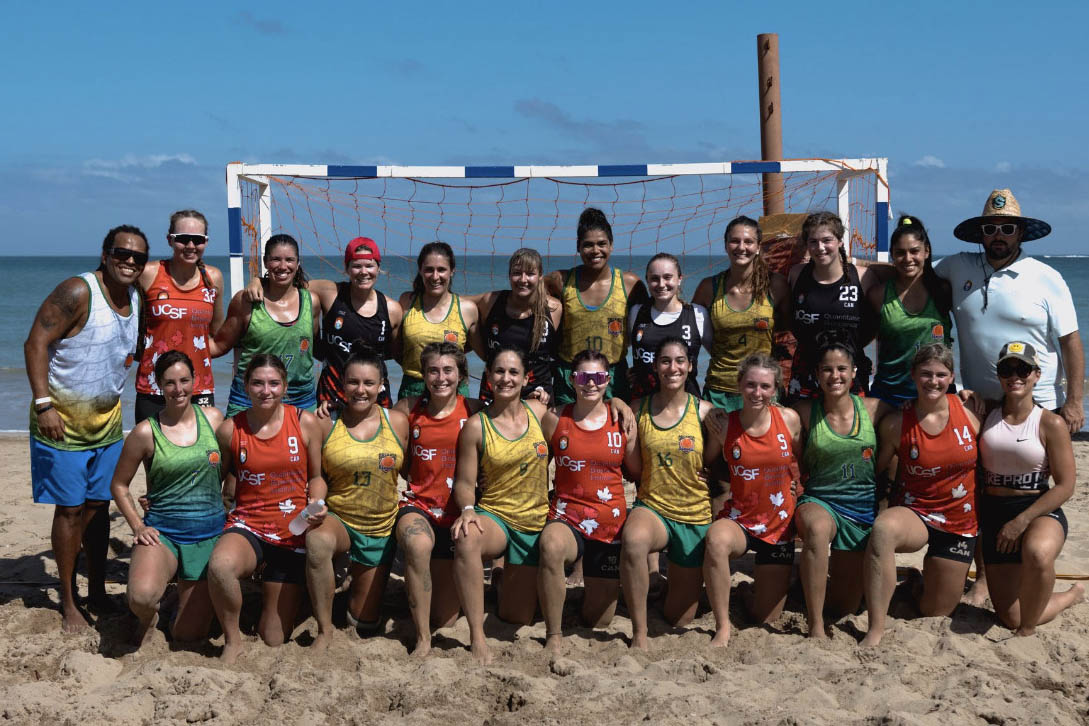 The Brazilian National Women's Beach Handball team
This handball is a team sport in which two teams of seven players each (six outcourt players and a goalkeeper) pass a ball using their hands with the aim of throwing it into the goal of the opposing team. The beach version is four against four. A standard match consists of two periods of 30 minutes, and the team that scores the most goals wins.
The sport was developed at the end of the 19th century in Scandinavia and Germany, and made its first appearance in the Olympics in 1936. It's fast-paced, high-scoring and, while body contact is allowed for defenders, players are not required to wear protective gear.
"It's like water polo out of the water," Carolinne adds.
And it's immensely popular in Europe and South America. Carolinne was about 10 years old when one of her friends at school in Sao Paulo got her interested in the sport. Soon, she was practicing with her school team and her city team. Later on, her high school team won the state of Sao Paulo championship three times and finished second in the country twice.
"One of the parts I like the most about handball," she says, "is making friends and bonding with other people."
Carolinne, who moved to Orlando from Sao Paulo three years ago, says she came to Eckerd College for its Marine Science Program. She is a resident advisor and an Italian tutor who also speaks Spanish and Portuguese. And sometimes, she says, when she's practicing handball on campus, "people see me doing it and ask, 'What is that?'"
She also practices with club teams from St. Petersburg and Orlando and is looking toward the 2024 Summer Olympics in Paris. "I want to see if I can represent the United States," she says. In the meantime, she wants to let people know about the other handball.
"I think it might take some time, but for sure handball and beach handball could become a major sport here in the U.S.," she says. "It definitely has to be advertised more, and it'll probably start growing little by little.
"In Brazil a couple of years ago," she adds, "no one really knew what handball was either. But now it's one of the most practiced sports in schools. So, hopefully, something similar happens here."