More employers than ever came to Eckerd College on April 13 to seek out the best and brightest for jobs, internships other opportunities in fields from the sciences to professional sports.
The Eckerd College 2016 Career and Internship Fair connected students and alumni to 61 employers to network, learn about job and internship possibilities, and gain exposure to opportunities for career growth. The fair began at 11 a.m. and wound down at 2 p.m., with nearly 200 students having stopped by.
It was the culmination of an entire week dedicated to promoting the professional development of Eckerd College students. The week included a panel of alumni and mentors encouraging students to "think outside" what they can do with their major, a discussion about coming out in the workplace and graduate school, and a "munch and meet" with professionals on careers in aging.
"I'm incredibly proud of our students. They showed up with resumes in hand, ready to network and meet with employers," said the Grant Bailey, Director of Career Services. "I feel like our students have never been so prepared for Career Fair, and employers told as much." Grant believes that this will only help to grow and provide career opportunities for Eckerd students.
"I have been fortunate enough to attend every year out of my four years here and have had an amazing experience each time," said senior Psychology major, Hunter Leggett. "Freshman year I walked away with an animal handler internship offer from the South Florida Museum working with Snooty the manatee, and that remains to be one of the coolest things I've ever done!"
Employers new to the fair included TradeWinds Island Resorts, FreightCenter, and PhysAssist Scribes, Inc.
Returning employers expressed gratitude for the opportunity to engage with so many enthusiastic students. "This is a great opportunity for our organization," said Jonathan Bonner, a 2010 alum and Program Manager at Academy Prep, "the majority of our volunteers for the next season come from this fair."
Gina Santoianni, Student Engagement Coordinator for Mote Marine Laboratory, has attended this particular fair for the last two years. She says they have quite a few Eckerd students come through Mote's internship program. "We appreciate being able to come out here and tell [students] more about the opportunities we have for them."
"These employers made it clear that they wanted Eckerd students precisely because they have the analytical reasoning and interdisciplinary skills needed to meet the diverse demands of the 21st century workplace," said Andrew Black, Executive Director of the Center for Career Planning & Applied Learning (CPAL), "…they were looking for collaborative leaders who were innovative and critical thinkers, exhibited strong research and communication skills and were dedicated to bettering the world."
CPAL will host its next fair, the annual Service-Learning and Internship Fair, on September 8, 2016.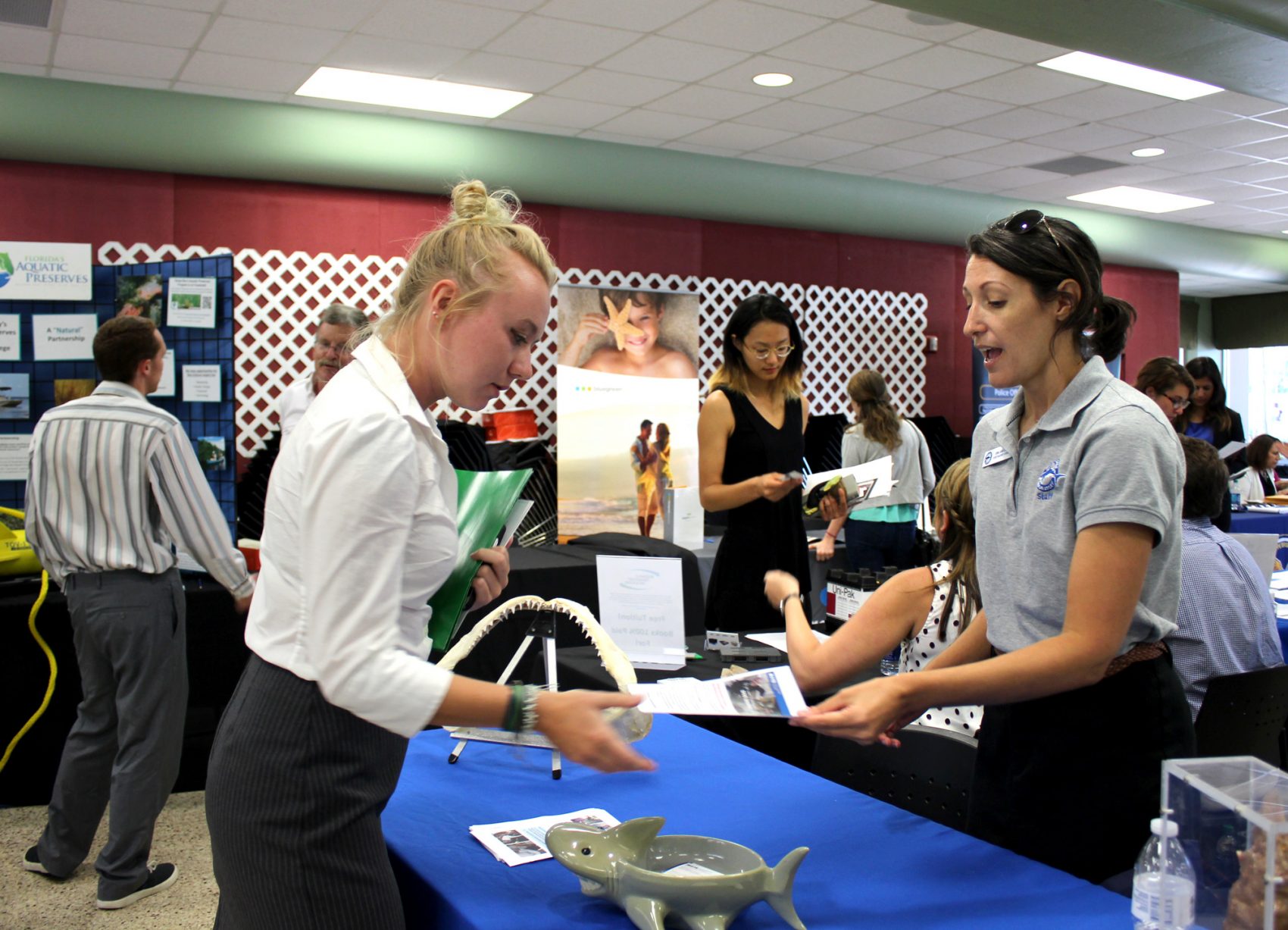 "Gina Santoianni (right), student engagement coordinator for Mote Marine Laboratory talks with a student at the 2016 Career and Internship Fair on April 13."