Rain dripped from the edges of the GO Pavilion on the evening of Monday, Sept. 13, but the crowd of students gathered under the white tensile structure hardly noticed.
Lulu Miller, author of the Eckerd College summer reading selection, Why Fish Don't Exist, joined by composer and cellist Wes Swing, mesmerized senior students and faculty who were studying the book in the capstone course, Imagining Justice. Like the book that weaves together memoir, history and science, Miller's words and Swing's music were choreographed to create a powerful and magical presentation.
"Why Fish Don't Exist is much more than a scientific thriller," said President Damián J. Fernández in his introduction. "It is a personal and existential journey that takes the author and the reader from the stars to the depths of the ocean, from Hawaii to Lynchburg, Virginia, with multiple memorable stops along the way in search of meaning—if there's any."
In her presentation, Miller shared some of the ways that nature doesn't work like we thought, and how being drawn to nature may be an expression of human hope in a world full of conflict.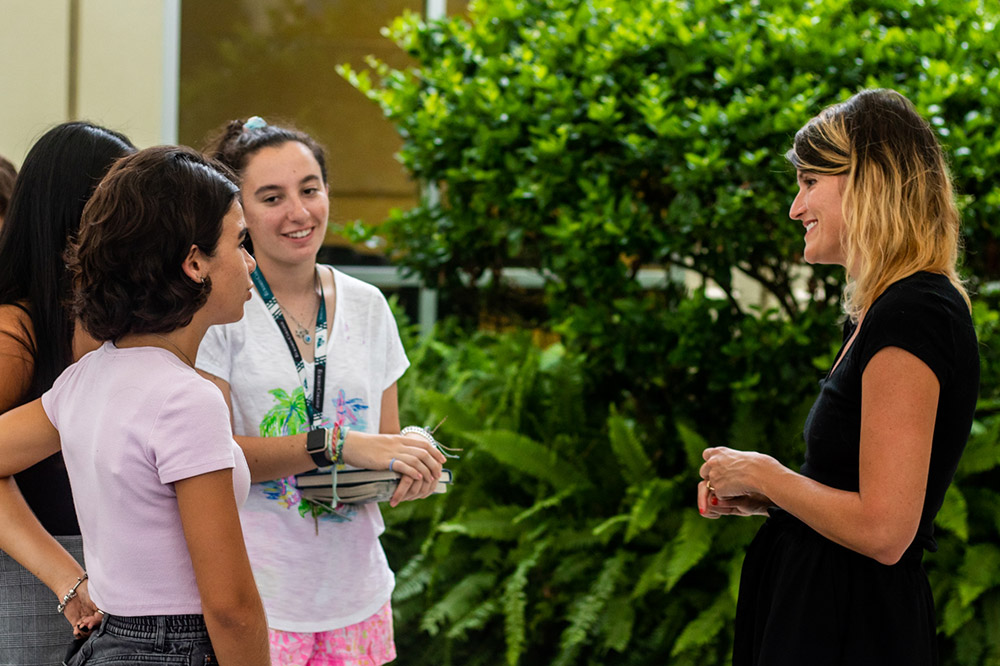 Students get a chance to speak directly with Lulu Miller.
"Why, when there are so many human messes that need our urgent attention … why turn to the trees? …" she said. "[But] maybe in part we go to nature to get a hit of that terror that we barely know how things work, that our minds are limited and small, because in the context of just how much we have messed up our world, it is oddly hopeful that there are so many things out there we don't understand."
Earlier the same day, Miller gave a presentation to first-year Human Experience students and faculty and met with Honors and Ford Scholar students and faculty, thanks to the Class of 1968, whose classmates established an endowment to support the annual summer reading speaking event.