At an early age, Ryan Lambe, Ph.D., had a good idea of what he wanted to do when he grew up. "When I was in the choir in high school, I watched the choir director and said to myself, 'That's what I want to do …' That ability to elicit sounds from us. It was so magical.
"I saw a violinist and got violin lessons, and that helped me get into other music," he adds with a chuckle. "But when you're spending most of the time during the lesson asking about music history and culture … they steered me into musicology."
His passion for music eventually led him to Eckerd College, where he began teaching this week as an assistant professor of music. Among his courses are World Music, American Musical Landscape, and Choral Literature/Ensemble.
Lambe earned his Bachelor of Music Education degree at Idaho State University before teaching general and vocal music to underserved public school students in his native New Jersey. "I loved it so much," he says, "but dealing with the administration got more and more frustrating. When they pulled me out of a music class and had me do cafeteria duty, I knew I needed to look somewhere else."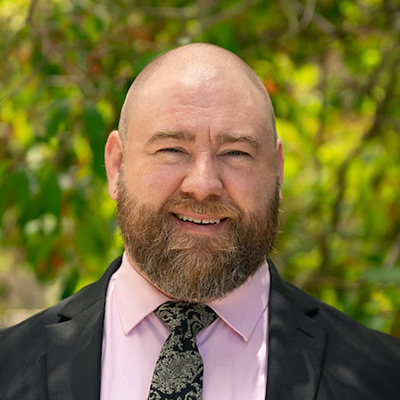 He gazed west. He earned his master's and doctorate degrees from the University of California, Santa Cruz. His master's thesis examined queer musical hermeneutics—the study of the methodological principles of interpretation—in American pop and art music, and his dissertation is an ethnographic study of performance and emotion in U.S. queer open mics examined through queer and critical race lenses.
Eckerd College, he says, had been on his radar awhile. "A couple of years ago I saw a call for the job that Leslie La Barre, DMA, assistant professor of music, has now. I learned more about Eckerd, and it just seemed like the ideal job for me."
Lambe explains that students can expect two essential elements to his teaching—lecture classes and performances. "On the lecture side, I want students to believe they're part of the knowledge-making process, that they can produce knowledge."
To that end, his American Musical Landscape course will include field trips to record the sounds at various locations in St. Petersburg and then make a sound map of where those sounds were recorded.
"The goal," he explains, "is to understand how sound [contributes] to how we understand what place is."
On the performance side, he wants his students to learn that "however they express themselves is valid and valuable. So much of music in the past was about training musicians to be experts. I want to meet students where they are and help take them where they want to go. Wherever that is.
"They're navigating who they are and their place in the world. Musical expression is an ideal way to figure that out."