To understand where part of Charles McCrary's interests lie, it might help to go to the book. McCrary, who recently joined the Eckerd College faculty as an assistant professor of religious studies, is the author of Sincerely Held: American Secularism and Its Believers (University of Chicago Press, 2022).
In its preview of the book, the University of Chicago Press writes that McCrary "provides an original account of how sincerely held religious belief became the primary standard for determining what legally counts as authentic religion.
"McCrary skillfully traces the interlocking histories of American sincerity, religion and secularism starting in the mid-19th century. He analyzes a diverse archive—including Herman Melville's novel The Confidence-Man, vice-suppressing police, spiritualist women accused of being fortunetellers, eclectic conscientious objectors, secularization theorists, Black revolutionaries, and anti-LGBTQ litigants.
"Across this history, McCrary reveals how sincerity and sincerely held religious belief developed as technologies of secular governance, determining what does and doesn't entitle a person to receive protections from the state."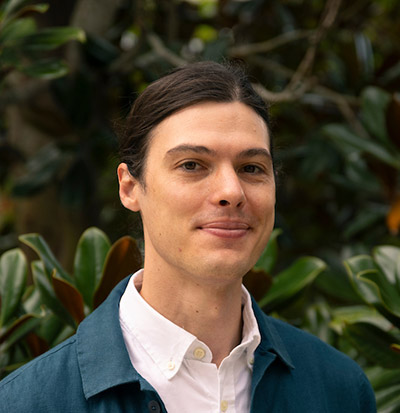 Adds McCrary, "The book asks two central questions that I was interested in. Why is it that the courts talk about sincerely held religious beliefs so much, and why is sincerity the standard? And second, how does that actually work? How do these court cases get decided?"
A scholar of American religion who focuses on secularism, religious freedom, race and science, McCrary has a Fall 2023 course list that includes American Religious Diversity, Exploring Religion: Tolerance, and Religion and the U.S. Supreme Court.
Raised in the small town of Blair, Nebraska, McCrary earned a Bachelor of Arts degree in religion from the University of North Dakota and master's and doctorate degrees in religion from Florida State University. He has served as a postdoctoral research scholar at the Center for the Study of Religion and Conflict at Arizona State University, and as a postdoctoral research associate at the John C. Danforth Center on Religion and Politics at Washington University in St. Louis.
His work has been published in academic journals including the Journal of the American Academy of Religion, Religion & American Culture, and Religion. He also has written for popular outlets such as Religion & Politics, The Revealer and The New Republic; and he is the book review editor for the journal American Religion.
One of the themes that runs throughout his work involves asking complex, sometimes difficult questions. "I think some of the reports of the decline of religion are probably a little overblown," he says. "I do think church attendance is down, but why is that? Membership in clubs is also down. Increasingly, Americans are open to mixing and matching and getting into different types of spirituality.
"I'm interested in what happens when people imagine some realm of life to be called religion. What are the consequences of that? For example, we have religious freedom, but who gets to be called religious? Who doesn't? And what are the limits of religious freedom?"