It took a mere four hours for Jessica Miller and Kathryn Malatino to fill up two sign-up sheets with names of volunteers.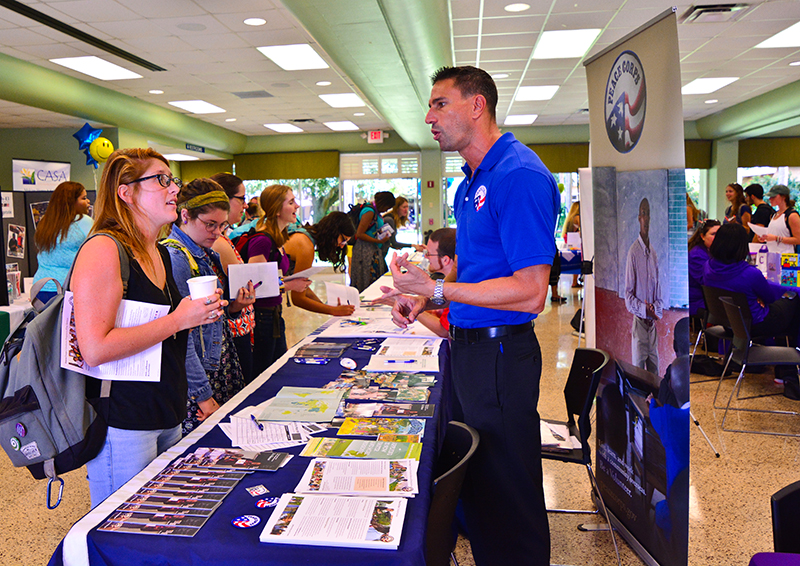 More than 400 students attended this year's fair. Photo: Spencer Yaffe '17
"It's been great. They are super excited to build a relationship with our students," said Miller, an environmental science teacher and track coach at St. Petersburg High School. Her school was one of 59 community groups at the first-ever Reflect, Serve, Learn Fair looking for help from the students, faculty and staff of Eckerd College.
The fair, held in Fox Hall on Thursday, Sept. 15, had more than 400 students visit the groups in search of volunteer opportunities for personal enrichment and service-learning hours. Eckerd College requires every student to complete 40 hours of community service before graduation.
In years past, the Office of Service-Learning held mandatory workshops that brought together students and community partners, said Ronald Porter '05, Ph.D., director of service-learning. The aim of the new Reflect, Serve, Learn Fair was to give students a wealth of options and encourage them to actively seek out service opportunities.
Samantha Frost '19, a psychology student from Long Island, N.Y., gathered more than a dozen brochures at the fair—falling in love with projects as near as south St. Petersburg and as far away as the Dominican Republic. "I love this because there were so many things to fit whatever your situation is," she said. "I don't have a car, but there were some places so close by I could grab an Uber and just go."
Porter said the fair will become the centerpiece in a proactive approach to service-learning promotion for projects outside the curriculum. "This is a great first step in the direction we are taking the Office of Service-Learning," he said.