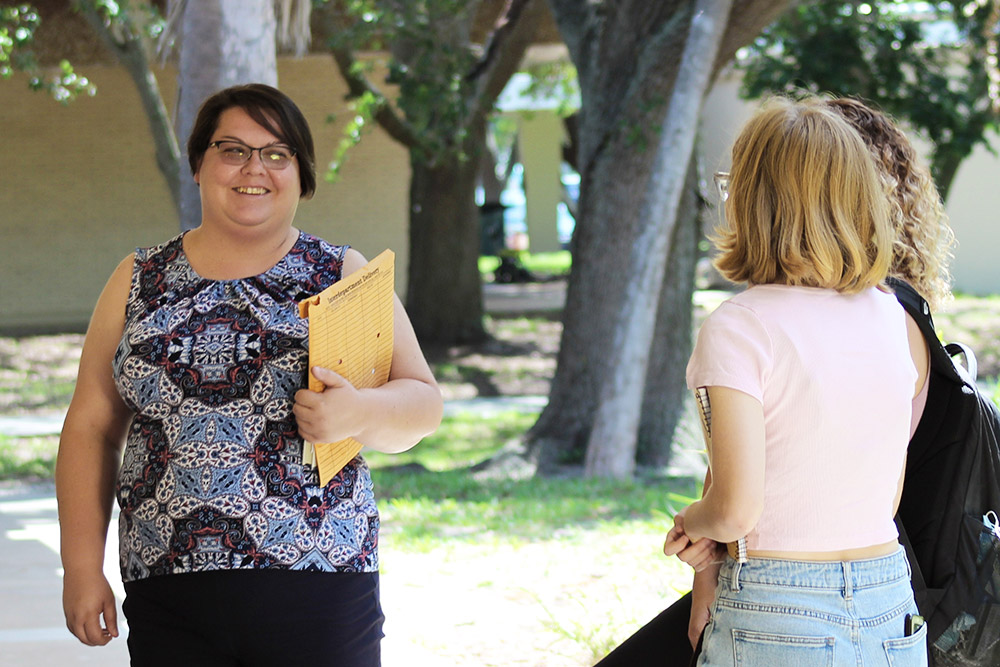 Professor Miller chats with her students outside the BES building before her class begins. Photo: Michel Fougères
Some still carry fear that keeps them from seeking needed opportunities.
"I did 60 interviews across the state of Florida. Gay, lesbian and bisexual people 55 and older would tell me their life stories of coming out, discrimination, and end-of-life care plans," says Miller, who has been teaching at Eckerd College for six years. "Older GLB people are fearful of entering retirement communities, because of possible discrimination by residents and staff. When they have medical conditions that require nursing care, their health problems become exacerbated."
Lessons learned from the study, which eventually will become an oral history book, are some of the several examples of disparity shared with students in Miller's Health, Aging and Society course—a brand-new offering for Eckerd students interested in a sociological view of health and illness.
Miller formulated the class over her years at Eckerd with the hope of drawing students to the critical field of public health.
"Their eyes light up when we talk about the upstream approach. It's a parable that says when you see people drowning in a river, some people will help the people get out, others will build a raft to get them to safety, and others will travel upstream to see what is throwing the people in the water," Miller explains. "Public health research often uses the upstream approach of examining the societal factors that contribute to illness, such as higher incidences of asthma in Black communities because of poorer air quality in Black neighborhoods."
Doug Williams Jr., a senior communication and sociology student from Jacksonville, Florida, says nothing he's heard of the treatment of marginalized groups in the healthcare system has surprised him, but the class is still fascinating.
"By looking at health inequities in industry and society as a whole, you understand you are a product of that society, and you want to know the type of society it is," says Doug, who will go on to Florida State University's Master's in Corporate Communications program this fall. "This class gives you an insight into the world around us by focusing on health."
Miller spends the semester rolling out data and studies, introducing students to the work of public and community health practitioners, and asking students to think critically about how interventions take place.
"In grad school [at Indiana University], I began studying the sociology of health and illness," Miller says. "LGBTQ health interests me and shows the ways in which society is very stuck and can worsen people's existing health conditions. Issues of minoritized health problems stem from existing social erasure and systematic discrimination."
The same can be said for communities of color, because of the fraught history of medical experimentation and indifference to outcomes.
Students in the course are asked to research a health/aging topic and then use a creative medium—from podcasts to art—to communicate with the public about the particulars (history, research, possible interventions, etc.). Already the topics range from Black infant/maternal mortality to the effects of poverty on health.
"Right outside our campus, we see gentrification happening really heavily," Doug says. "I want to see what effects that is having on the community, be it access to healthy food or forced relocation because of rising housing prices. I hadn't thought about it before."