Hayley Musial recalls the early days of the Eckerd College Emergency Response Team (EC-ERT).  "Nobody really took us seriously," she says. Three years later, she says, "nobody can imagine this campus without us."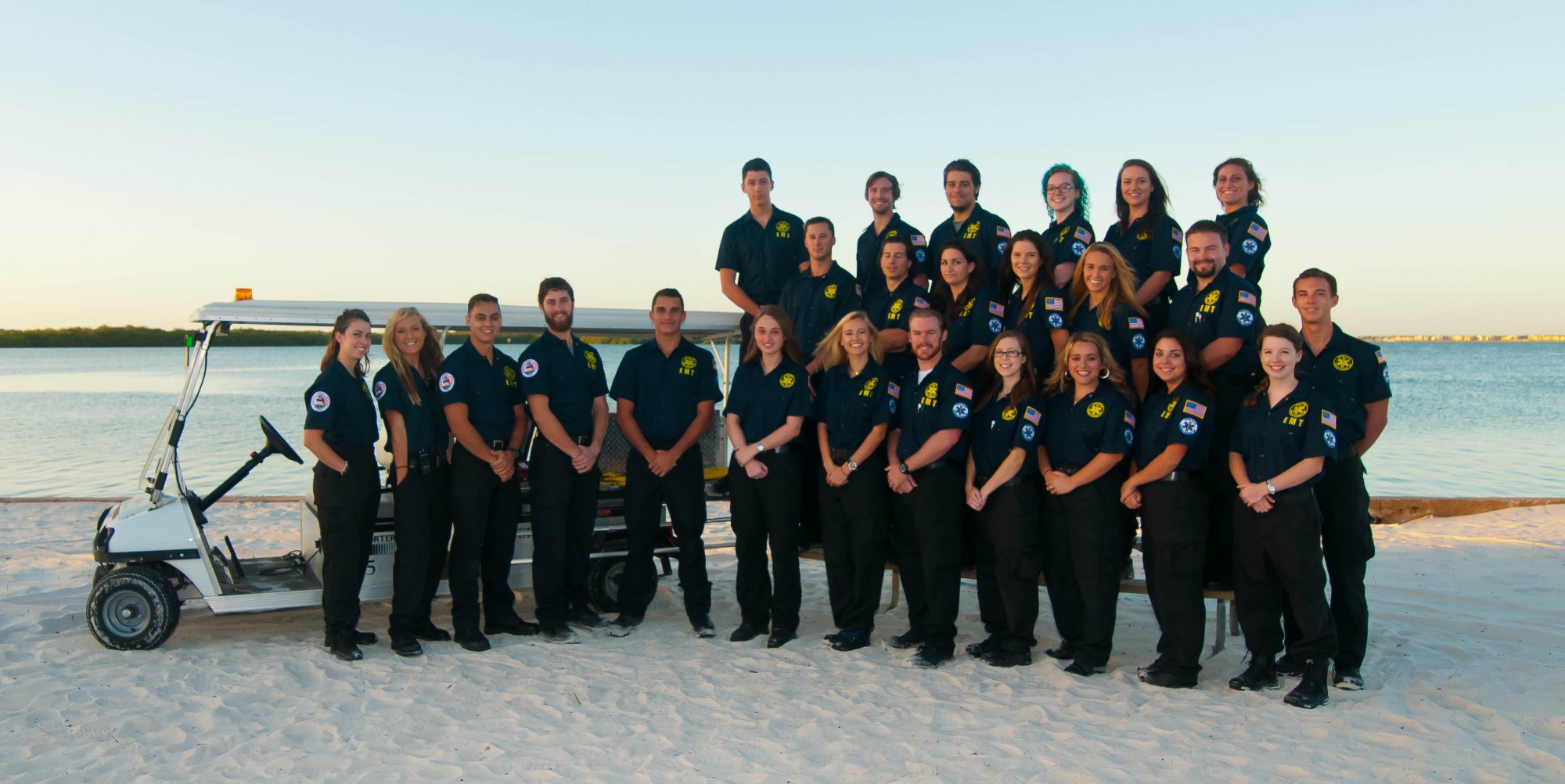 The all-volunteer student team handles basic emergency medical service to anyone on campus—students, faculty, staff and visitors—24 hours a day, seven days a week during the academic year.
The team handled 189 calls in 2013, its first full year of operation. Calls have nearly doubled since then, with more than 350 this year.
The calls run the gamut of medical emergencies—seizures, allergic reactions, cuts, bruises, heart attacks, broken bones and alcohol and drug overdoses.
The team has proven to be a vital resource for St. Petersburg Fire Rescue, particularly Station 11, the closest firehouse to campus. "We support them wholeheartedly," said Lt. Rick Leprevost, who has been with the department for 30 years, half that time at Station 11. "They make my job easier."
Before the team began in 2012, Fire Rescue responded to every medical emergency on campus, major or minor. Now EC-ERT gets the call first and can determine whether the situation requires more advanced support or hospitalization.
The numbers are telling: Pinellas County EMS made 74 calls to campus in 2014, down from 114 the year before.
That means Fire Rescue paramedics can handle more emergencies off campus, saving hundreds of manhours a year. "They are helping the community by keeping the rescue crews here to run the calls that the citizens need," Leprevost says.
They are also learning a lot about emergency medical situations—and about themselves.
"I grew up on this team," says Musial, who graduated in the spring of 2014 and now serves as the full-time coordinator. "I became who I am on this team." She hopes to attend medical school. "I"ve always wanted to be a doctor," she says.
Senior  biology major Jeremy Brown, a shift leader and logistics coordinator, also hopes to attend medical school and plans to work as an EMT or hospital technician until he's accepted. He transferred to Eckerd as a journalism major from Ithaca College and found a home at Eckerd with EC-ERT. "This team really is like a family," he says. "We look out for each other. It's the most accepted I've ever been anywhere."
The team has 38 members, with 22 of them trained as Emergency Medical Technicians. Training can cost more than $4,000 each, which they have to pay. Despite the cost and the hours required, there's a waiting list to join the team.
The team has grown in numbers and sophistication.
In March this year, the team won the Overall High Scoring Team Award at the University of Miami's Collegiate Emergency Response Team Conference. Competing against other Florida colleges, the team went through a series of tests in medical response, search and rescue, natural disaster response and radio communication. The team was also named Best Club in 2014 by ECOS.
Many colleges in Florida have student emergency response teams, but Eckerd appears to be the only one responding around the clock. Initially, the small number of volunteers limited response to weekends. "We've taken it to another level," Musial said. That's one reason the caseload has grown. Another: students are more aware of it—the team's phone number is given out during new-student orientation and many students add it to their cell phone contacts.
Their primary task in emergencies is to manage life-threatening injuries, check vital signs and do patient assessments. Often this assistance is all someone needs and Fire Rescue is never called.
The team is based at the Omega Residence Hall. The office has room for meetings, medical supplies and a hospital bed where students can rest and recuperate through a program called Continued Care, which provides prolonged monitoring for individuals in need.
Team members cannot administer medications, not even aspirin. That would change if they can find an emergency doctor willing to serve as a volunteer medical director.
The team was started by former student Jeremy Bernfeld under the supervision of of Campus Safety  Director Adam Colby. "It's a huge help to my staff," says Colby. Before the team, his staff responded to all emergencies, called 911 when needed and guided ambulances to the appropriate location on campus. Now his staff can leave most emergencies to the student team.
A $5,000 grant from the University of Miami was used to buy basic equipment. The Lealman Fire District's Community Emergency Response Team provide the initial training.
Associate Biology Professor Steven Denison oversees the pre-health club and serves as a mentor to many of the students in the club.
Colby is impressed with the students' dedication. "They put a ton of time into it," he said. "Most of them just enjoy giving back to the community."