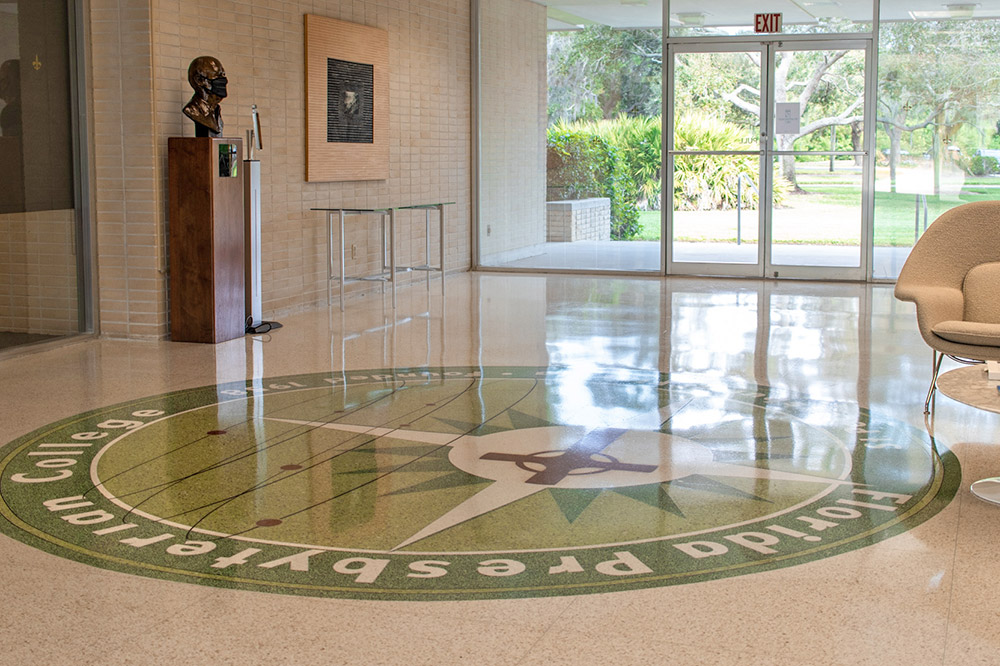 Removing the carpet revealed an impressive seal and a terrazzo floor that will provide environmental and cost benefits. Photos: Angelique Herring '19
Lost to time, no one was quite sure what lay beneath the gray broadloom carpet of the Upham Administration Building at Eckerd College.
Someone remembered there had been terrazzo. One person vaguely recalled a college seal. President Damián Fernández was intrigued by the possibilities.
"Since joining Eckerd, I have been inspired by the principles and values that guided the founders of Florida Presbyterian College—now Eckerd. The democratic and pragmatic architecture of the College's original buildings reflects those values," Fernández says. "I learned that the first seal of Florida Presbyterian College was hiding in the terrazzo beneath the carpeting in the Upham Administration Building lobby. As a tribute to our past during this refoundational time in the College's history, we have restored the terrazzo and the original seal."
A team of contractors came into Upham when the College was closed from Dec. 18–Jan. 2 and removed the carpet, ground down at least three coatings of adhesive, and finished the terrazzo floors to reveal an impressively intact seal of Florida Presbyterian College, says Shawn Wilson, Eckerd's project manager.
"It was pretty amazing how intact the terrazzo and the seal itself were after being covered with adhesive," Wilson says. "Even the contractors were surprised at how well it cleaned up. It was exciting to venture into that unknown and fun experience, to see it removed and being shined up in the end."
According to a St. Petersburg Times (now Tampa Bay Times) article from April 1964, Mr. and Mrs. W.W. Upham of St. Petersburg Beach donated $190,000 toward the construction of the building, which was completed in October 1963. The lobby area is a part of the original structure.
Terrazzo must be poured during construction, according to Facilities General Manager Christopher Pille, so the seal has likely been there since the building's beginning.
Wilson says that on top of the aesthetic boost, the terrazzo has fringe environmental benefits, including cooling the lobby during warmer months.
Pille says his team is also saving electricity and manpower by converting from daily vacuuming to dust-mopping and weekly buffing. Though he isn't an Eckerd graduate, the seal instills a sense of pride in Pille, who is a native of Tampa. "I think it's beautiful," he says. "It reminds me of Florida."