Katya Tjahaja '24, president of the Eckerd chapter of Beta Beta Beta, selling honey at the James Center. Photos: Penh Alicandro '22
The Kappa Delta Epsilon chapter of the Beta Beta Beta national biological honor society at Eckerd College hosted its first honey sale on the James Center for Molecular and Life Sciences patio Dec. 2. All 88 jars of honey were sold in less than an hour.
Katya Tjahaja, a junior biology student from Jakarta, Indonesia, and president of Eckerd's chapter of TriBeta, says students were the main consumers of the honey, but a few members of faculty and staff stopped by to purchase a jar or two. Tjahaja was nominated for membership in TriBeta in May, and shortly after accepted the nomination to be president. The position involves coordinating club meetings and events, but her favorite thing about TriBeta is facilitating a community within the biology department. She did a pre-college program for marine science at Eckerd, and was immediately drawn to the small class size and the community-centered culture.
All of the honey was harvested from the Dobrin Honeybee Neurological Lab on campus, which is run by Assistant Professor of Biology Scott Dobrin, Ph.D. His research in neuroscience explores how honey bees' brains change with experiences. Honey is a natural byproduct of this research, and over the last year and a half, Dobrin has collected 5 gallons of honey from the honey bee aviary. Four gallons were given to TriBeta for this fundraising event.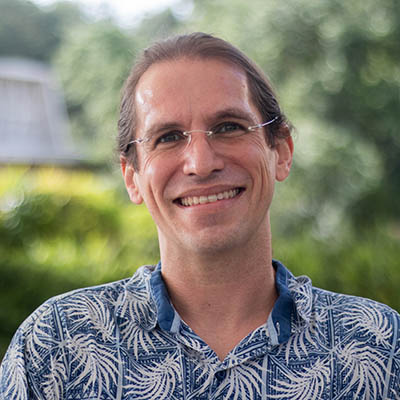 "I chose to donate to TriBeta because of the biology connection, and because I am a member myself," he says.
When he started at Eckerd, Dobrin used his startup funding to purchase a honey extractor. To prepare for the honey sale, he brought his family to help him extract the honey. Beginning next October, TriBeta members will assist with the extraction.
All proceeds from the sale will be used by TriBeta to reduce the induction costs for future members of the Kappa Delta Epsilon chapter. Induction is lifelong and provides opportunities for students and faculty from around the country to connect with one another.
The honey sale will be a new fall tradition for TriBeta, and members will continue to host their annual plant sale in the spring.