Dexter Howard '10 lifted the bike onto the rack as Victoria Grewe '19 tightened the clamp to hold it into place.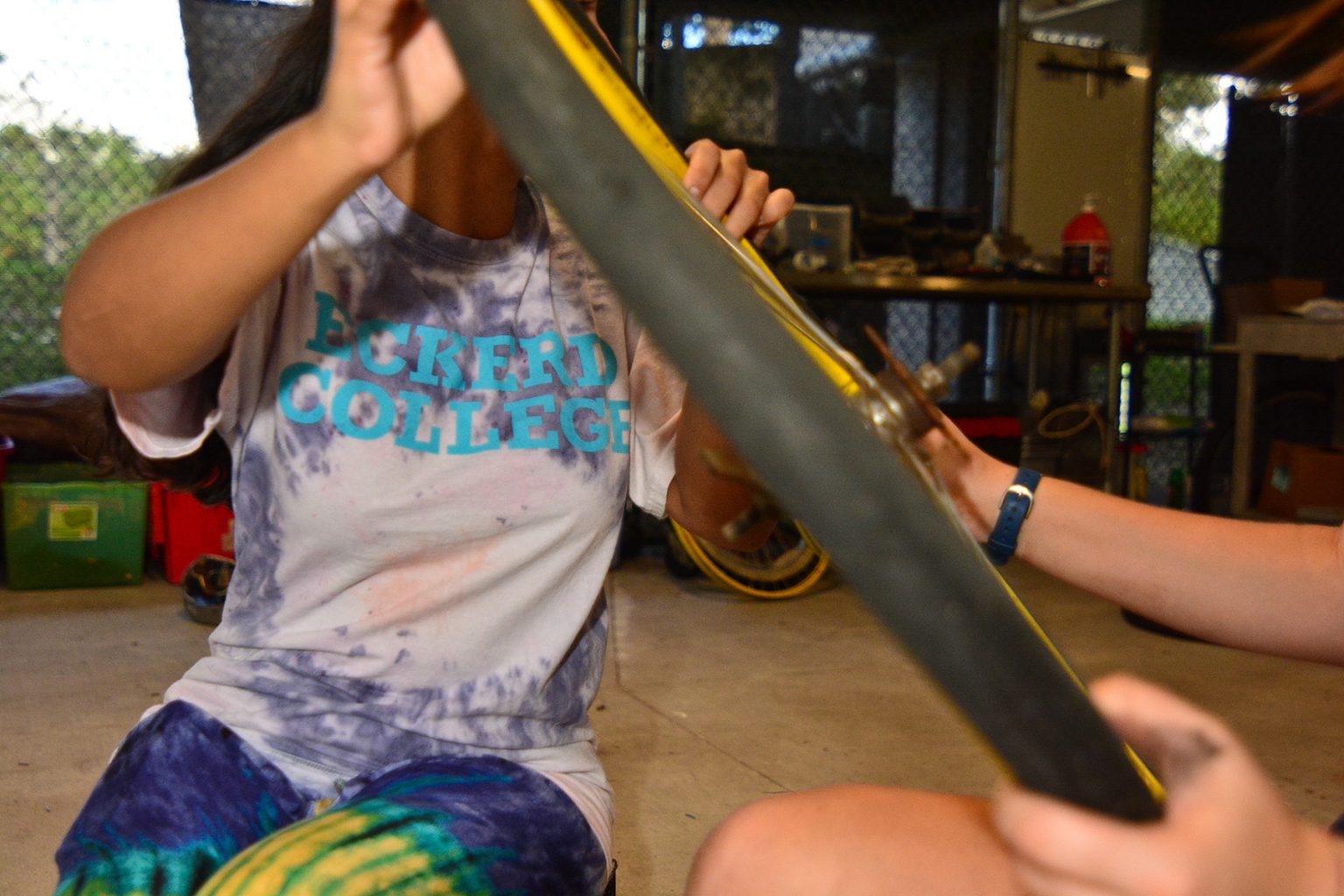 The Nu Bike Shop, located under Nu Complex, will service the community yellow bike program and faculty, staff and students can also have their personal bikes repaired for a discounted fee. Photo: Spencer Yaffe '17
Grewe, a creative writing student from Lakeland, Fla., was just minutes into her shift at the Nu Bike Shop—Eckerd College's first on-campus bike repair shop—and already she had a seat to replace on a yellow bike.
"A couple of my friends were working here [underneath the Nu Complex], and I needed a work study, so I applied," said Grewe, who had worked on her own bicycle before but had never done major repairs until getting trained by Howard. "This is handy to know."
Grewe and her colleagues are charged with collecting and repairing the school's fleet of community yellow bikes and the six new white bikes available for students to take off-campus by registering, getting a personal PIN code and picking up a bike between Forrer and the MPC (Math, Physics and Computer Science) buildings. Students can take the off-campus bikes for up to five hours at a time, but they are financially responsible for any loss of or damage to the new wheels.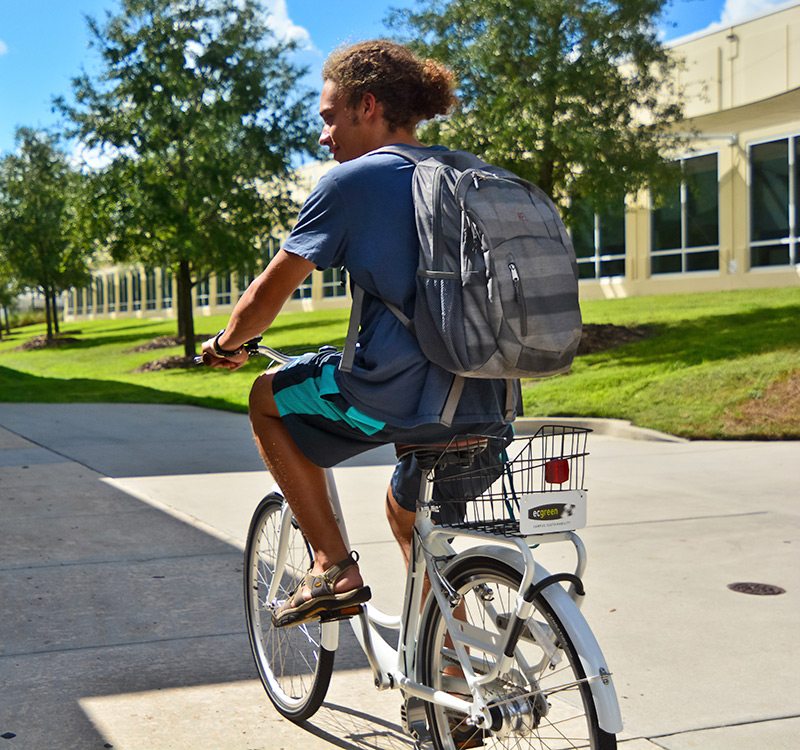 The Bike share fleet was provided by On Bike Share, a Rhode Island Company that has worked with other colleges including Wayne State University and Wellesley College. Photo: Spencer Yaffe '17
Before the Nu Bike Shop, Eckerd maintained a repair contract with a local vendor to the tune of thousands of dollars annually, said Evan Bollier '11, Eckerd's director of sustainability. Now that money can help fund 12 work-study positions along with Howard's.
Howard, an Environmental Studies graduate and the shop's leader, said student workers will collect disabled yellow bikes from 1:30 to 3 p.m. and open the shop to the public to bring in bicycles from 3:30 to 5 p.m., Monday through Friday. With four workstations, dozens of tools and parts, and a "quick-study" staff, the shop also can perform personal bike and longboard repairs at discounted rates to the Eckerd community, Howard said.
He's happy to be back at Eckerd after a stint as an apprentice to a bike design and repair shop in Oregon. When he's not manning the Nu shop, he'll be perfecting his prototype for a tandem bike that is more couple-friendly than the "divorce machine" of old. "I wish we'd had something like the bike shop when I was a student here,"  Howard mused.