Renee Register '83 leans back in her office chair and smiles.
"I've worked on this for three years, and we finally had it actually happen," says the longstanding director of the Eckerd College Waterfront Program. "We are providing a Watersports Champions Camp to underserved students from the St. Petersburg, Florida, area.
"Our goal," she adds, "is to teach children who live near the water how to be safe … to wear life jackets and get comfortable and familiar with the water. We see too many incidents involving kids who aren't wearing life jackets or don't know how to swim."
The pilot program for the camp, which ran throughout the month of June, included 10 campers aged 12 to 15 from the City of St. Petersburg's Champions summer program and nine campers from Academy Prep Center, a nationally accredited nonprofit middle school in St. Petersburg. Eckerd, Academy Prep and city staff met once a week with each group.
The students were given a swim test to assess their ability, followed by sessions on water and boating safety, saltwater fishing, kayaking and powerboat seamanship, along with other instruction. On the final day, each camper received a certificate, a T-shirt, a fishing rod and reel, and a life jacket.
Funding for the camp came from Greg Mino '93, a member of the Eckerd College Board of Trustees and a former member of the Eckerd College Search and Rescue Team, and his wife, Jennifer Giovingo '91. "I think about the Waterfront Program and what it stands for," Greg says, "and community service is a part of that. This is an opportunity to align my passion and Jen's. We were interested in adding to the College's connection to the community, bringing the campus to the city and the city to the campus."
Mino adds that the camp provides a unique opportunity for both campers and the Eckerd students who teach them. "The campers can get the experience so they don't have as much apprehension about the water, and the students who are teaching them can get leadership skills. It's a nice way to support the Waterfront Program and open it up to the greater community. And if one day one of these campers ends up with a water-related career, that would be an awesome outcome."
It wasn't just the children who benefited from the experience. "On our first day of camp, we had one young girl, around 10, scared to get in to take her swim test," explains camp instructor Leila Koenig '23. "I asked her if I did the swim with her, would she do it, and she said yes. So I got into the water and she followed. Once she got in, she grabbed my hand and said, 'Don't let go!' And I didn't. We swam along the dock together.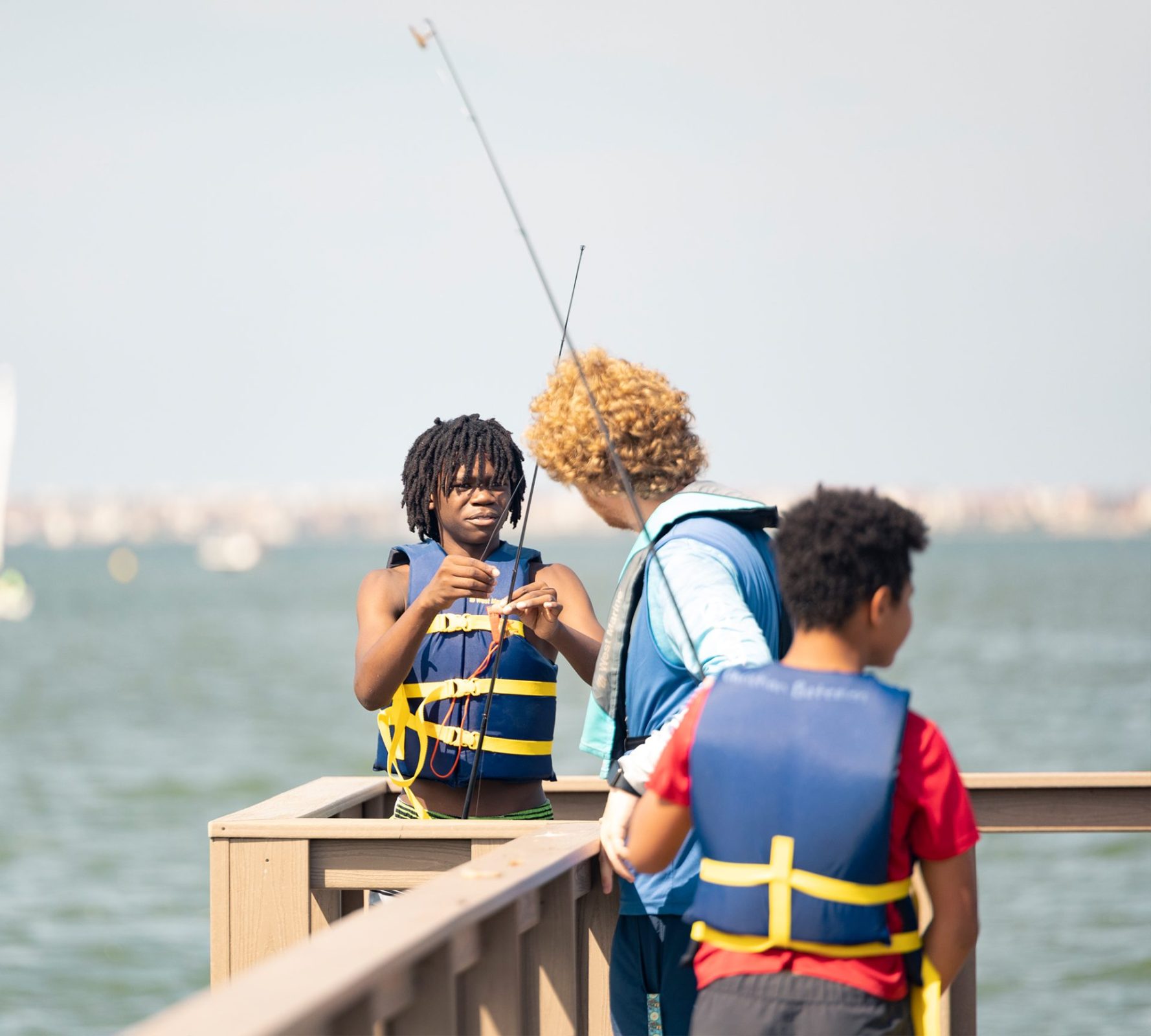 Fishing was one of the campers' favorite activities. Photo by Penh Alicandro '22
"After the swim test, we moved on to our lesson on swim safety. Maria [Ferraez '21] and I stayed close to her and made sure she was comfortable. By the end of class she was jumping in by herself and playing games with the rest of the kids. That's what this camp does for these kids. It gives them a place to feel safe to explore new things and gain confidence. This is a moment neither of us will ever forget."
Mendy Kirsch, administrative assistant at Academy Prep, says the school is looking forward to another camp next year. "We love this partnership with Eckerd," she says. "The camp gives the children exposure to the environment they live around and wouldn't have otherwise had an opportunity to explore. They can learn more about the area they live in—how to fish it, navigate it, respect it and be safe in it."
Case in point: Academy Prep seventh-grader Christian Adras. Fishing rod in hand, Christian, 13, is standing at the end of the pier behind the Galbraith Marine Science Laboratory. "I really like the camp because, like today, we're fishing," he says. "I've fished before, but I didn't know how to cast. Now I do. It really makes fishing easier."
Christian, who wants to become a chef and own a restaurant when he's older, adds that the best part of camp "is being on the water with your friends. I wish camp was not only on Thursdays. I'd come here every day."
Register says she's hopeful the camp can expand next year. That's fine with the City of St. Petersburg.
"To learn about water safety and Eckerd College, and to allow kids to be kids, was the highlight of the camp," says Richard Prince Jr., interim manager of urban affairs for the city.
"Our Champions said they were sad the camp had to end and were already looking forward to next year. Eckerd did a wonderful job, and we appreciate Greg Mino and Jennifer Giovingo for allowing our Champions to participate. We send a special thank you to them."