They acquire knowledge of plays, theatrical movements and innovators. They gain real world experience by completing internships, networking at professional theaters and conferences, and producing their own work.
This eclectic training produces independent, adaptable, motivated and responsible creative thinkers – high in demand in every field of opportunity.
Fall 2019
As It Is In Heaven
By Arlene Hutton
Directed by Professor Gavin Hawk
October 30 and 31 @ 8 p.m., November 1 @ 8 p.m.
November 2 @ 2 p.m.
In 1830's Kentucky, a Christian sect known as the Shakers live together in a simple and uniform society that emphasizes piety and equality. But when a newcomer arrives claiming to see angels in the nearby meadow, she quickly threatens to tear their utopia apart, separating the people who believe in her visions from those who do not. A play with beautiful a capella songs and rhythmic dance, As It Is In Heaven asks us what it truly means to be a believer.
Bininger Theatre
Tickets available at the door
General Public $10, Eckerd College/Community $5
Free for Eckerd students
Spring 2020
The Hunchback of Seville
By Charise Castro Smith
Directed by Professor Cynthia Totten
April 1, 2, 3 @ 8 p.m.
At the start of the 16th century, Christopher Columbus has just returned from the New World with gold in his pockets and blood on his hands. Maxima Terriblé Segunda, the brilliant adopted sister of dying Queen Isabella, lives locked away in a tower until it is decided that the future of Spain rests in her nerdy, reclusive hands. In this bitingly funny madcap romp of a play, Maxima navigates her way through prejudice, politics, religion, colonialism, and the horrors of history. "The Hunchback of Seville is like 16th-century Spanish history as written by Quentin Tarantino…big, careening fun…" —Brendan Kiley, The Stranger (Seattle).
Tickets available at the door
General Public $10, Eckerd College/Community $5
Free for Eckerd students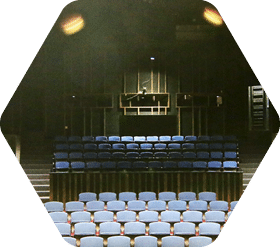 Bininger Theatre
A large proscenium theater with a steeply pitched auditorium, flexible systems for lighting and staging, and lobby/gallery space.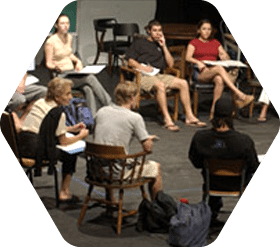 Studio Theatre
An intimate black box theater adaptable to thrust, arena or round staging.