They acquire knowledge of plays, theatrical movements and innovators. They gain real world experience by completing internships, networking at professional theaters and conferences, and producing their own work.
This eclectic training produces independent, adaptable, motivated and responsible creative thinkers – high in demand in every field of opportunity.
Fall 2018
She Kills Monsters
by Qui Nguyen
Directed by Professor Gavin Hawk
View Facebook Event
November 7, 8, 9 @ 8 p.m.
November 10 @ 2 p.m.
A comedic romp into the world of fantasy role-playing games, She Kills Monsters tells the story of Agnes Evans as she leaves her childhood home in Ohio following the death of her teenage sister, Tilly. When Agnes finds Tilly's Dungeons & Dragons notebook, however, she stumbles into a journey of discovery and action-packed adventure in the imaginary world that was Tilly's refuge. In this high-octane dramatic comedy laden with homicidal fairies, nasty ogres, and 90s pop culture, acclaimed young playwright Qui Nguyen offers a heart-pounding homage to the geek and warrior within us all.
Bininger Theatre
Tickets available at the door
General Public $10, Eckerd College/Community $5
Free for Eckerd students
Spring 2019
Scenes from Metamorphoses: A Play by Mary Zimmerman
View Photos
Based on the Myths of Ovid
Written and originally directed by Mary Zimmerman
Directed by Professor Cynthia Totten
Mary Zimmerman's award-winning play Metamorphoses brings Ovid's classic tales to glorious life by juxtaposing ancient stories of transformation with contemporary language and imagery. Scenes of humor and heartache explore the timelessness of love, loss, healing, and the inevitability of change through the myths of Midas, Alcyone & Ceyx, Erysichthon, Orpheus & Eurydice, Phaeton, Eros & Psyche, and Baucis & Philemon.
April 3, 4, 5 @ 8 p.m.
April 6 @ 2 p.m.
Bininger Theatre
Tickets available at the door
General Public $10, Eckerd College/Community $5
Free for Eckerd students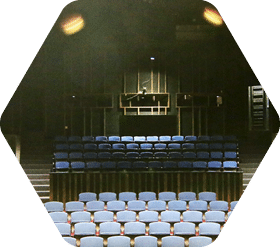 Bininger Theatre
A large proscenium theater with a steeply pitched auditorium, flexible systems for lighting and staging, and lobby/gallery space.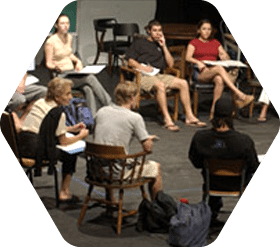 Studio Theatre
An intimate black box theater adaptable to thrust, arena or round staging.