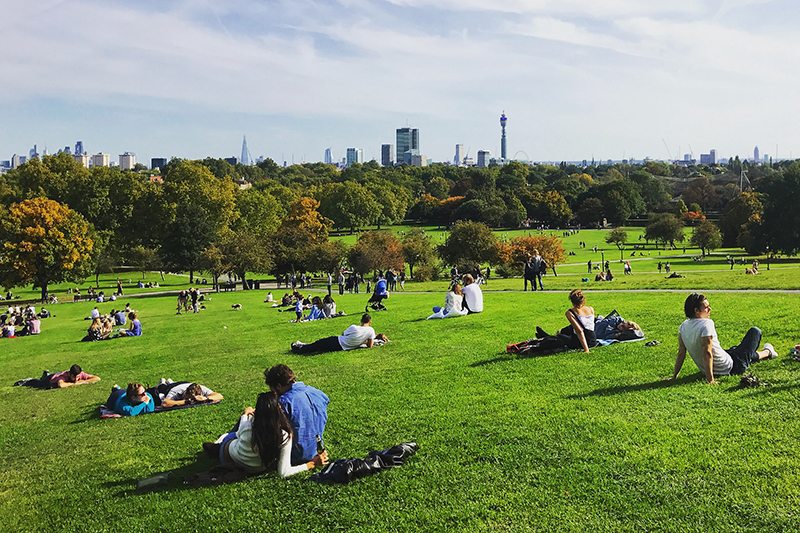 The London Study Centre is the heart of the Eckerd College study abroad program. Since 1970, when Eckerd College leased a 200-year-old Georgian row house from the Bedford Estates, over 2,000 students have called the Centre home!
Rising sophomores, juniors and seniors are eligible to apply.
Fall Semester 2022: London Study Centre
Application Deadline: March 15, 2022
Courses
Led by Professor Frank Hamilton:
Urban Ecology (Fulfills an Environmental Perspective)  
The British Seminar (Fulfills a Global Perspective) 
MN 351E Urban Ecology
Over 56% of the world's population live in urban areas.  This course is designed to use the London urban area as the classroom as we look at human interaction in urban environment perspectives of the ecosystem: visual core, people and parks, energy use, recycling, re-use, urban agriculture, air and water, nature in the city, surrounding context, time perspective and solutions to challenges.  We will focus specifically on social enterprises (private, public and public-private) that use urban ecology in solutions to big urban problems (reducing the carbon footprint, 'green consumerism', and European models of sustainability).  Visits and readings will support learning.MN 351E Urban Ecology
Led by London faculty:
Introduction to Contemporary British Politics – Social Sciences Area Requirement
London in Literature – Humanities Area Requirement, Comparative Literature Course
Theatre in London – Arts Area Requirement
British Art History – Arts Area Requirement
Periodically the college also offers semesters in China and in Latin America led by Eckerd faculty.
Spring Semester 2022: London Study Centre
Application Deadline: October 15, 2021
January 30 – May 14, 2022
Faculty Leader: Professor Jon Chopan
Comprehensive Cost (does not include airfare): TBA
Courses
Led by Professor Jon Chopan:
The British Seminar – Global Perspective
The Teal Guide to London – Writing Intensive course 
The Teal Guide to London is a collaborative course where students will create digital artifacts culminating in a class text. Students will, using historical nonfictional, and fictional texts, decide how to produce a guide to the city of London. Their objective is to explore creative writing that challenges the boundaries of form, pushes the limits of nonfiction, and expands the confines of contemporary fiction, all while engaging in historical and contemporary London. As a group students will decide on the architecture of the text they are creating, design a website to house the content they create, critique and edit one another's work, and finally, compile a guide that shows audiences London like they've never seen it before.
This is a writing intensive course that will require multiple drafts and revisions of the three main writing assignments. Students will be asked to do a series of pre-writing activities, to submit drafts for workshop feedback, and to revise their work in order to make it meet the standards for publication in the course text.
Led by London faculty:
Introduction to Contemporary British Politics – Social Sciences Area Requirement
London in Literature – Humanities Area Requirement, Comparative Literature Course
Theatre in London – Arts Area Requirement
British Art History – Arts Area Requirement