Practicum in Animal Studies
Hands-on field experience is vital for those who want to work in a career related to Animal Studies, which is why our Animal Studies majors are required to take a course called Practicum in Animal Studies.
Students partner with one of many service organizations to complete a reflective service-learning project of at least 130 hours (counts as a Reflective Service Learning Course). The purpose of this internship is to:
Function as a hands-on learning experience working with animals and the organizations that provide support, advocacy, and education about animals.
Help students decide what type of careers/graduate programs they might be interested.
Make students more competitive for jobs/graduate work.
Internship opportunities exclusively for Eckerd students
ZooTampa Behavioral Internship
This internship is designed to introduce interns to applied research techniques in the field of informal education and its evaluation. Interns will learn and implement a variety of research methods to collect data and analyze results to evaluate educational programming and its goal to invite, inform, and inspire the guests of ZooTampa to promote conservation.
SPCA Tampa Bay Animal Welfare Internship
Students rotate through the various departments within SPCA-Tampa Bay including Veterinary Services, Enrichment, Training, Adoptions. Interns gain an understanding of the variety of services for animals available to the community of Pinellas County. There is exposure to emotionally challenging interactions with internal and external stakeholders. Interns gain an understanding of the different skill sets required by the various departments and opportunities for employment in the animal welfare field.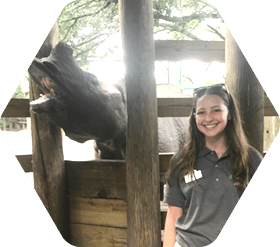 "I was a Behavioral Research Intern at ZooTampa where we looked at the effectiveness of the African Penguin and Indian Rhino signature encounters and conservation stations using surveys and behavioral observations. This internship was a great experience because, along with gaining new data collection and analysis skills, I was also able to conduct my own independent research project!"
-Jenna Williams '22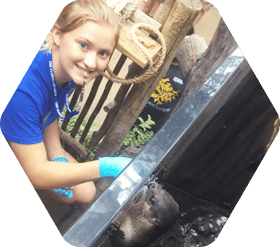 "I truly learned what working in an aquarium entails [as Animal Ambassador Internship at the Florida Aquarium]. Everything from cleaning and training, to doing guest interactions. I took away how much passion and hard work really goes into animal husbandry. The staff and other volunteers are absolutely amazing and it was one of my favorite summers."
-Kerri Olzewski '22
More internship opportunities
When can I take my practicum?
Students can take the Practicum in Animal Studies during fall or spring semester as part of their normal course load, or students may elect to take their Practicum over the summer.
Funding opportunities
Thanks to the generosity of Eckerd alumni, family, and friends, an endowment has been created that will fund academic internship opportunities for students. This funding can be used to support internship experiences that take place off-campus, under the supervision of an external organization, and help you apply knowledge and theory you have learned in a classroom or other academic setting to a professional context. Funds may be used to cover travel, housing, and/or some personal expenses (such as food, professional clothing, or supplies necessary for your internship). They may not be used to fund any work completed for your internship or to replace lost wages from other employment. You will be asked to provide a detailed budget and budget narrative explaining how you intend to use requested funds when you apply.