Facilities and Laboratories
The Computer Science Laboratory provides a special physical and virtual educational facility. The broad array of computing, communication and other technology resources and the flexibility in configuring these systems encourages student creativity for coursework and special projects.
Computer Science maintains four specialized computing facilities. These laboratory systems provide students with the opportunity to use a broad range of computers. Other laboratory equipment includes a large format color plotter and a 3D scanner.
Computer Science/GIS Lab
The Computer Science/GIS Lab is designed for coursework that requires high-performance processors and/or proprietary software such as ArcGIS. The lab contains 28 desktops running Windows with Intel i7-3.40GHz quad core processors, 16GB Ram and NVIDIA GeForce GT640 graphics cards. Tutoring for Computer Science and GIS is provided in this space in the evening.
Advanced Computing Classroom
Designed to hold lectures that involve hands-on activities, the Advanced Computing Classroom is furnished with power and data to the desktop. A dual projection system facilitates the use of multiple displays during lectures. A cart provides accessibility to laptops containing specialty software required for coursework.
Mac/Video Lab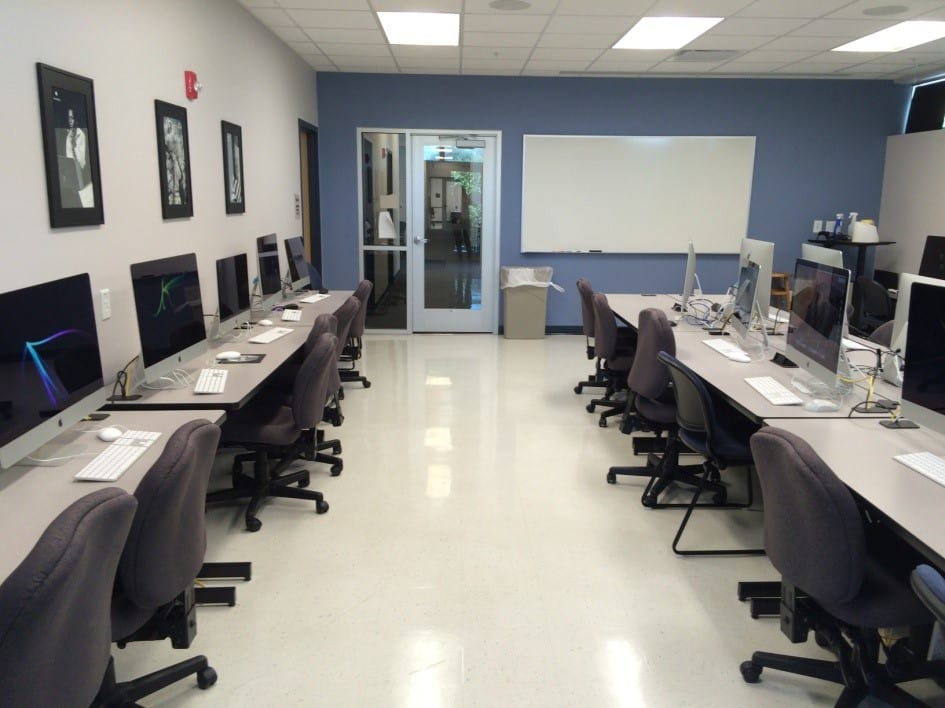 The Mac/Video Lab contains fifteen quad-core 2.9 GHz Mac desktops with Intel Core i5 processors, 16 GB of RAM and 1 TB hard drives. Each machine is equipped with a 27-inch monitor for high-quality video editing using Final Cut Pro. Xcode is installed for development of apps on an Apple platform. The video lab has a dedicated Mac Pro server with 6TB of RAID. Other equipment includes HD digital video cameras, a steady/glidecam camera support, a camera crane, boom mics and other video equipment.
Computational Research Lab
The Computational Research Lab contains a variety of high performance research computers running Linux and Windows and provides convenient access for students involved in independent research or group software project development.