Jeff Goodell, author of The Water Will Come: Rising Seas, Sinking Cities, and the Remaking of the Civilized World, came to Eckerd College on March 31 to give a presentation on sea level rise and the disastrous effects it will have on our society as a whole.
Goodell is an award-winning investigative journalist, writer and contributing editor for Rolling Stone magazine. He has written several books about environmentalism and global warming and is considered a leading expert in his field.
Goodell began his lecture with some sobering facts about the effects of climate change, pointing out that Eckerd is "ground zero" in the fight against sea level rise. Citing new research from the National Oceanic and Atmospheric Administration (NOAA), he explained that even in a best-case scenario, our oceans will gain about a foot of water in the next 30 years. In a worst-case scenario, they will gain 13 feet by 2150. "The water will come," Goodell said. "The question is how high and how fast."
Throughout his presentation, Goodell spoke about his experience writing The Water Will Come, detailing the four-year research project that went into the final book. On a trip to Miami, he saw firsthand the effects of sea level rise after extreme flooding during spring tide in 2013. This experience sparked a global investigation into sea level rise, inspiring him to travel to places around the world most impacted by flooding.
After listening to Goodell's presentation, Cameron "Cam" Larmer—a senior marine science student from Sarasota, Florida—called climate change "the problem of the century" and talked about how the issue of climate change connected to his studies. "Any issue that I've been interested in with ocean conservation, it all kind of comes back to climate change," Cam says.
Goodell emphasized this association during his presentation but insisted that students and young people across all fields can contribute to positive change.
"Whatever your field is, there's so much opportunity for people to really get to say, 'Yeah, we've got to change and we're gonna do it now,'" Goodell explained.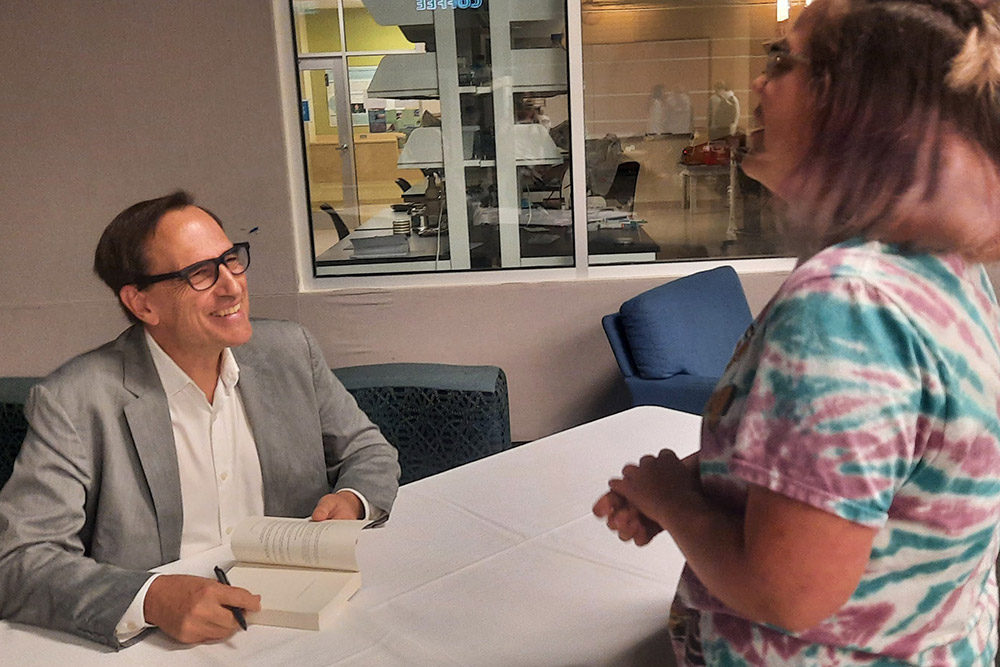 Jeff Goodell chats with a student while holding a book signing. Photo: Grey Curcio '24
At the end of his talk, several students raised questions for the author, not only about the experience of writing his book and actions they might take to help prevent disastrous sea level rise. Goodell insisted that forward thinking and creativity would be essential to reimagining our world in the face of rising seas. "There's a lot of thinking about how to make this a landscape that is friendly for people and for life, in general. This is the kind of creative thinking that I think is so exciting," he told the students.
Kasey Laguna, a junior geosciences student from Phillipsburg, New Jersey, found Goodell's presentation "empowering" and says that Goodell has inspired future work in climate change activism. "I thought he said a lot of things that people are kind of afraid to say," Kasey says. "And I liked his idea of living with the water … I'd never heard anyone talk about that before."