Jorge Lopez-Perez '20 holds a (non-venomous) boa constrictor in Aruba. The snake is considered invasive on the island.
Eckerd's Jorge Lopez-Perez '20 recently got a big boost in his research of reptiles.
During his Winter Term trip for the independent-study course Conservation Ecology of Aruban Reptiles, Jorge learned he was being awarded one of 97 Sigma Xi Grants in Aid of Research (GIAR). Only 12 percent of applications were approved, according to the honor society.
"I found out during our trip to Aruba for a conference where we also went out to tag Aruban whiptail lizards," Jorge said.
Jorge, a biology major from Miami, Fla., was one of 17 undergraduates to receive funding and one of only two undergraduates funded in the category of Physiology/Functional Morphology. He will use his $903 to continue his research into the immune system differences of loggerhead musk turtles of Florida's Rainbow River.
"It means a huge amount to win," said Assistant Professor of Biology Jeffrey Goessling, who has served as Jorge's mentor and took the student as a research assistant to Aruba in January. "Jorge is really good at jumping in head first. He stands out as a student who is dependable and sharp and very interested in this work."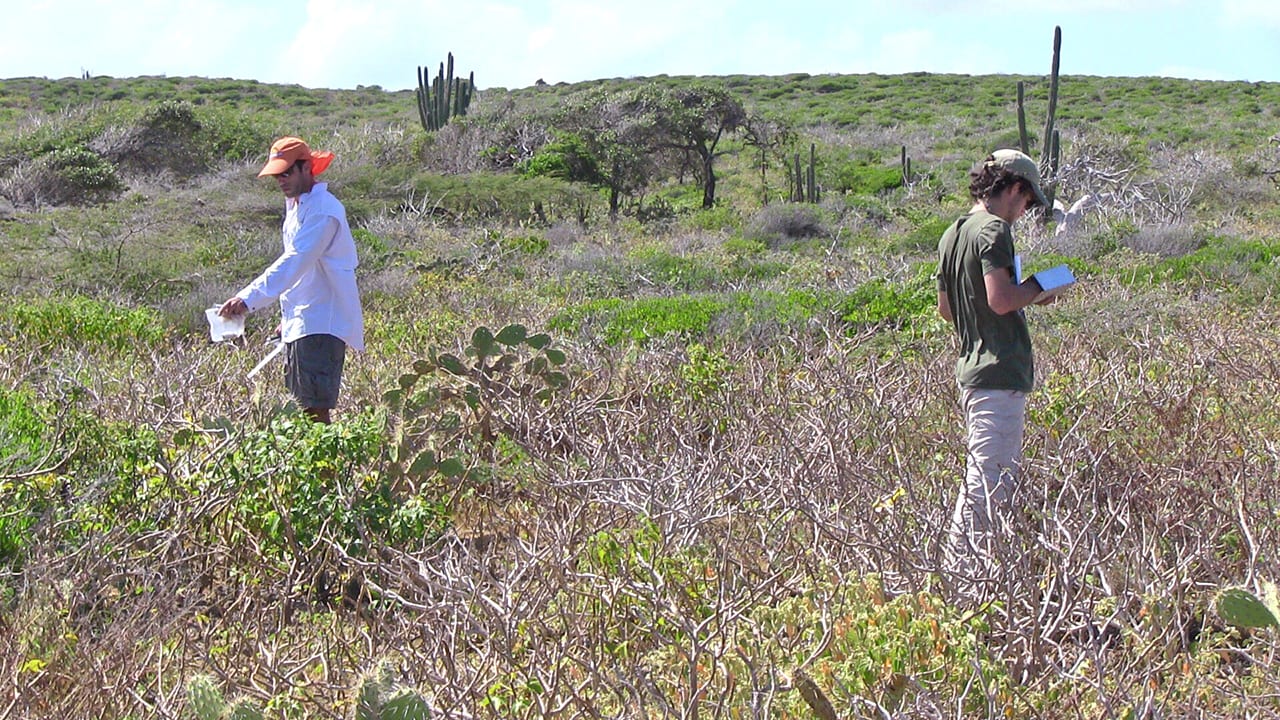 Jorge first heard about Eckerd during a College Fair in Miami and was sold on the College after visiting and hearing about our Biology program. The College's pet policy allowed him to bring a crested gecko and a ball python in their own terrariums.
"In my first year at Eckerd, I started working with [former Biology Professor] Peter Meylan and his Rainbow River Turtle Survey Program, and from there I just got very interested in working with reptiles and amphibians," Jorge explained.
As vice president of the Eckerd College Herpetology Club, Jorge and other students have worked on various projects to document and study animals on campus and beyond. He'll use the funds for more lab supplies to take and keep samples of the turtles' blood for immunology tests.
The maximum GIAR award is $1,000, according to Sigma Xi. Learning the grant application process in his junior year has helped prepare Jorge to continue his career in research at the graduate school and faculty levels, he said.
Sigma Xi, the scientific research honor society founded in 1886 that has fostered more than 200 Nobel Prize winners, has an Eckerd College chapter. The biannual GIAR program accepted applications through Oct. 1, 2018, and announced the winners in January. The grants are funded through a designation from the National Academy of Sciences as well as donations. More than 70,000 scientists have been elected to membership in Sigma Xi.