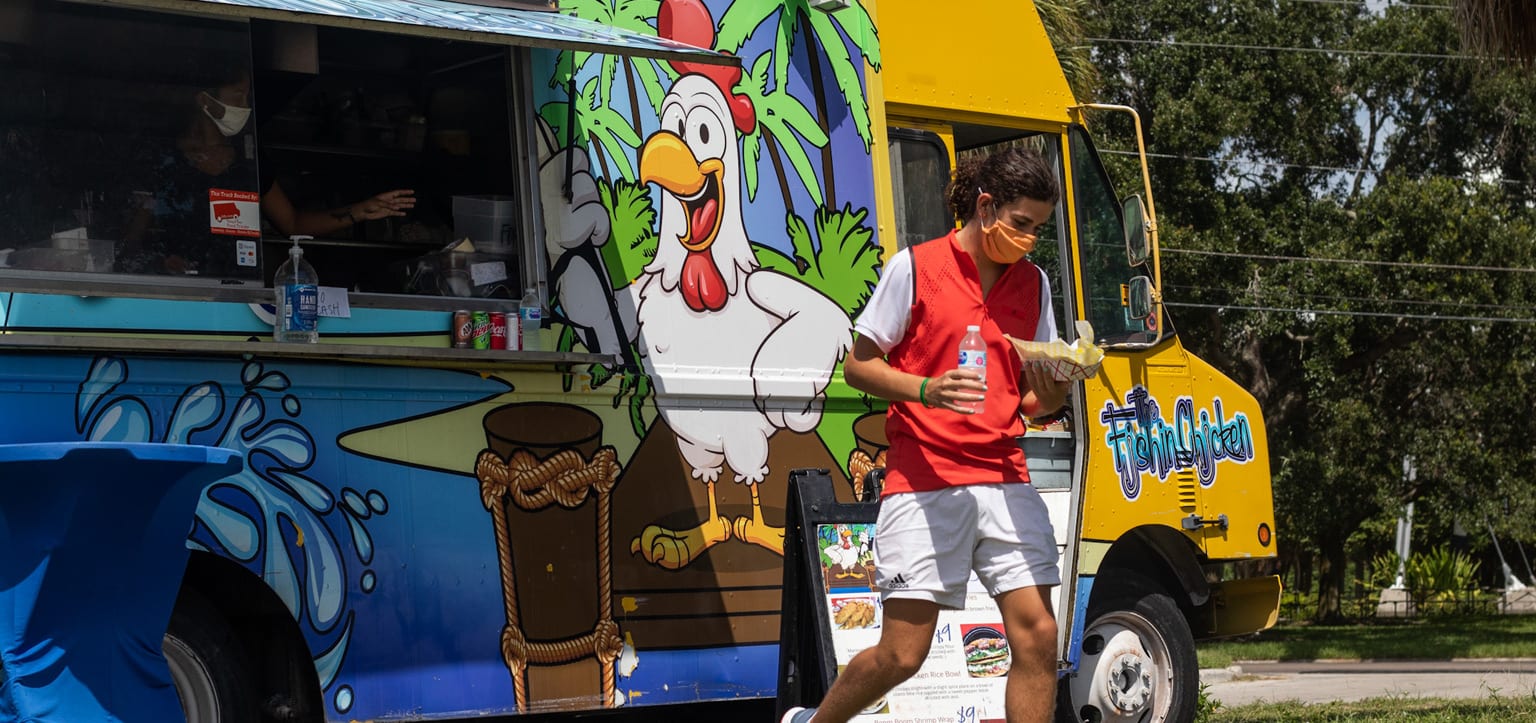 Leah Knezevich sat with her friends, enjoying a light lunch before returning to their tasks for the day. While the camaraderie remained the same, the conditions were very different for the sophomore marine science and computer science student from Imlay City, Michigan.
Leah and friends ate their lunches outside Café Bon Appétit, the main cafeteria on campus, at metal desks spaced in a circular formation six feet apart and shaded by a 100-by-40-foot tent.
"I like the desks a lot better than the tables," Leah said of the change. "I have not been to the cafeteria during peak hours—I was very nervous about that coming back—but they have done a good job with moving the traffic through."
Bon Appétit Management Company, the vendor that operates Eckerd College dining services, had to establish its own campus safety protocols before resuming food services for the Fall 2020 Semester. Some of the innovations involved major shake-ups for campus favorites; others embraced the versatility of the 188-acre campus.
"We want them to come to the main café and the CEC and sit outside and enjoy," said Kimberly Triplett, an 18-year veteran of the Bon Appétit Management Company, who was assigned as Eckerd's new general manager in the spring. "My background is as a chef, so we want to drive demand with quality offerings in all our facilities, and we're going to deliver on that."
The main cafeteria extended its lunch hours to 11:30 a.m. to 2 p.m. to reduce density, and it closed all indoor seating. Students, faculty and staff can come through the main entrance, swipe or pay, head to the sections of their choice, collect their food in recyclable takeout containers and then exit through the patio doors. From there they have the choice to eat on the patio under the sail awning, exit and eat under the large tented seating on the grass or take their food elsewhere. The Continuing Education Center (CEC) Cafeteria also closed its indoor seating area and removed its ice cream machine and shut off drink fountains. Even salad bars are no longer self-serve anywhere on campus.
"There are two servers per station. Diners can indicate what they would like in their to-go containers, through the plexiglass, and the server will set the full container down at the end of the counter and move away, so the diner can retrieve it," Triplett explained.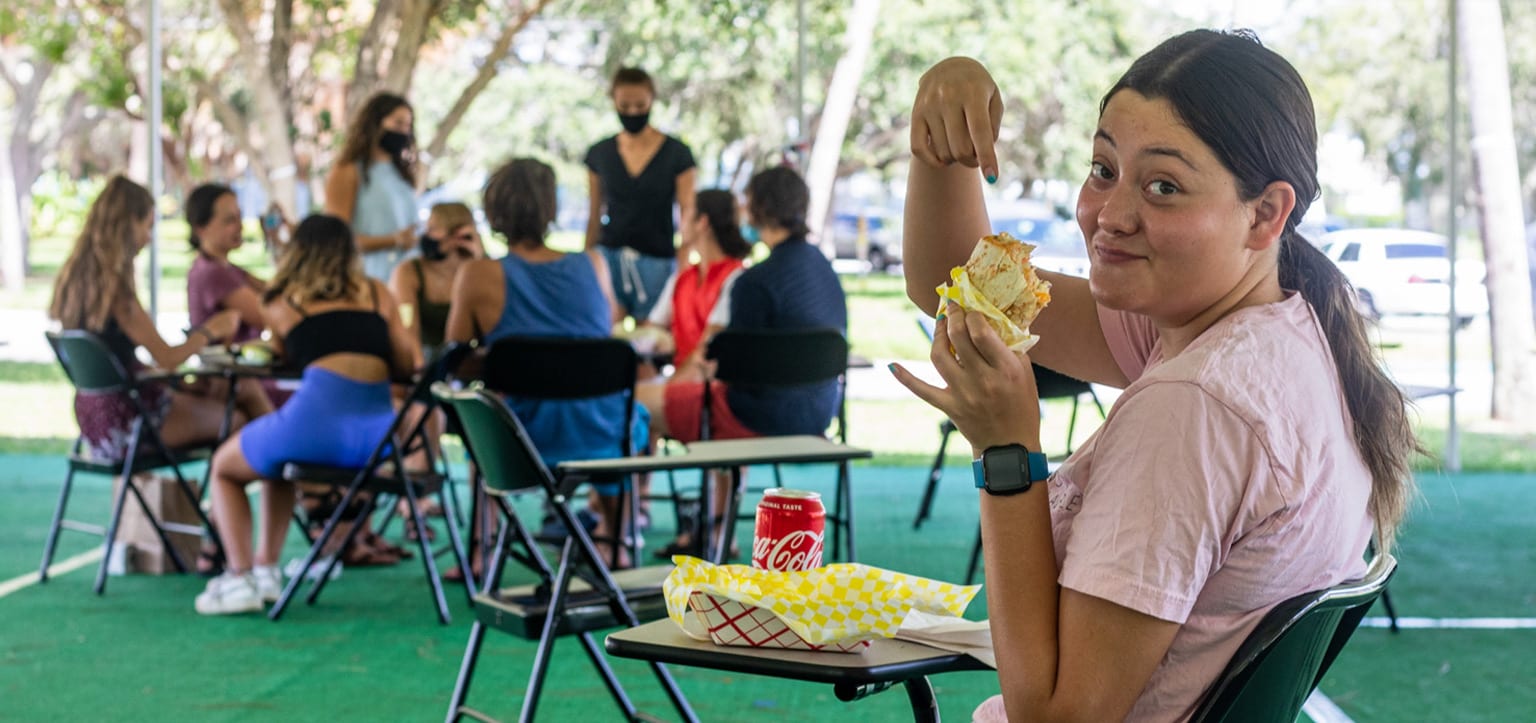 Debanhi Jimenez '21 enjoys food truck fare outdoors, on campus
Students were shocked to learn upon their return that the Triton's Pub no longer offers hot food options. Bon Appétit decided to close the grill because of the Pub's design, which encourages students to gather in small spaces while they await the chef's preparation of their favorite lunch fare. In its place, the Pub has gone completely pre-made and grab and go with artisan sandwiches and wraps as well as groceries. Across from the case of late-night-study-fueling energy drinks stands a cooler stocked with half gallons of milk (cow, soy and almond); cereals; lunch meats; condiments; and breads. The Pub still sells fresh fruit and snacks, but signage urges shoppers to "Choose Wisely" and touch only items they intend to buy.
Most purchases on campus are contactless now, even at the Starbucks in the James Center for Molecular and Life Sciences. Plexiglass is mounted at every facility to keep masked cashiers and masked customers safe from one another. Little orange shoe prints dot the floors of all dining facilities, letting everyone know how far away they should be standing from the person ahead of/behind them.
Still, the most innovative reimagining during our dining services' COVID-19 response is Bon Appétit's partnership with local food trucks to bring more varieties of hot food to campus in a safe way. Once a week, a truck is allowed on campus to serve the community. Students can swipe their cards with a Bon Appétit employee and receive a ticket to order what they want from the truck. Following the success of the first two trucks, Triplett is looking to expand food truck service to every weekday, said Anne Wetmore '94, associate dean for student life.
Grayson Panter, a junior international business student from Hixson, Tennessee, is looking forward to the expansion of hot food options. "With the Pub [grill] being closed, there's just what they serve in the cafeterias," he laughed. "I'll be glad to see more variety."