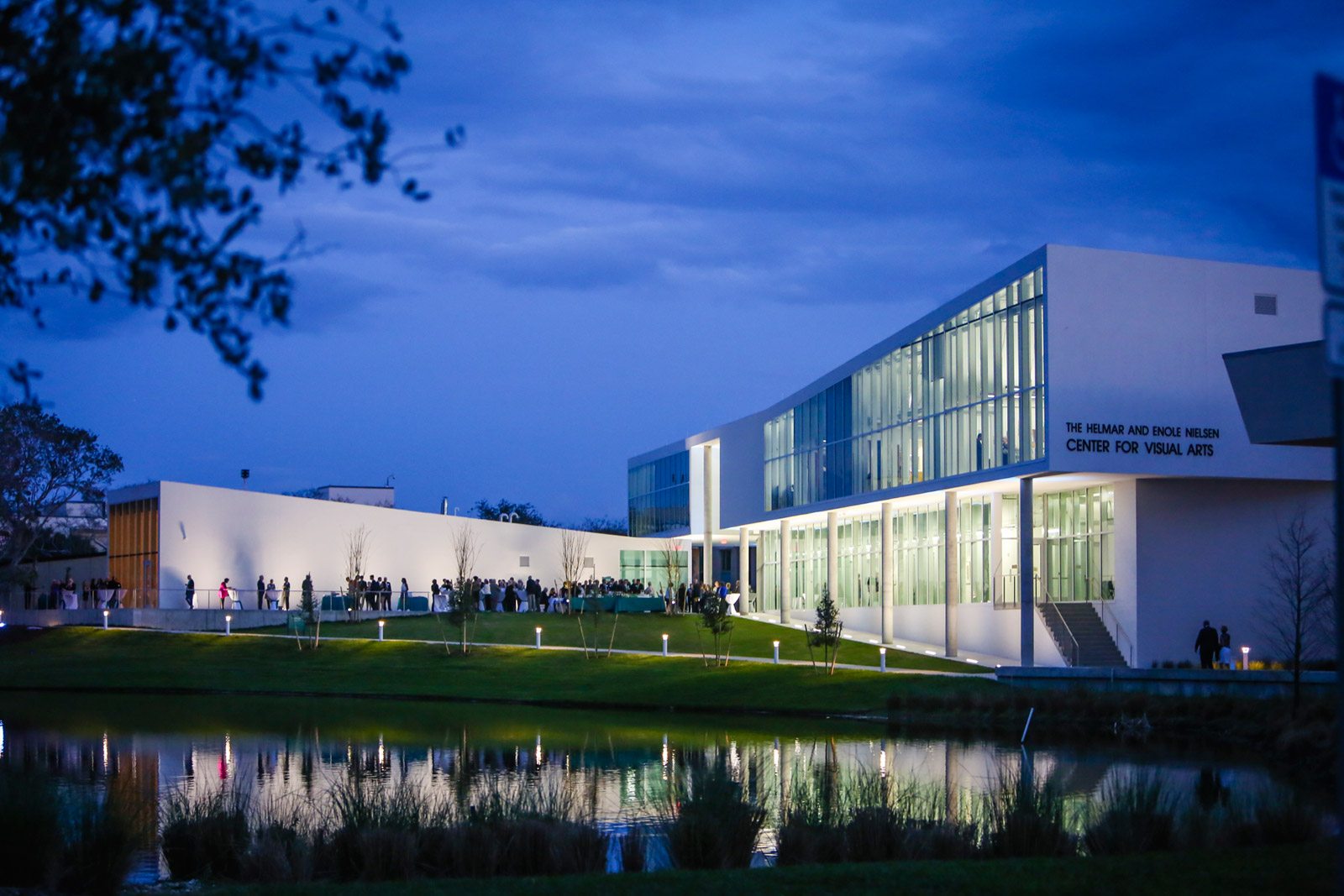 Art at Eckerd College finally has a new home in The Helmar and Enole Nielsen Center for Visual Arts, which celebrated its grand opening on February 9, 2018.
The Nielsen Center provides room for art forms from ancient to contemporary to not-yet-invented through its 33,000-square-foot space, blended seamlessly into the campus's natural beauty courtesy of large glass walls overlooking Fox Pond. Its special features include two galleries, a ceramics wing, digital arts and audio studios, a printmaking workshop, and seven semiprivate student studios.
The new facility was largely funded by gifts from more than 350 Arts Fellows (donors of $5,000 or more)—including Helmar E. Nielsen of St. Petersburg, a member of the Eckerd College Board of Trustees for nearly 25 years and owner of Cardinal Tracking, a public safety and parking management software company. Nielsen committed a gift of $7 million to Eckerd's Visual Arts discipline, and his generous contribution will endow a professorship in film production—a passion for the Swaledale, Iowa, native.
"These days film is the more prophetic of the art forms, not necessarily as a matter of substance or vision, but in its innate power," Nielsen explained. "I have confidence that whomever is chosen to be the new professor of film production will have the discipline to teach technical skill, yes, but always couched in the depth of liberal arts learning."
A champion of liberal arts education, Nielsen, son of a Baptist preacher, chose Missouri's William Jewell College as his first institution of higher learning before going on to Bucknell University and law school at Boston University. Business brought him to St. Petersburg decades ago and to Eckerd as a staunch supporter and faithful trustee.
"Liberal arts is the cream of education. Eckerd is an exceptional school within that framework," he said.
A time lapse of construction of the new $15 million Center for Visual Arts from early August through mid-October.
The Nielsen Center also bears the name of his daughter, Enole, an English teacher in Italy.
"Helmar is a scholar, a philanthropist and a true advocate for the value of a liberal arts education," said Eckerd President Donald R. Eastman III. "With the naming of the building, we can honor Helmar's 25 years as a Board member and the many ways in which Eckerd College is a better place due to his generosity, thoughtful insights and dedication to the student educational experience."
In his life, Nielsen has been a gallerist and art collector, once co-owning the now-closed Nielsen Gallery on Boston's posh Newberry Street. The retired but active philanthropist hopes his gift can help produce more well-rounded students at Eckerd through a combination of art education fused with other disciplines.
"I'm interested in the arts and what this building does for the liberal arts," Nielsen said. "To me, it's the highest form of education."