The Helmar and Enole Nielsen Center for Visual Arts
Constructed With Creatives in Mind
The best buildings always take into consideration who will use them. When Eckerd College began planning the 33,000-square-foot Nielsen Center for Visual Arts, a vast amount of thought went into the structure's location, aesthetic, uses and features.
Visitors are inspired by ongoing arts projects seamlessly blended into the campus's natural beauty courtesy of large glass walls overlooking Fox Pond, and unique outdoor features, including a ceramics and sculpture yard. Read what the Tampa Bay Times wrote about the building.
Key features include seven semiprivate student studios, experimental gallery, multipurpose outdoor spaces and digital arts labs.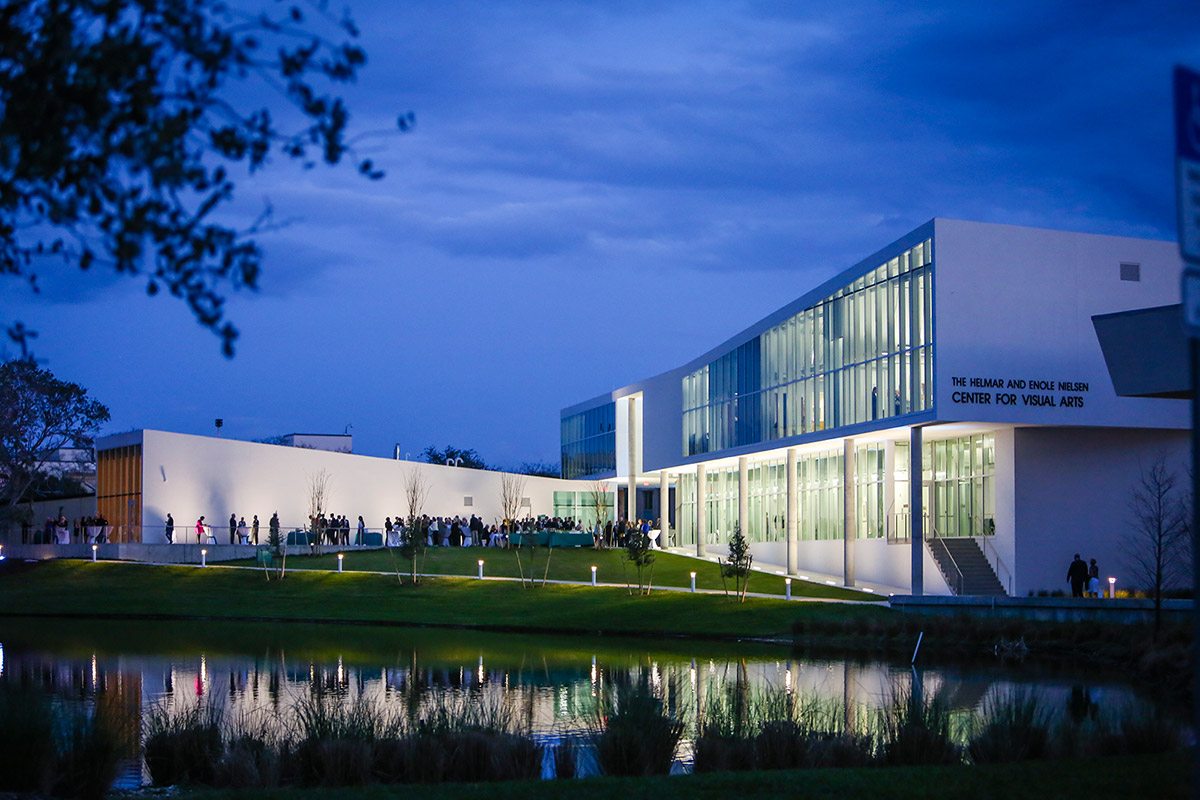 Art has been a part of human history for millennia. Media such as drawing, painting, sculpture and printmaking continued to thrive in the world even as newer forms—including photography, graphic design and sound design—rose to prominence. With that understanding, the Nielsen Center provides room for art forms from ancient to contemporary to not-yet-invented through its unique use of space.
In addition to multipurpose digital classrooms and traditional and experimental galleries, the Nielsen Center features:
Faculty offices located in the middle of the building to enrich mentor-student interactions
A film photography darkroom
A ceramics and sculpture yard
Outdoor lecture space overlooking Fox Pond
Seven student art studios (for up to 28 students)
A digital arts studio and laboratory equipped for video, sound and graphic design as well as digital photography and 3D printing
New storage facilities for the College's extensive art collection
The building's orientation and configuration minimize heat load created by intense sunlight; south-facing windows are made of fritted glass; and an energy recovery ventilation system replenishes air.
The studio as a place to learn while creating has been a part of the Eckerd College liberal arts tradition since the beginning. During the 1960s, students of luminary professors Robert O. Hodgell, James Crane and Margaret Rigg were able to watch their professors create in their own on-campus studios.
Discipline Coordinator Arthur Skinner '72 said the experience was invaluable to students like him who could see their instructors as working artists. Now they have that chance again with a new visual arts facility complete with three working studios for our core art faculty: Skinner, Kirk Ke Wang and Brian Ransom.
Students of all majors also benefit from the creative burst of having work spaces and classrooms for so many different media in the same place. Seven semiprivate student studios are allocated to art majors, but other studios in the building are open to all students.
For the first time since 1977, painting and drawing are housed in the same building with printmaking and sculpture. Glass facades give passersby a window into the creative processes of others without disturbing the artists.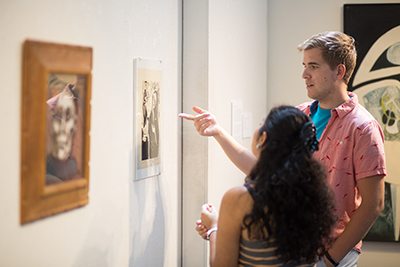 Galleries Are Classrooms Too
The Nielsen Center is home to two galleries that showcase student, faculty, alumni and professional work throughout the year. The traditional gallery has a high ceiling and wood flooring, while the experimental gallery can be easily reconfigured to whatever concept the artist can dream.
"Everything is bigger and better. We have two galleries, a larger one that serves as a traditional gallery space and the other more intimate and flexible space in which students may choose to be experimental—for example, with multimedia installations, video, light, sound or performance art."
—Visual Arts Professor Arthur Skinner '72