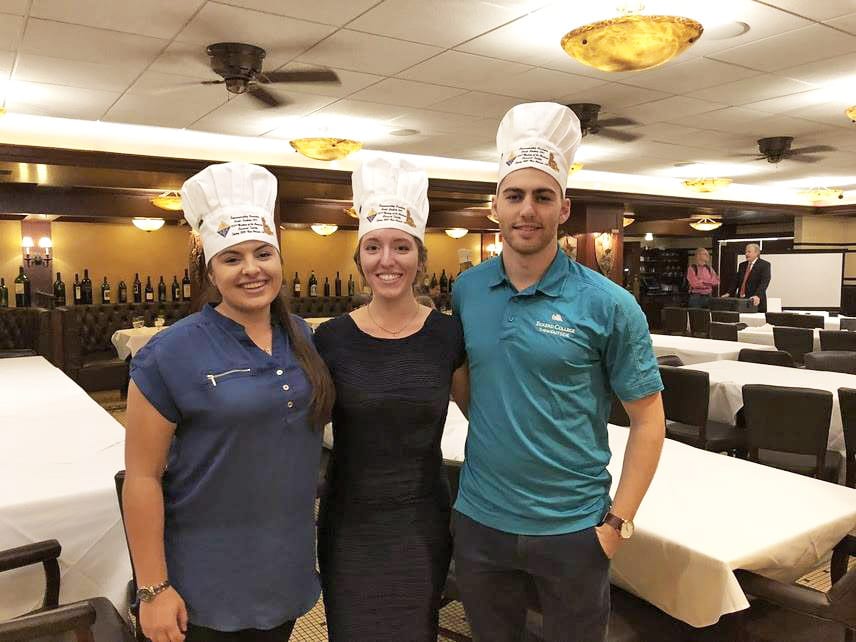 Brooke Trimmer '18, Hannah Hamontree '18 and Sean Bradley '18 pose after taking second place at the competition
Three Eckerd chemistry and biochemistry students excelled at the science of cooking on March 20 when they competed at the 255th National Meeting and Exposition of the American Chemical Society, one of the largest scientific societies in the world.
The students—Brooke Trimmer '18, Hannah Hamontree '18 and Sean Bradley '18—placed second in the Communicating Chemistry: Creole Cooking Competition held at Dickie Brennan's Steakhouse in New Orleans.
The Eckerd team chose to prepare a roux for their performance. The students showed off the chemical transformations that occur when a roux is used to thicken sauces in Cajun and Creole cuisine, such as gumbo.
Yale University's bananas fosters was the only dish that could top them.
"We were the only undergraduate finalists," Trimmer said. "The teams from Yale and Columbia University were all grad students."
To enter the competition, the students submitted a cooking video demonstrating the science behind roux. They were selected as one of three finalist teams and awarded more than $500 apiece to attend the conference.
Six Eckerd students and four faculty members attended this year's ACSNOLA and presented their own research at the event. They have worked on a variety of projects, including the synthesis of several novel organic and inorganic compounds, as well as the isolation of the active component of an herbal tea.
Dr. Lisa Bonner, a member of Eckerd's chemistry faculty, accompanied the students to the conference and presented her own research with her students. "I am incredibly proud of all of them and impressed that they made it this far in the competition. This is an excellent opportunity for these students to learn how chemistry impacts all parts of our lives. Cooking IS chemistry! We are truly surrounded by science, and these students now see chemical reactions wherever they look, especially in the kitchen."
As a bonus, the students were invited to an agricultural and food chemistry dinner following the competition. "The food was amazing, the best at the conference," Trimmer said. "They really know their stuff."