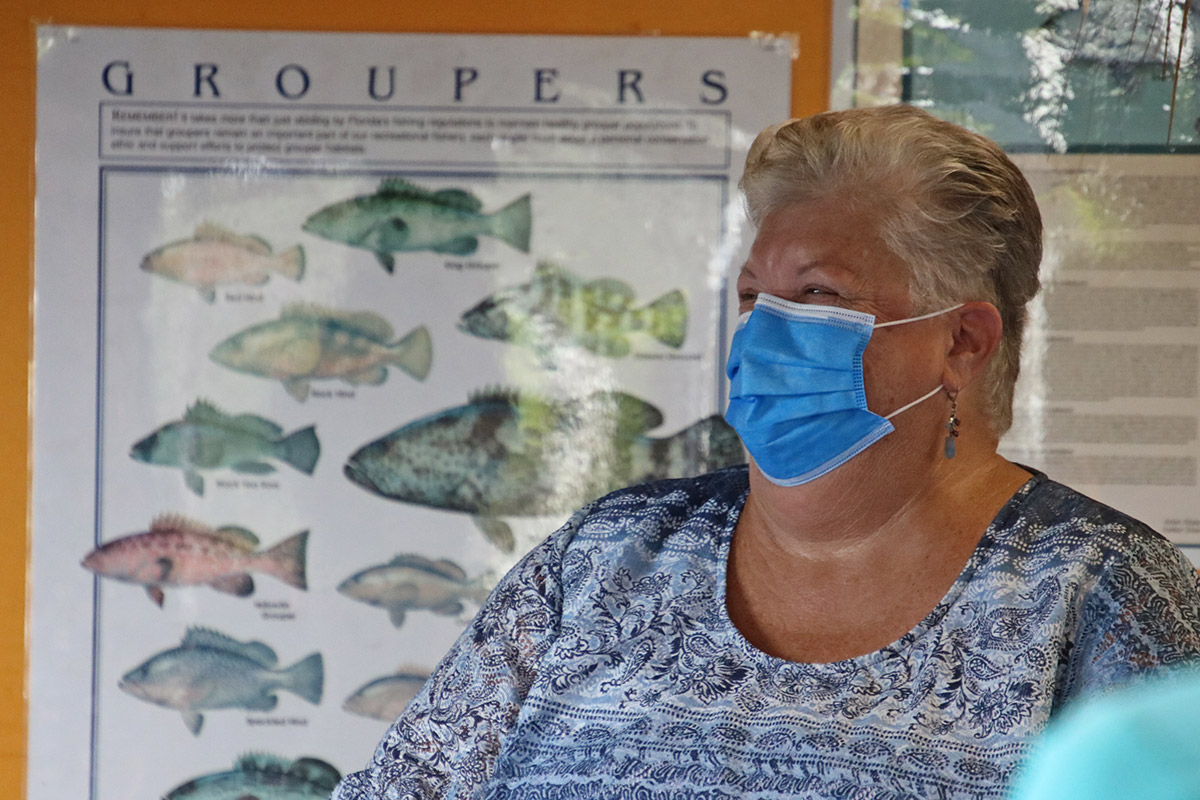 A new Outstanding Alumni Award has been established in recognition of Renee Register '83, director of the Waterfront Program. Photos (above and below) by Katie Willgohs '21
She'd been suspicious all afternoon as various college officials began to filter into the Wallace Boathouse, which had been set up for what seemed like a ceremony. It was Thursday, Sept. 9.
"What is going on?" Renee Register '83, director of Eckerd's Waterfront Program asked each new arrival. They all had an excuse at the ready. "We heard the president was doing his first tour," they told her. "We just wanted to see."
So Register continued talking about new boats and planned activities to make sure she had her speech well rehearsed for the milestone event.
More than 30 Eckerd College Search and Rescue (EC-SAR) student members, in and out of their signature blue jumpsuits, applauded loudly when President Damián Fernández turned from his remarks to make the announcement. "The Waterfront 50th Anniversary Steering Committee brought forward the desire to create an alumni award, which recognizes the unique contributions of our Waterfront alumni," the president said. "It is my distinct pleasure
to help satisfy those desires today by establishing the Renee Register '83 Outstanding Alumni Award."
Register's blue eyes welled. Blinking back tears, she took the microphone at the podium and looked out on the sea of faces—current students and alumni who love her just as much as the College.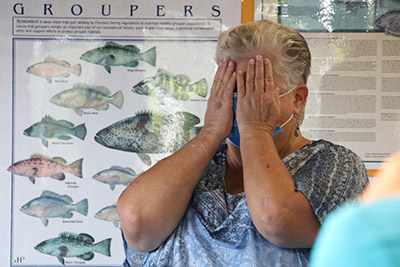 Renee Register's surprise reaction upon hearing about the new award named in her recognition.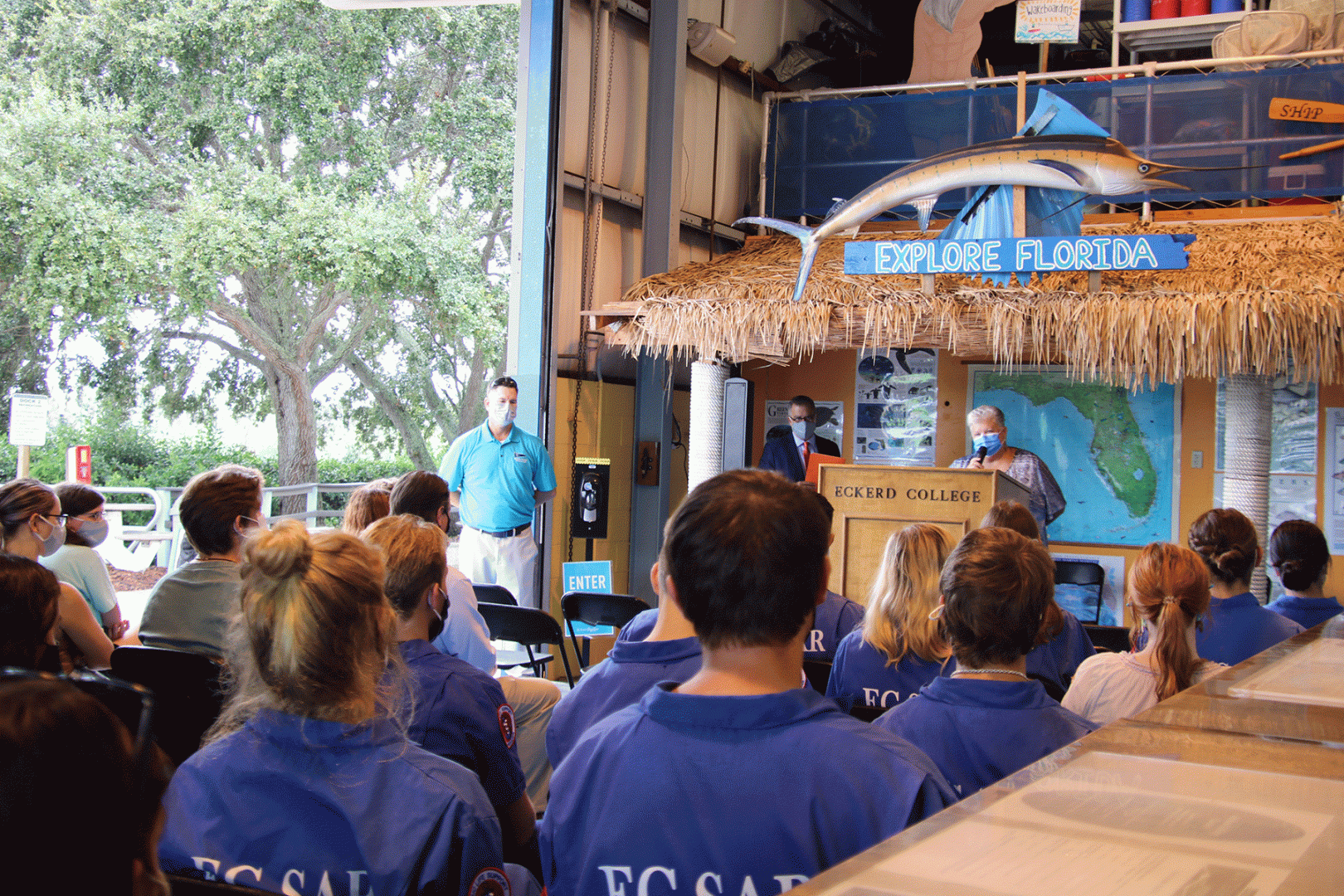 EC-SAR students and others gathered in Wallace Boathouse to hear about the new award.
"It just makes you realize how meaningful this all has been," she said as her voice cracked. She smiled widely as she posed with her honorary citation, standing between President Fernández and College Trustee Greg Mino '93, who heads the Waterfront 50th Anniversary Committee and made the trip from Chicago to honor his friend.
The first recipient will receive the award during Reunion Weekend in March.
Creating an alumni award in Register's name came easy. "The Waterfront … is a product of 50 years of thoughtful development that has been nurtured in a way that is second to none," President Fernández said. "It is also a product of leadership from someone who consistently puts others before herself."
That would be Renee Register.
She grew up north of Orlando in DeLand. Her father was a dairy farmer and her mother, a medical transcriptionist. Her closest connection to the water was some freshwater fishing and going to the beach.
But when she visited Eckerd as a prospective student, she took a boat ride at the Waterfront, and that was the beginning. She learned to sail, joined EC-SAR and got a job checking out watercraft. Counting her four years as a student, she has worked at the Waterfront for 42 years.
"When I came here, I was very shy. I had no confidence in myself. And then, all of a sudden, I found myself. It's important to see the value in every student. I think I connect more with those who don't feel they have value."
"It's less about boating," she adds, "and more about student development."
Many of her students have used that development to full advantage. "I get emotional when I talk about Renee," says Kim Amendola-Eichinger '92, acting deputy regional administrator for NOAA Fisheries—who also is co-chair of the Eckerd Waterfront 50th Anniversary Committee, a member of the Reunion Steering Committee and a Friends of the Waterfront Board member. "She's such an empathetic person who has this amazing ability to educate students of any level or background. I was so fortunate to have her at Eckerd."
"If someone is struggling or having a hard time, she'd be the first one to put her arm around you and ask, "How can I help?" She puts everybody else ahead of herself."
That was hard to do that Thursday at the Wallace Boathouse.
"I feel like I'm a freshman coming in the door and not really deserving of it," Register said. "But it means the world to me."