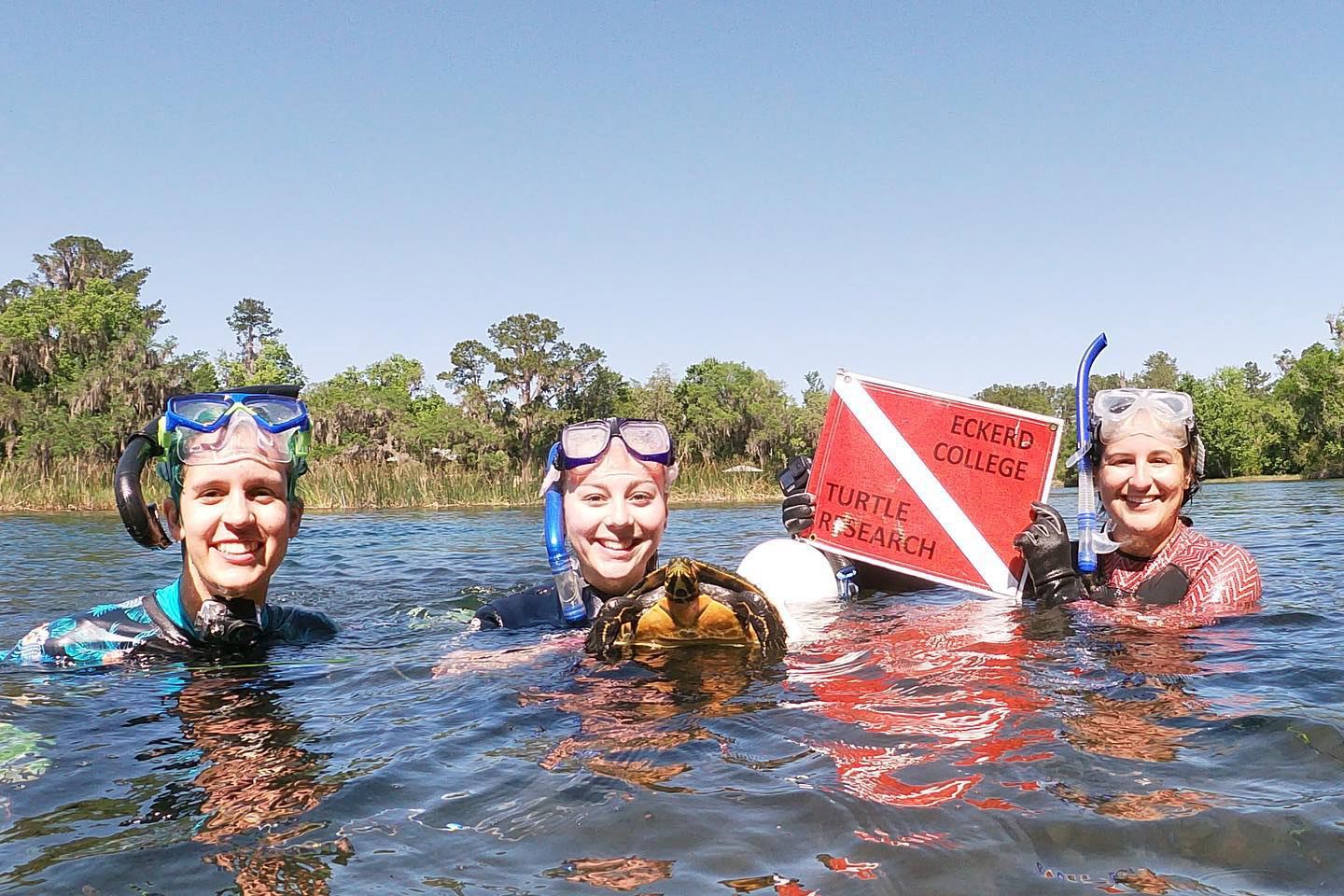 Left to righ: Ellery Overstreet '25, Jordyn Nace '25 and Celina Ceballos '21 hold a turtle they caught for measurements. Photos by Michel Fougères
A dozen dive flags stating "Eckerd College Turtle Research" bob on Rainbow River among snorkelers with their heads bent into the crystal clear waters. A Suwannee cooter darts from the grass, heading for the bank.
Three divers pursue the quick reptile, but only the last one manages to expertly maneuver a grab at the edge of the turtle's shell. The turtle flaps its feet to escape the gloved grasp, but it's no use. Into the mesh dive bag it goes.
The Suwannee cooter is one of 126 turtles captured and observed by the Eckerd College Herpetological Society on Oct. 22. Four times a year, the club brings about 40 undergraduate students to Rainbow Springs State Park in Dunnellon, Florida, to conduct a daylong turtle population survey. The data they collect is part of Professor Emeritus of Biology Peter Meylan's 32-year research on turtle populations at Rainbow River.
During a survey day, the goal is to catch as many turtles as possible in a designated 1.5-kilometer stretch of Rainbow River. Student researchers snorkel in small groups equipped with a flag and a dive bag. When they catch a turtle, they flag down the research boat, where turtles are sorted by species.
Aidan Webster, a junior marine science student from Trappe, Pennsylvania, recalls a time when he encountered more than turtles in the water. A woman approached him in a kayak while he was holding a Florida redbelly upside down above the water.
"Hey! What are you doing with that turtle?" she asked with authority.
"We're studying them for conservation. We're researchers at Eckerd College," Aidan replied.
"You're going to release him, right?" she said, still seeming concerned.
"Of course! He'll be back home in no time," Aidan responded, and the woman paddled away.
During this year's spring trip, Eckerd students caught a variety of species including a large softshell turtle.
Once students return from the river, peel off their wetsuits and eat lunch, they form a loose assembly line under one of the campsite pavilions. Huge buckets full of wiggling turtles surround the picnic tables. Data sheets flutter in the wind as identification numbers are called across the pavilion.
First, the turtle is identified by scanning for a PIT tag under its shell, just above the tail. If it hasn't been tagged with a passive integrated transponder, one is implanted, and it's given an identification code. Next, the shell, tail and claws are measured and recorded. Male turtles have much longer tails than females, so it's generally easy to tell them apart. Then the turtle is weighed, and a small blood sample is taken from a sinus behind its head—for DNA study. The last task before the turtle is released is an X-ray.
A sample of females is selected to be taken to the Rainbow River Animal Hospital. Meylan, accredited with a Ph.D., has worked with a veterinarian there for many years. The X-rays provide reproductive data to be used to track changes in the size and number of eggs each turtle lays. This can lead to determining the optimal egg size for the optimal survival of hatchlings.
During the October survey, seven species are collected. The biggest catch is a 12.3-kilogram snapping turtle. Four of the turtles were first tagged in 2000–2002, which makes them "older than the average snorkeler," Meylan points out.
"It's so nice to be outside and work with animals like this," says Aryvelle Zaliauskas, a senior biology student from Cape Coral, Florida.
Meylan started this project in 1990, before all Florida turtles were protected by law. Since then, Eckerd students have performed 113 turtle surveys, and 11 species of turtles have been captured for data collection. When Meylan retired from his teaching career at Eckerd, Jeff Goessling, Ph.D., was hired as an assistant professor of biology with the understanding that he would take over the project and become the faculty sponsor of Eckerd's Herpetological Society.
"This is an impactful project for Eckerd College," Goessling says, adding that seeing the development of research skills in the undergraduates he works with is his favorite part of the job. This project is one way he can foster that growth.
Many students have used this data to write their senior theses, and Meylan and Goessling have published several papers in collaboration with Eckerd students based on their turtle research. Eckerd's recently hired Assistant Professor of Biology Peter Scott, Ph.D., also plans to get involved with the research.
Liliana Sandberg, a senior marine science student from Brentwood, Tennessee, relishes the opportunity, saying "We get to do things that undergraduates aren't allowed to do most places."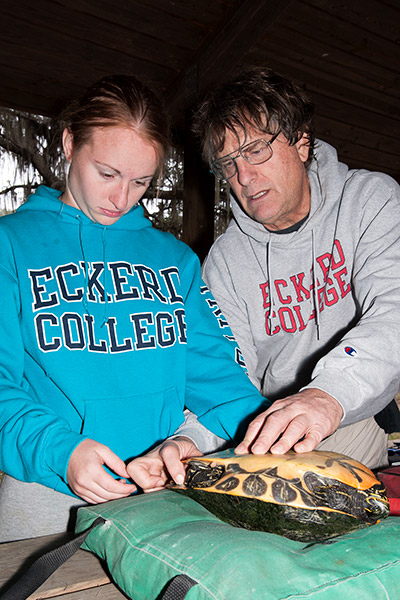 Professor Emeritus of Biology Peter Meylan helps a student take measurements in 2014. Photo: Ellen K. Rudolph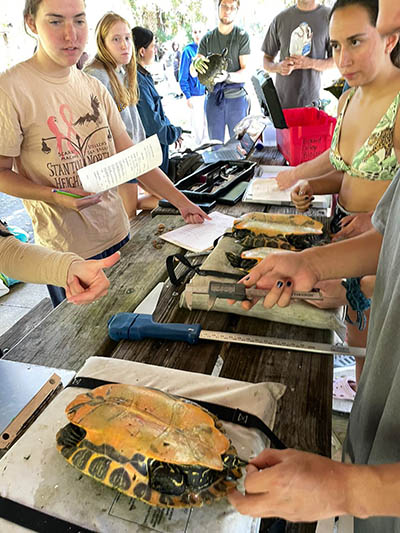 Students measuring turtles at a pavilion alongside Rainbow River. Photo: Gabe Weikert '25