Eight Eckerd College students were awarded the National Oceanic and Atmospheric Administration (NOAA) Ernest F. Hollings Undergraduate Scholarship in May—bringing the College's total number of recipients to a national high of 74 winners.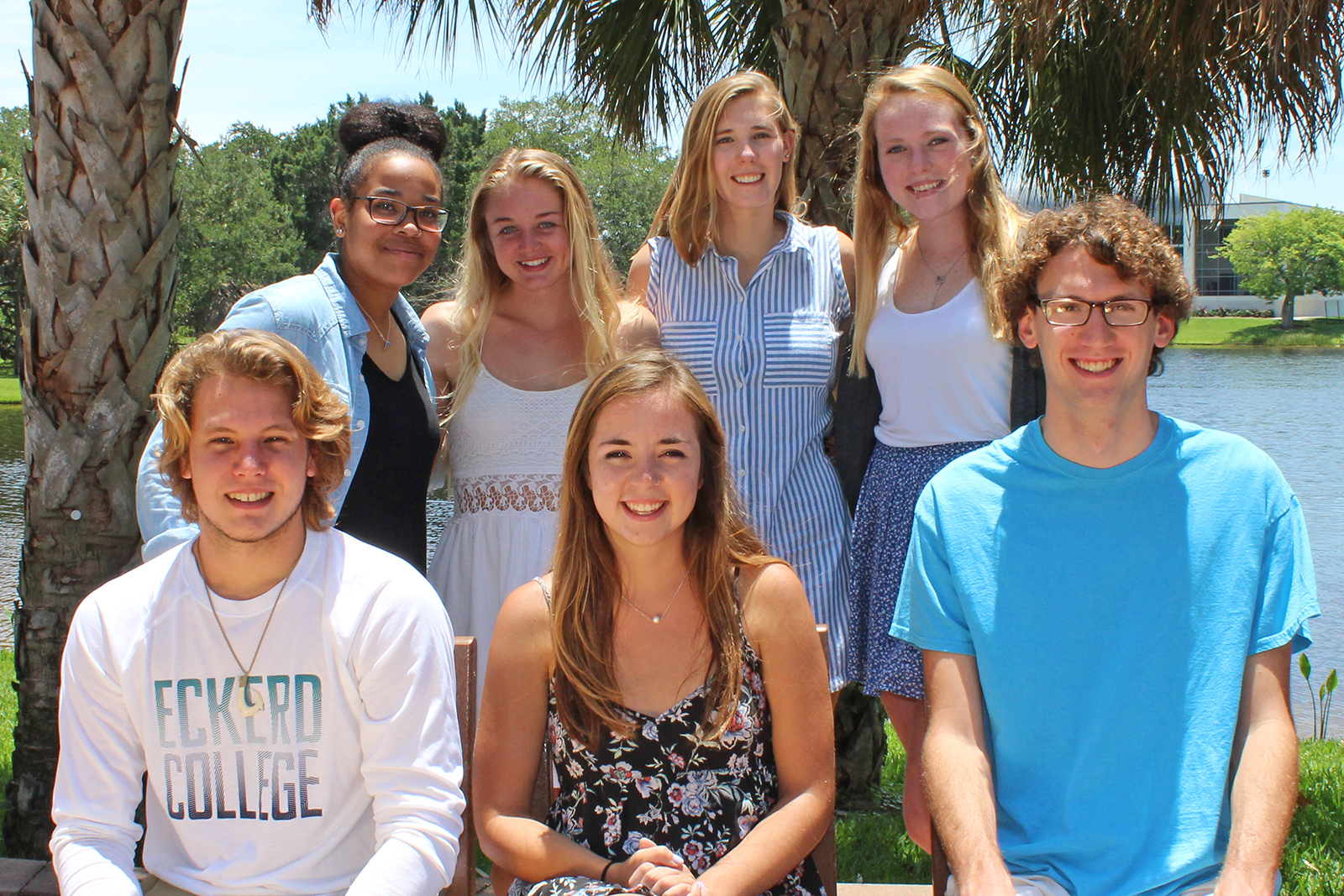 Clockwise from top left: Anjali Boyd '18, Courtney Tierney '18, Nicole Pegg '18, Brooke Davis '18, Jeffrey Michalec '18, Amanda Goldsmith '18 and Kyle Vincent '18 were awarded NOAA Hollings Scholarships on May 5. Not pictured: Sophia MacVittie '18 (studying abroad)
In 2005, the Hollings Scholarship, named after a retired U.S. Senator from South Carolina, began providing outstanding students in the field of marine and environmental sciences up to $9,500 in scholarship funding and a summer internship at a NOAA facility.
This year, eight Eckerd marine science majors—Anjali Boyd '18 of Durham, N.C.; Brooke Davis '18 of Chesterfield, Va.; Amanda Goldsmith '18 of Des Moine, Iowa; Sophia MacVittie '18 of New York City; Jeffrey Michalec '18 of Wausau, Wis.; Nicole Pegg '18 of Rochester, New York; Courtney Tierney '18 of Waretown, N.J.; and Kyle Vincent '19 of Hobe Sound, Fla.— were selected for the competitive program.
"The Hollings Scholarship is actually why I decided to come to Eckerd College," said Tierney. "When I heard that Eckerd had the most Hollings Scholars in the nation, I knew I had to come here." Tierney's passion lies in coral restoration, and she hopes to find a master's program in Australia after graduation that will allow her to study the Great Barrier Reef.
Boyd, who just finished her two-year term as president of the EC Marine Science Club, was working on an ecology project when an email alert cued her to the good news. "I almost cried and screamed, and then I called my mom and dad," she said.
She credits the strength of Eckerd College's Marine Science program with generating so many qualified Hollings applicants every year. "We've got the best program out there—hands down. I got into marine science in high school as a summer scholar at the University of Miami, and the EC Marine Science Club has toured graduate programs at other schools, but I don't think any other school prepares undergraduates as well as Eckerd," she said.
Boyd admits she was surprised during her first summer internship following her freshman year when she met seniors and other upperclass students from larger schools who were also doing their first internships. "I doubt many students will have as much research experience as Eckerd students do when they graduate," she said.
Vincent needed a little push from friends to apply but found the experience rewarding. "I'm still narrowing down what I want to do in the field, but I think I'd like to work in fisheries," he said. While researching NOAA labs for placement, he learned of a chance to do whale research in Alaska. "I've always wanted to go to Alaska. That would be a good internship."
Hollings Scholars will attend a one-week orientation in the final week of May, receive up to $9,500 for their final two years of study and will spend 10 weeks in the summer of 2018 interning at a NOAA facility with $700 per week in pay and $200 per week in housing allowances for students not living at home.