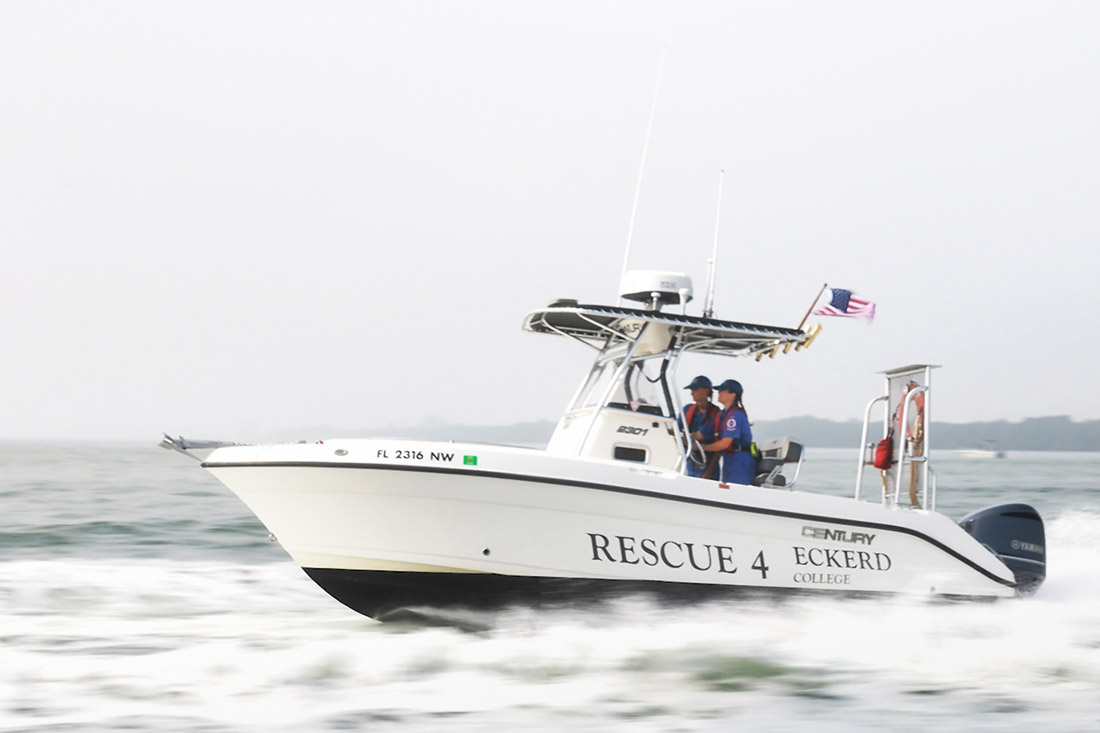 Eckerd College students drive a rescue boat into Tampa Bay waters. Photo by Penh Alicandro '22
Jarad Mattson, owner of A Tractor Works, a landscaping supply company in Pinellas Park, Florida, was motoring a 24-foot sailboat from St. Petersburg to Palmetto one evening in late June. "It was about 5 p.m. and I had made it most of the way," he recalls.
"But the tide was coming in, and I burned more gas than I thought I would. Then the engine shut off. I ran out of gas. I called all my friends, but no one could make it out there. So I spent the night on the boat."
The next day, one of his friends suggested he call Eckerd College "because they have a rescue team that could help me. They were there in half an hour, and they had the gas I needed to get home."
Fast-forward to mid-July.
Maggie Jensen '11, Eckerd College's farm manager, needed to order a truckload of fill dirt. She was looking for a landscape company relatively close to campus. For no particular reason, she called A Tractor Works. Jarad Mattson answered.
"When I said I needed the dirt sent to Eckerd College, he said we had just saved him. His boat had run out of gas, so he called EC-SAR [Eckerd College Search and Rescue], and they showed up right away. He said he was really thankful for what happened, and that he wanted to have a chance to pay it forward, so he said he would deliver the dirt, and it would be for free."
Early the next morning, a white dump truck with Mattson at the wheel rumbled onto the grounds of the farm in St. Petersburg and delivered six cubic yards of fill dirt.
It will be used, Jensen explains, to build a foundation for a shade structure in the middle of the farm that will serve as an outdoor classroom and meeting space. But first, all that dirt had to be moved to its permanent home. "Kenny Bishop, who's volunteered at the farm for several years, brought in his Bobcat loader and moved all the dirt for us," she says. "It was just out of the goodness of his heart."
At the center of this story is EC-SAR, a highly trained group of student volunteers who work closely with the U.S. Coast Guard, 911 Emergency Medical Response and other state and local agencies to answer about 500 maritime distress calls every year. EC-SAR is one of the most unique cocurricular programs available to full-time, degree-seeking Eckerd students. No other educational institution in the U.S. has a program like it.
The team was founded in 1971 in an effort to provide safety services for the College's watersports activities. In 1977, EC-SAR extended its rescue services to the Tampa Bay boating community.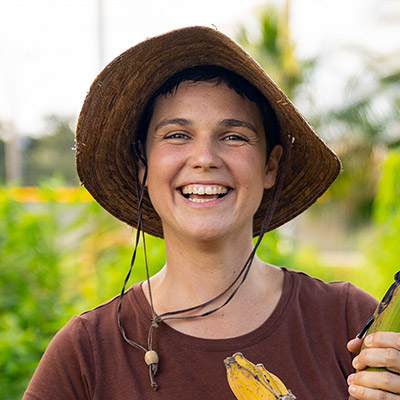 Maggie Jensen '11, Eckerd College's farm manager
The team was one of the first rescue units to respond to the Skyway Bridge collapse in May 1980. The program has since grown to become one of the most respected search and rescue organizations on the west coast of Florida.
Members volunteer 12–15 hours each week for training, meetings and equipment repair. In addition, students are on call for one 24-hour period every three days. They patrol the waters of Tampa Bay on weekends, and they monitor radio calls during the evenings. For the 2022–23 academic year, there were 62 team members.
Ryan Dilkey '98, associate director of the Waterfront Program and leader of the EC-SAR Team, says Krista Park '22, coordinator of training and operations for EC-SAR, was the staff member who managed Mattson's rescue.
"We do a lot of rescues involving a disabled engine or steering or electrical problems," Dilkey explains. "In this case, a fuel transfer was completed and we escorted the boat back to shore." He adds that EC-SAR doesn't charge for its services, depending instead on alumni support, fundraising, grants, county support, and donations from those who are rescued.
People like Jarad Mattson.
"I think this happened for a reason," Mattson says. "I just wanted to give back in any way possible, and I was so glad I could."
Gifts to the Waterfront Program and the EC-SAR Team ensure that students can continue having life-changing experiences on Eckerd's waterways as they serve those in need. Visit eckerd.edu/waterfront/support to get involved.