Maggie Jensen '11 knows this place. Knows it like her own backyard.
Wearing a wide-brimmed straw hat, jeans, a T-shirt and hiking boots, she carefully steps between rows of newly planted okra seeds at the Eckerd College Community Farm, a 1-acre plot between the Johnson Athletic Field and the baseball diamond. After being away from this field of greens for more than a decade, Maggie returned recently as the new farm manager.
Her job will be to oversee the day-to-day operations of the farm program, supply produce to campus food services, develop sustainable production plans, and recruit and train student workers and volunteers. She replaces Jonathan Prieto, who served as the farm's first manager and now works for the City of Largo.
A 2011 Eckerd graduate, Maggie was on hand when the plot was first adopted by the Eckerd College Garden Club in 2010 with a vision of turning the space into an outdoor classroom for students who wanted to learn about sustainable agriculture.
Maggie and other club members created raised beds, planted banana and mango trees, and started a composting program.
The Garden Club plot officially became the Community Farm in October 2021 and today, the farm is a busy place. For the 2022–23 academic year, 244 trees and shrubs were planted, and the farm delivered 858 pounds of produce—primarily kale, collard greens, mustard, carrots and peppers—that was sold to Bon Appétit, the company that manages the College's cafeterias. In return, the farm received 24,000 pounds of food waste, primarily from the cafeterias, which was used for compost.
The farm also is a classroom. More than 50 classes from 14 disciplines held sessions among the rows—involving more than 1,000 students. In addition, the farm provided student employment for 18 student farmers, three ambassadors, two photo interns and four production interns. The farm also held 26 on-campus events and 16 off-campus events, along with workshops and conferences.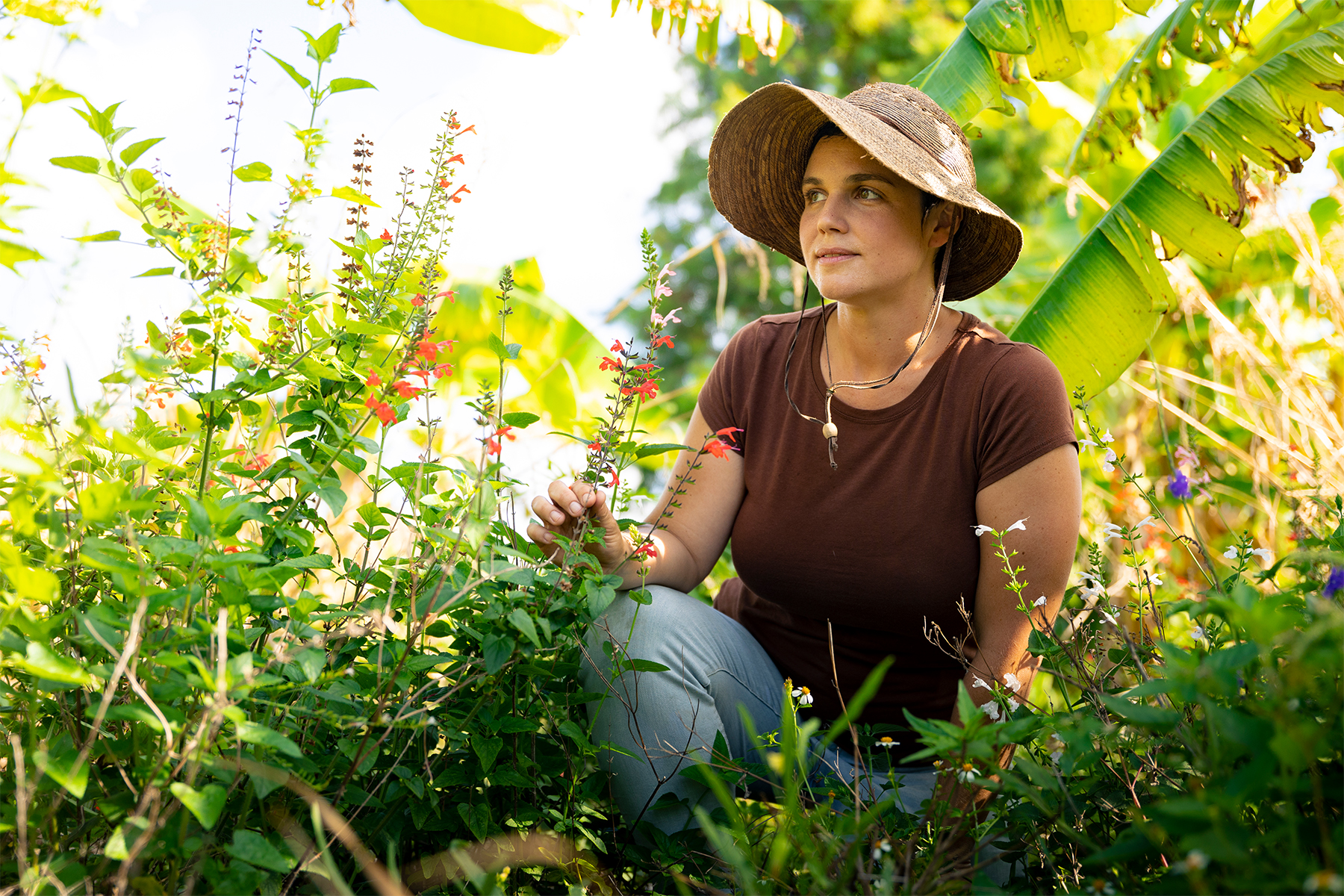 Maggie has designed gardens and taught organic gardening during her 12-year career. Photo by Penh Alicandro '22
"It feels surreal to be on campus again after 12 years," Maggie says. "But I also feel right at home because all my old haunts are here. I used to spend time with my friends on this farm [when it was a garden]. It feels like coming back to an earlier version of myself." 
In what might have hinted at things to come, Maggie graduated from Palm Beach Gardens High School; she lived on Grove Road; and when she was required to take a gardening class in sixth grade, "I loved it," she says. "So I went home and started my own garden. I grew squash, tomatoes and spinach—all of which I eventually learned don't grow very well in Florida."
After she graduated from Eckerd with a degree in visual arts, Maggie founded the Euclid Heights Community Garden, taught organic gardening at Academy Prep Centers' middle school, designed and managed organic gardens for a farm-to-table restaurant in St. Petersburg, and was the horticulture specialist at Sunken Gardens.
So the table was set for her return to Eckerd College. "The students are only 18 when they get here, so it's usually their first introduction into sustainability and learning where their food comes from. It's a great place for students to get their feet wet," Maggie explains.
And she has other motives. "I'd like to make sure the farm stays here and is allowed to remain indefinitely a place for students to learn, a place for them to come and get fresh air and feel freedom and self-expression. It's also a place where community members can come and understand the value of sustainability.
"No other campus in this area has anything compared to the scale and diversity of the Eckerd farm," Maggie adds. "It's unusual for a college that doesn't have an agriculture program to have a farm like this. But that's what a liberal arts program can provide. We see all the opportunities."
As does the College. "We are lucky to have Maggie back on campus, bringing her broad expertise and deep understanding of the College to our unique liberal arts farm," says her classmate Evan Bollier '11, sustainability director and an adjunct professor of management at Eckerd. "This summer, she will be working with three student interns on cover-crop maintenance, keeping the weeds at bay, and crop planning for the fall and spring."
One of those interns is Jack Benavidez, a senior environmental studies and visual arts student from San Antonio, Texas. His grandmother was a farmer in upstate New York and later in Houston. "I think as we progress into the future with food development, we need to value local and sustainable agriculture," Jack says. "What I'm learning is that people can have sovereignty over what they grow. They can use this knowledge and make a difference in the world. It's the answer to the question: What can I do to make a difference and move toward a change?
"And Maggie is very supportive," Jack adds. "She was someone who helped establish the Garden Club back in 2010. It's nice to see that come full circle."
David Himmelfarb, Ph.D., environmental studies instructor, internship coordinator and faculty director of the farm, adds that Maggie "is a manifestation of the spirit of liberal arts at Eckerd and our approach to farming. She brings her technical expertise, her educational experience, and a deep connection to the College and the farm in particular. And she's just an idea machine.
"It's a real gift to have her come back."