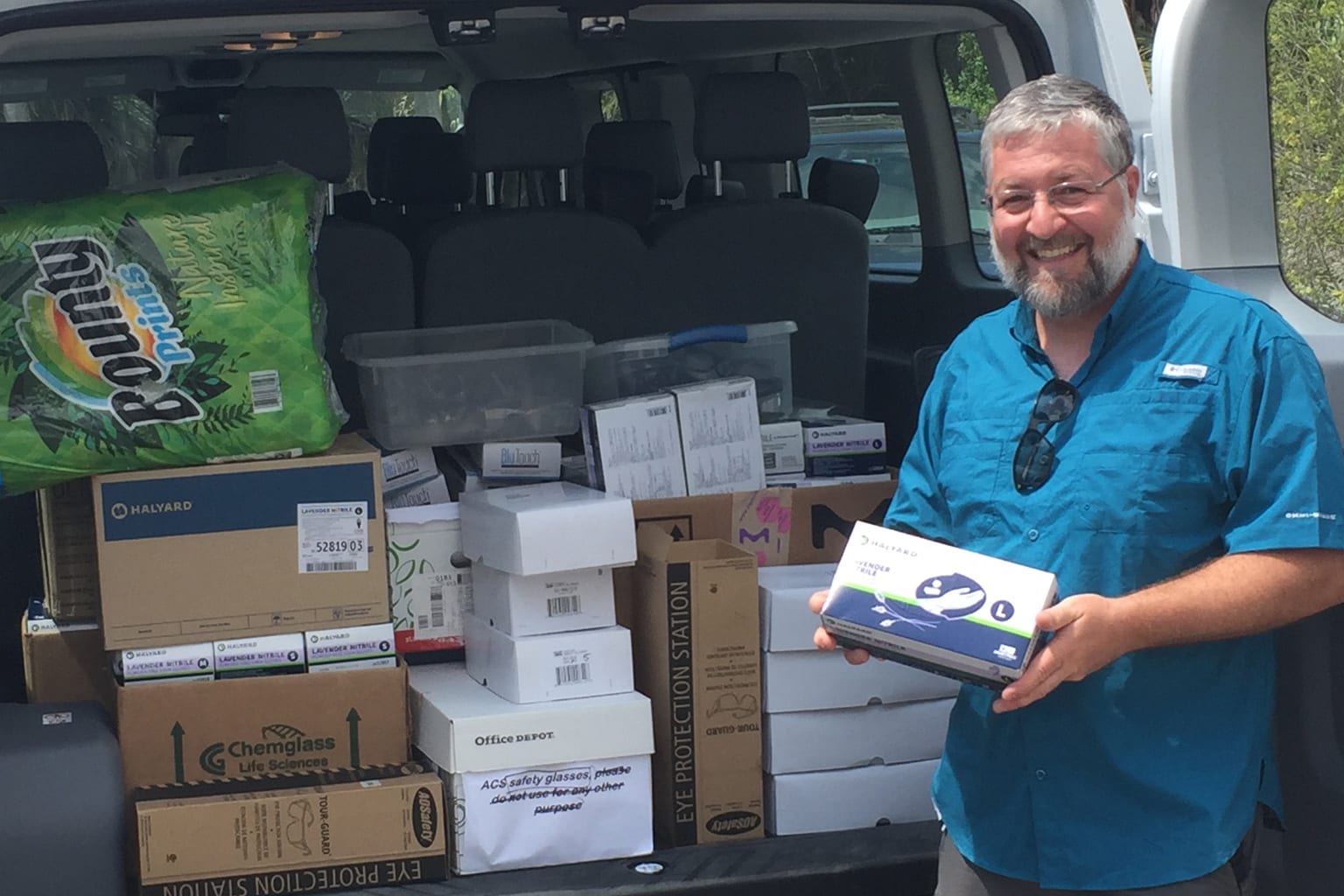 Brian Conlin and faculty gathered 14,000 pairs of gloves, 220 masks and 130 goggles to help local hospitals, long-term care facilities and first responders.
Novel coronavirus (COVID-19) effectively shuttered Eckerd College's campus on March 18, halting student research and laboratory work for the semester. Brian Conlin, chemistry stockroom supervisor for the Natural Sciences Collegium, saw chatter on his professional message boards about what other colleges were doing with all the lab supplies they weren't going to need and had an epiphany.
Conlin reached out to faculty, and the College put him in touch with Adam Colby '09, assistant vice president for operations and emergency management, who knew just the place to send the more than 14,000 pairs of gloves, 220 masks and 130 goggles. Pinellas County Emergency Operations began accepting donated personal protective equipment from businesses and residents at designated drop-off centers on March 26. Unopened and unused surgical face masks, P100 masks, N95 masks, face shields, nitrile exam gloves (powder free), 5 and 7 mil nitrile gloves, safety glasses, surgical tear-away gowns, safety eye goggles, 60% alcohol hand sanitizer, 91% isopropyl alcohol, Clorox wipes, Lysol disinfectant spray, Sani-Cloth wipes and 3% hydrogen peroxide are in demand to supply local hospitals, long-term care facilities and first responders.
It was an easy decision for faculty to join the effort, said Associate Professor of Biology Liza Conrad, Ph.D., chair of the Faculty Coordinating Committee. "Using the supplies we have to take care of the community that takes care of us is the least we can do," she added.
Professors Krediet and Grove help Brian Conlin load up supplies.
Most of the equipment donated would have been used in lab classes and research this Spring Semester, and Conlin would have been tasked with reordering before Autumn Term in August. He plans to reorder on schedule to make sure Eckerd scientists are well equipped, as always. He was particularly fortunate to find 24 of the coveted N95 masks needed for healthcare workers, especially since no one knew what they had been used for at Eckerd College. "We don't know when they were ordered or what lab had used them," Conrad noted.
Conlin collected all the items from the James Center for Molecular and Life Sciences and the Galbraith Marine Science Laboratory on March 26 and delivered the donation to Tropicana Field, one of two collection sites open daily from 10 a.m. to 2 p.m. until April 4.
Pinellas is also accepting unused ventilators, CPAP machines, BiPAP/Bilevel machines and High Flow Nasal Cannula Setups.