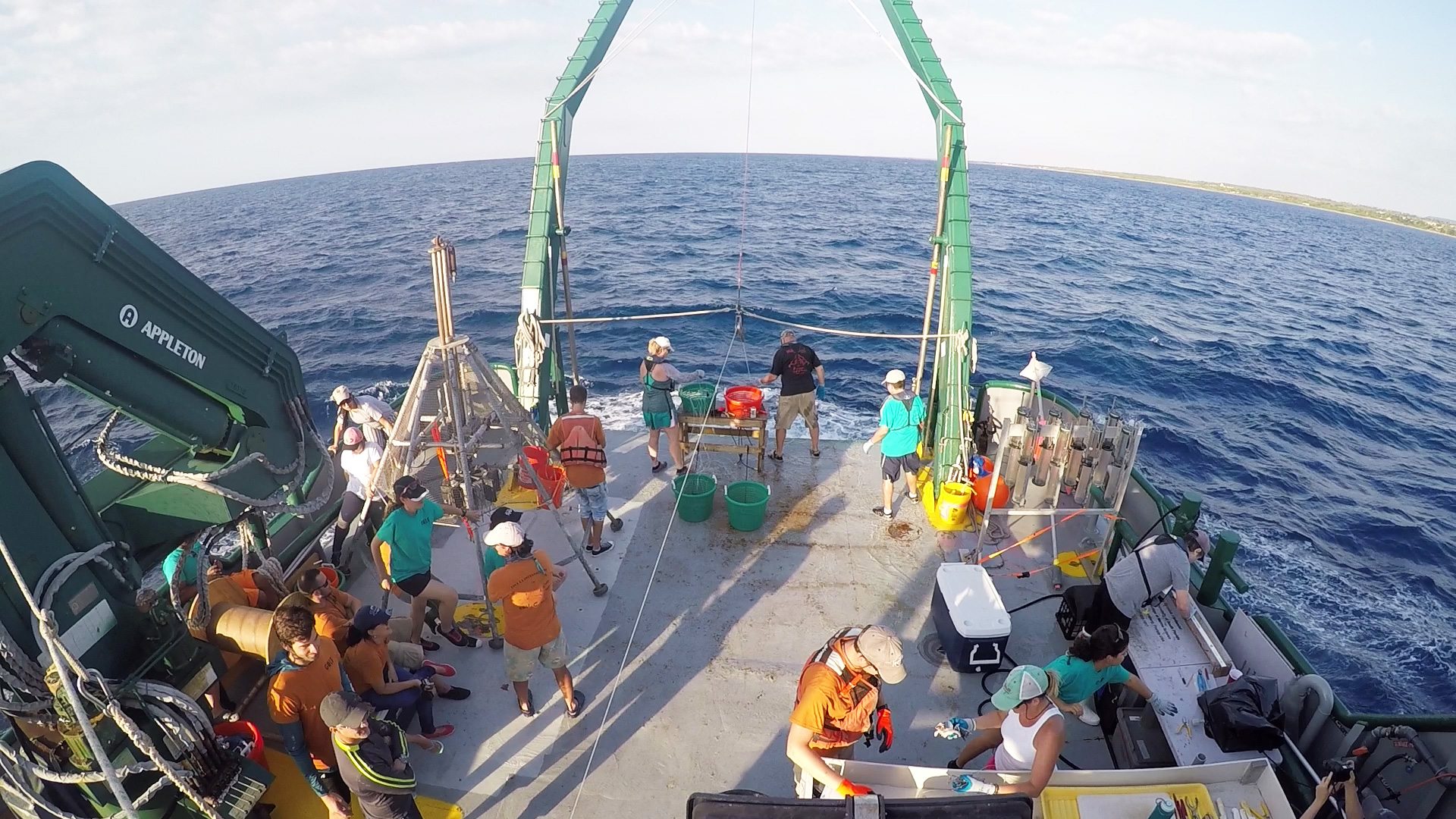 Aboard the R/V Weatherbird II off Cuban waters
Marine scientists took another step forward in academic relations between U.S. and Cuba during an 18-day research expedition to waters off the northwest section of the island nation in May.
Eckerd College Marine Science Professor Gregg Brooks and Marine Research Assistant Rebekka Larson '01 were among the scientific cohort that journeyed to Cuba on the Florida Institute of Oceanography's research vessel R/V Weatherbird II from May 8 to 25. Researchers collected 450 fish, 150 water samples, nearly 1,500 sediment samples, and 50 fish-egg and zooplankton samples to create a catalog of environmental baseline specimens. Using these samples, scientists will determine the presence of chemical signatures of petroleum in future oil spill events.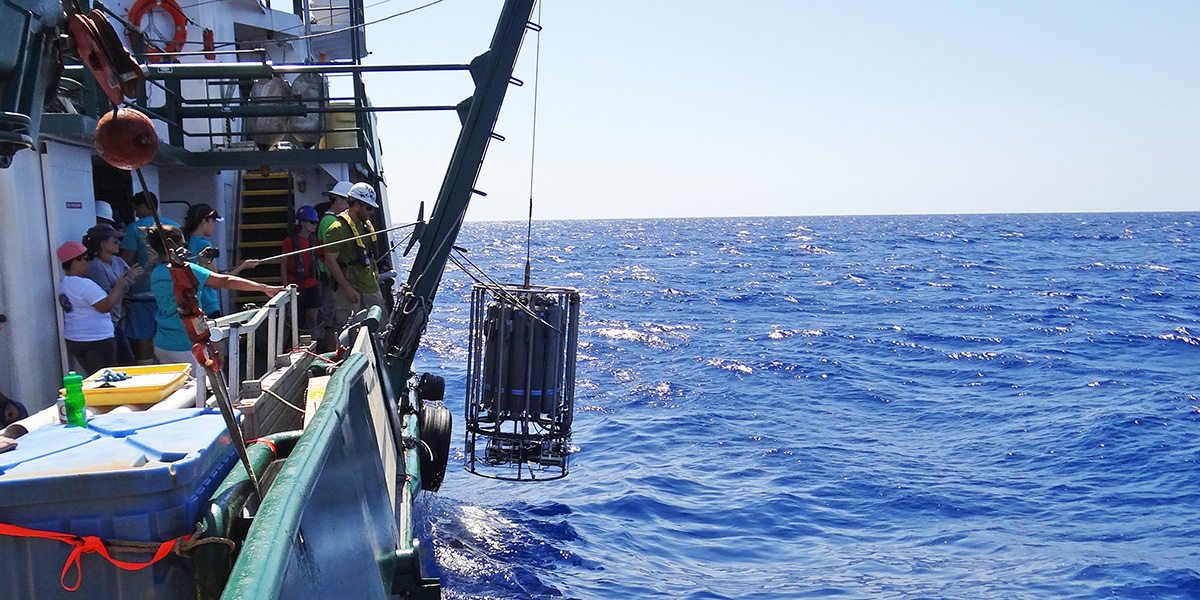 U.S. and Cuban scientists deploy a CTD (conductivity, temperature, and depth sensor) and water sampler from the R/V Weatherbird II off the north coast of Cuba. Photo: Erin Pulster (USF)
The U.S. researchers, funded through a grant by the Gulf of Mexico Research Initiative (gulfresearchinitiative.org) to its Center for Integrated Modeling and Analysis of Gulf Ecosystems (C-IMAGE consortium), were from Eckerd College, Texas A&M University–Corpus Christi, and other Universities. C-IMAGE lead PI Steven Murawski and the University of Havana's Maickel Armenteros served as co-chief scientists on the expedition.
These baseline samples off Cuba are particularly important because, unlike the U.S. and Mexico, there currently is no marine oil and gas industry there. Murawski explained, "The importance of this expedition cannot be overemphasized. Not only will it provide important clues as to the true environmental oil pollution baselines for the Gulf, but it provides important new and hopefully enduring connections to the vibrant Cuban marine science community."
Cuban university students, who have limited access to marine vessels, were also welcomed aboard the R/V Weatherbird II to look at sample collection and field research up close. During a designated education day, 21 students toured the Weatherbird II and were given introductions to the sediment multicore, water sampler and fishing equipment.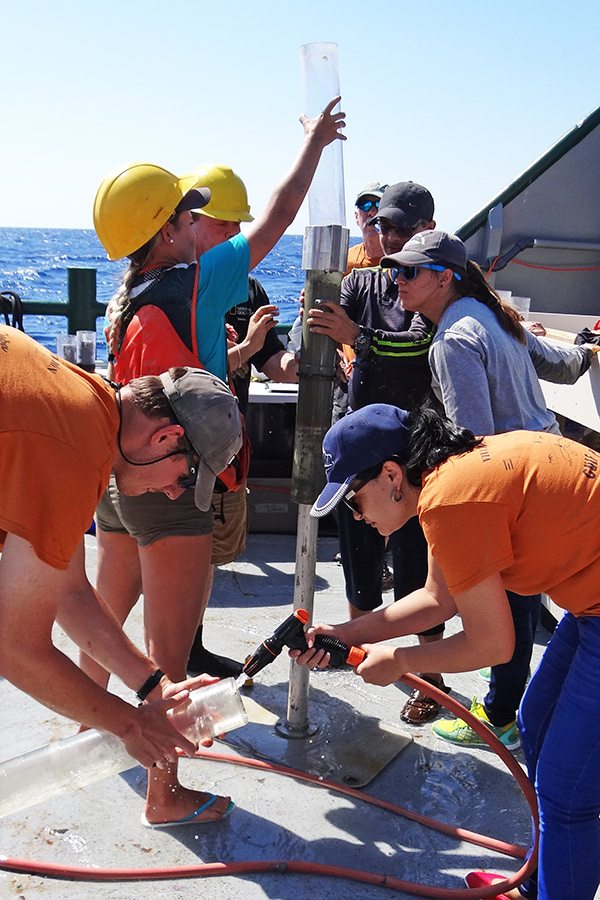 U.S. and Cuban scientists transfer a sediment core. Photo: Erin Pulster (USF)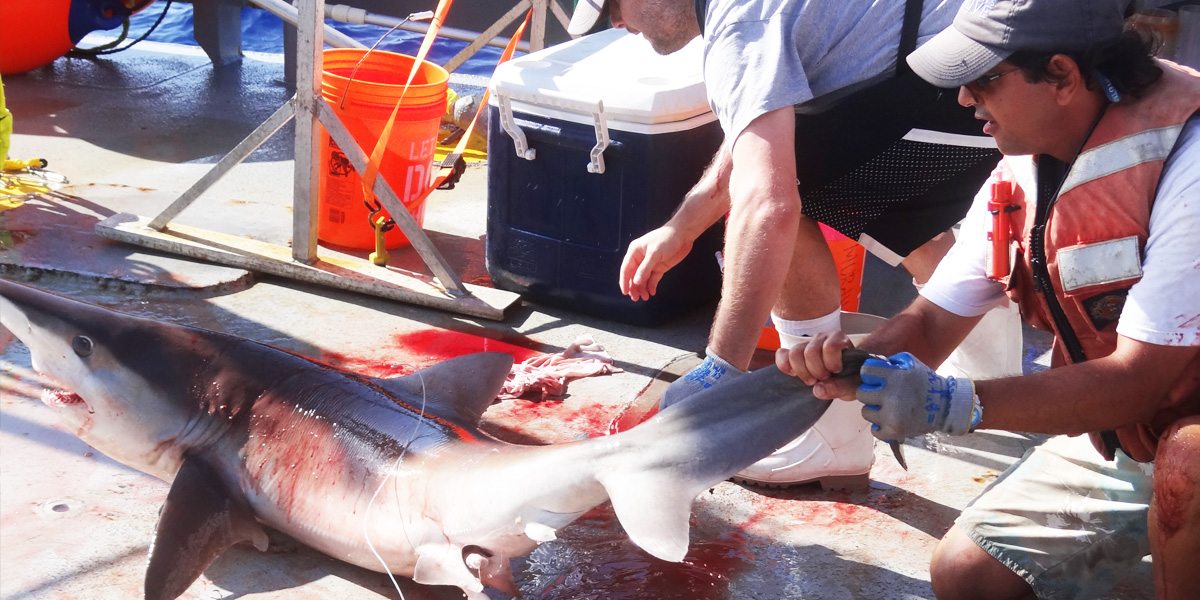 Alexei Ruiz Abierno (student, Univ. of Habana) captures a shark to tag as a part of his research in Cuba. Erin Pulster (USF)
"These students learned new techniques and what happens on an ocean-going research vessel," Brooks said. "Students have studied marine science for years but do not have equipment or ships necessary to conduct research in deeper waters. This opportunity highlights the collaborative relationship we're building with our colleagues."
Findings from the recent R/V Weatherbird II expedition will be used to complete a Gulf-wide data set to help scientists identify the ecological impacts of future oil spills.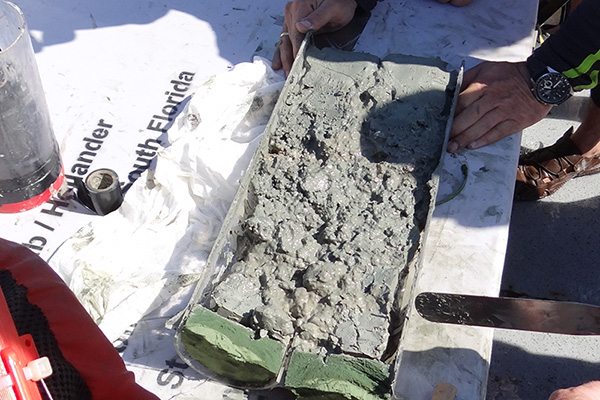 Sediment core split for photography, description and sampling to investigate the sedimentary record off the north coast of Cuba. Photo credit: Erin Pulster (USF)