The Eckerd athletics department has announced the promotion of Michelle Piantadosi-Lima to Assistant Athletic Director.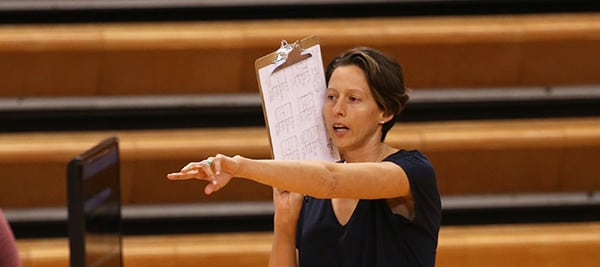 "It's an honor to serve Eckerd College, our athletic department, and our student-athletes in this leadership role," she said. "I am grateful for Acting Athletic Director Tom Ryan, President Eastman, and Dean Annarelli for trusting me to assist in carrying out the vision for our athletic department. I want to thank our coaches and student-athletes for allowing me to grow in this position. I am excited to continue building upon the success of the college and athletic department."
Piantadosi-Lima has served as the Senior Woman's Administrator since joining the Eckerd athletics staff in 2012. During that time, her role has continually grown to include overseeing the Student-Athlete Advisory Committee, Title IX Compliance, and student-athlete development.
She has also experienced much success as the head coach of both the volleyball and beach volleyball programs. In six years at the helm of Triton volleyball, she has led her teams to four NCAA Tournament appearances and ranks second in program history in career wins after surpassing 100 during the 2017 season.
In 2014, she launched the beach volleyball program and quickly built it into one of the premier small college programs in the country with one AVCA Small College Championship and two runner-up finishes in only four seasons of competition.
"Michelle has been an integral part of our department since she arrived in 2012," said Acting Athletic Director Tom Ryan. "Her professional growth and maturity have been evident in her influence with our senior leadership team and student-athletes. She developed various programs during the last year that have made positive impacts on our student-athletes and coaching staffs. We are excited to see her leadership role continue to expand."
Her coaching career began at Sunshine State Conference member Nova Southeastern University in Fort Lauderdale as an assistant coach from 2006-2010. She then spent one season as the assistant coach for NCAA Division I East Tennessee State University before accepting the head coaching position at Eckerd in 2012.
Piantadosi-Lima also boasts a stellar playing resume, most notably as a four-year starter at the University of Tennessee. She earned Honorable Mention All-American honors after her senior season while being selected to the USA Volleyball A2 Team and still holds the school record for most kills and attacks in a season in the 30-point rally scoring era (2001-07).
Following her career at Tennessee, Piantadosi-Lima competed professionally in Salzburg, Austria, and San Juan, Puerto Rico. Since 2008, her most recent professional endeavors were found in beach volleyball playing in several AVP tournaments all over the nation.
Piantadosi-Lima graduated in 2005 from Tennessee with her Bachelor of Science degree in Psychology. She earned her Master's degree in Education with a specialization in Athletic Administration from Nova Southeastern in 2010.