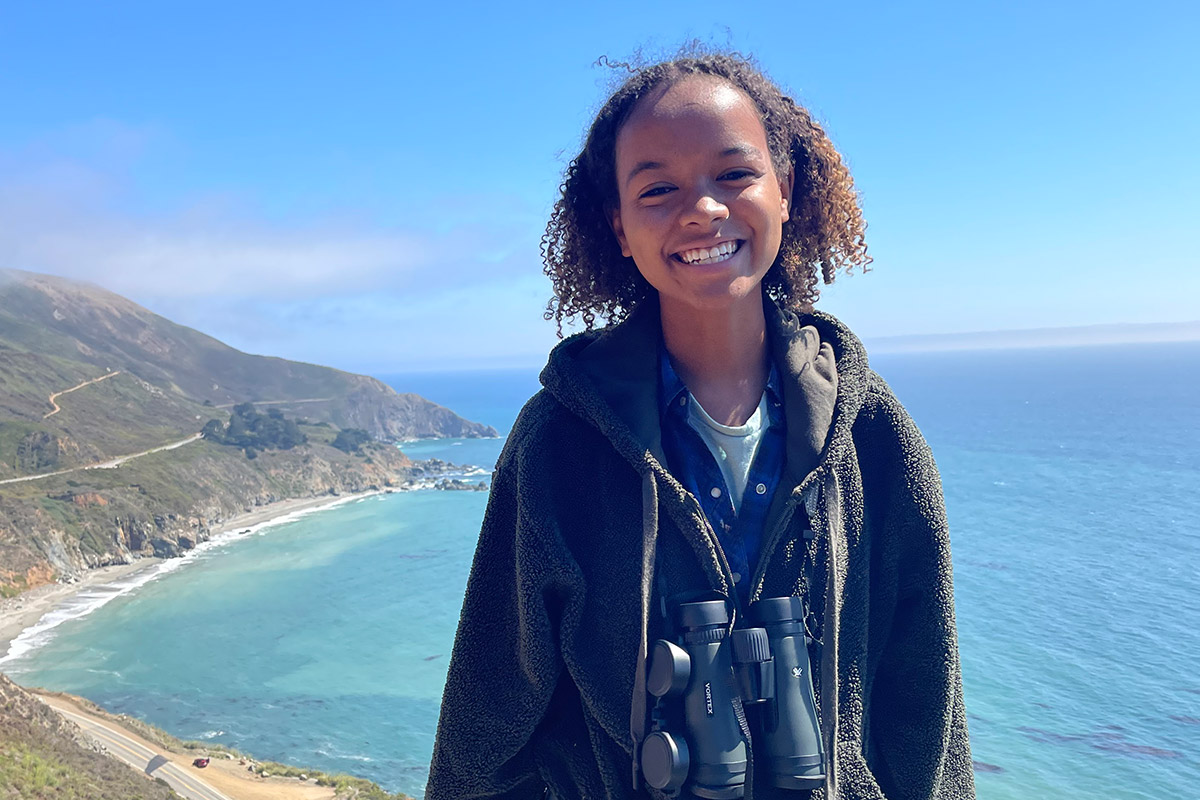 Fana Scott '22 spent the summer conducting pollinator research in California as a Doris Duke Conservation Scholar at University of California Santa Cruz.
In between five classes, supervising Resident Advisors of three dorms and being an on-call medic for the Eckerd College Emergency Response Team (EC-ERT), Fana Scott grabs her binoculars and sneaks over to Fox Pond in search of roseate spoonbills.
The small joy of sighting and identifying birds from around the country that flock to Eckerd College brings peace to her sometimes hectic days.
"For me, it's relaxing," says Fana, a senior environmental studies and biology student from Washington, D.C. "It's good to get outside and spend some time. Birding is challenging, and challenging yourself in that way is nice."
She's been challenged by her hobby more than ever this fall. And gained more from it too. Fana is the recipient of a $5,000 Black and Latinx Birder Scholarship—a program in its second year sponsored by Amplify the Future, a volunteer-run organization aimed at expanding equity in conservation efforts.
"Birding takes practice and time. I got started by taking [Environmental Science and Biology] Professor Beth Forys's Field Ornithology class in Winter Term in January," Fana says. "The first half of the class was just learning the different types of birds that are present on campus before we did bird walks. It made it less intimidating."
Forys, who also is Fana's mentor, says she's thrilled to see more female students and students of color take an interest in birding, which has largely been a male-dominated, less diverse pastime.
"Fana's such an amazing student, and I think it's terrific that scholarships like this exist to try to encourage more diversity in birding," Forys says. "I think interest really expanded during COVID because more people were trying to find reasons to get up and outside. Birding is something you can do even in cities."
Forys's Field Ornithology class, which she says routinely consists of about 40% students of color, will return in January, and in the Spring Semester, guest lecturer Ashlee Minor, biology instructor, will offer Avian Ecology to students interested in learning a little more about the birding opportunities around them.
Fana says introductory courses like those are essential to breaking down barriers in the field and will ultimately lead to even more students seeing their future in the skies. After completing a spring internship with the Manatee County Audubon Society and a summer research experience documenting pollinators in California, Fana is more certain than ever that she'd like to pursue a career in ornithology.
"I'm looking for research assistant jobs that I can do during my gap year before going to graduate school," Fana explains. "I want to do more hands-on fieldwork before going back into the classroom."