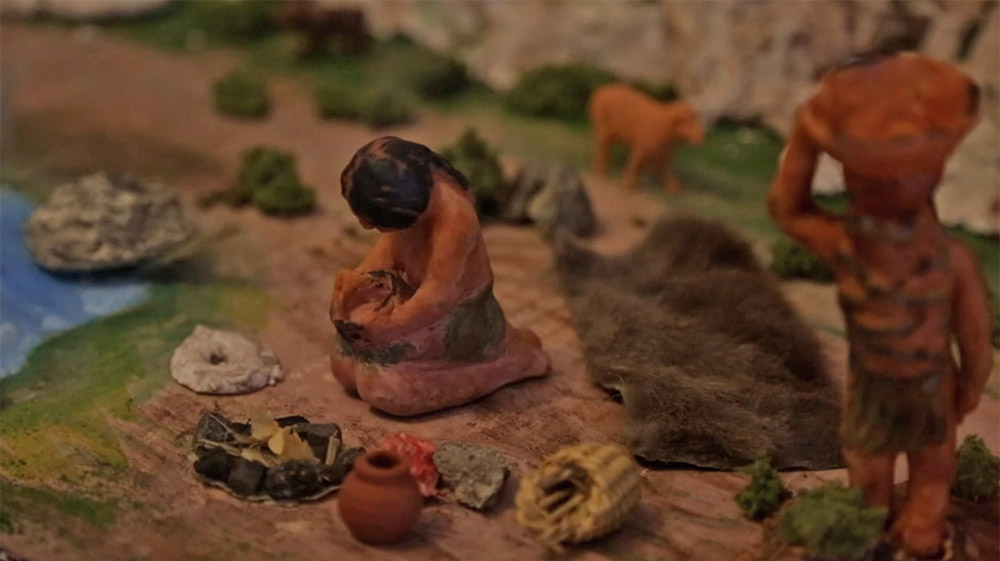 A scene from Assistant Professor of Film Studies Katrin Pesch's documentary film
In one of the scenes from Katrin Pesch's documentary film Finding Things I Don't Want To Find, Jim Van Meter, the caretaker/director/raconteur of an obscure museum of Native American and settler history in Spring Valley, California, is standing next to a life-sized statue of an Apache warrior. Van Meter says there's a problem with that.
The museum honors the Kumeyaay Tribe, whose members insisted the statue didn't resemble them and asked that it be moved out of view. Which Van Meter did. But he didn't want to completely get rid of the statue, because it had a history of its own, so he disguised it in old Kumeyaay dresses and a wig. He even changed its name from Ed to Edwina. Alas, the statue later returned to its original form, and Van Meter says he'll have to part with it soon. "Hang in there, Ed," he says, patting the statue on the shoulder.
That often meaningful, but sometimes irreverent, connection between people and objects is a cornerstone of Pesch's work. A filmmaker and writer who recently joined the faculty at Eckerd College as an assistant professor of film studies, she earned her master's and doctorate degrees in art history and art practice from the University of California San Diego. She also holds a Master of Fine Arts degree from Weißensee Academy of Art in Berlin. Her thesis film for her Ph.D. was Finding Things I Don't Want To Find.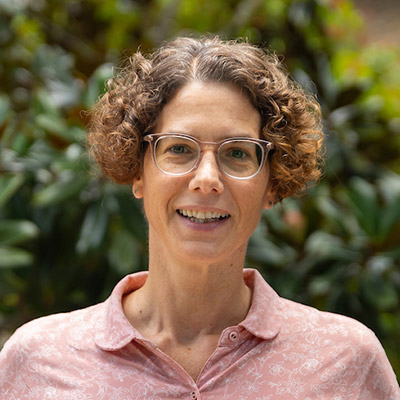 "I stumbled on the museum by chance in 2010," Pesch explains. "There is this jumble of objects, all kinds of things, that are carrying a lot of stories. The film takes its cue from the museum's unorthodox archive and observes how history is made, represented and lived within this environment. By following the site's caretaker as he attends to his chores and peculiar collections, the film unravels how eccentric practices and objects destabilize the museum's official narrative."
Her research draws on diverse fields such as film studies, material culture studies and ecology. She is an alumna of the Whitney Museum of American Art Independent Study Program and has exhibited internationally at film festivals and in art spaces and museums. Her writing has been published in Studies in French Cinema, Anthropology and Humanism, NECSUS European Journal of Media Studies and several edited collections.
For the past four years, Pesch has served as an assistant professor of film studies at the University of Southern Mississippi. She also was a visiting assistant professor of film production at Wofford College.
She grew up in the Ruhr area of western Germany and was drawn to Berlin, a city that at the time was grappling with unification after years of being divided during the Cold War. "I was looking at the city and started to make sketches and take photos," she says. "This was around 1995, and the [Berlin] wall was gone, but you could get a sense of what had happened—the old buildings in East Berlin and the surrounding countryside. You could see the changes, the restructuring.
"I want my students to be ethical storytellers," Pesch adds, "to be aware of issues in the community, and the work they can do to impact their environment. I'm very excited to be joining the Eckerd faculty, because that's such a big part of the College's mission."