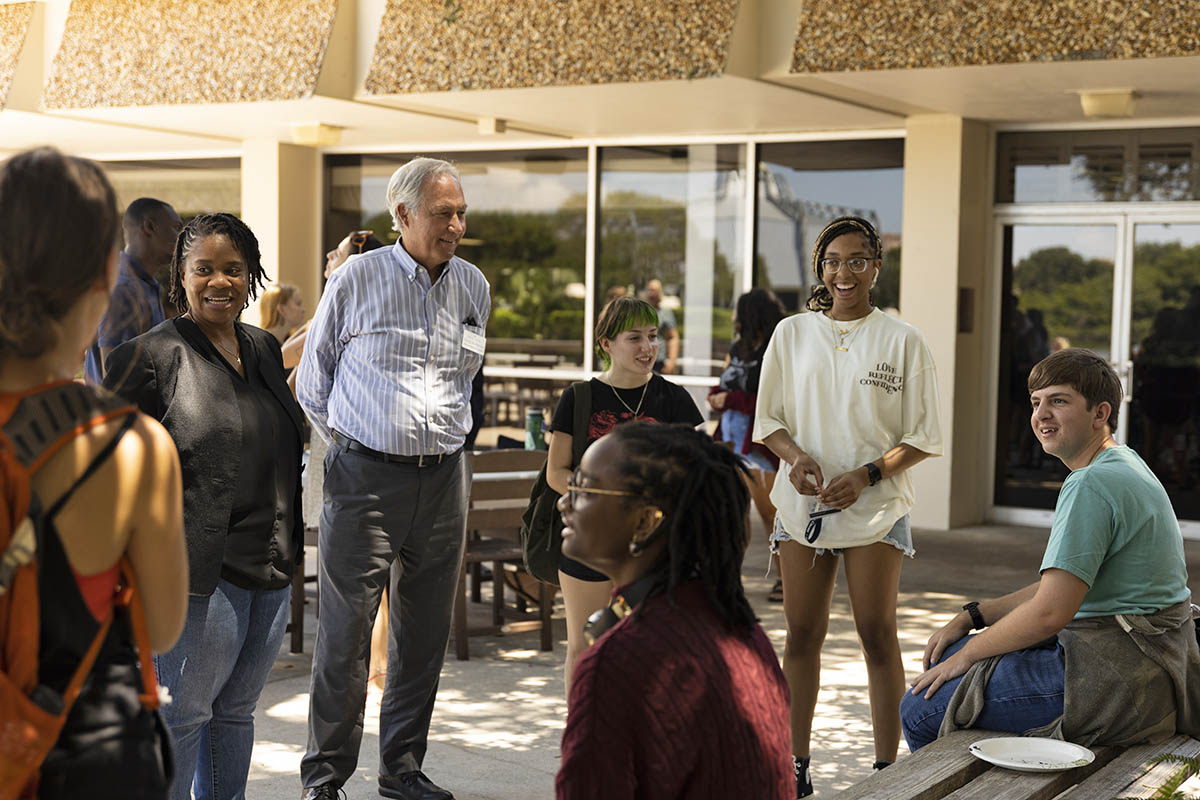 First-generation college-graduate staffers Robbyn Hopewell, assistant vice president for communications, and Doug McMahon, director of religious life and chaplain (first and second from left), get to know first-generation first-year students at an Autumn Term First-Gen Club meetup. Photo: Penh Alicandro '22
Being the first in her family to attend college, Heaven Juarez was a little apprehensive about how she would navigate this place called Eckerd College. There were so many questions—where to get financial aid forms, how to schedule classes, who to go to for help.
"And I was worried I wasn't going to be able to make friends because a lot of people come from backgrounds that are different from mine," says Heaven, a first-year student from Lawrence Township, New Jersey. "Because I'm first generation, the hardest part is all the little things I don't know, like the difference between a 100- and a 200-level class. And I had no idea how to address my professor, and that classrooms [here] don't look like the giant lecture halls you see in the movies.
"But everyone has been super nice and very inclusive. I met a bunch of students in the First-Gen Club, and they told me about the resources available." Heaven made such a positive impression on the club that she was recently selected as a vice president.
Eckerd College offers a wealth of academic support to all students but didn't offer anything special for students like Heaven until the First-Generation Student Initiative launched in September 2019. After several successful events that year, Cedrica "CJ" Jackson, now a senior first-generation student from Tampa, founded the First-Gen Club. She now serves as president.
"I'm dedicated to the success of the club," the psychology major says, "because it creates community and resources for a large population of students who have gone unnoticed."
Chartered through the Eckerd College Organization of Students, the First-Gen Club is open to everyone at Eckerd.
Lisa Miller, Ph.D.—associate professor of sociology at Eckerd, a first-generation college graduate and one of the guiding forces behind the initiative and the club—recalls her first year at Berea College in Kentucky. "I didn't know what a professor's office hours meant," she says. "I remember the first time I had to register for classes. That was really intimidating, and I was clueless about what I wanted to take my first year. I hadn't had those conversations with my parents because they didn't know.
"When I started working on this four years ago," she adds, "we wanted to help first-generation students identify other students like themselves and models for success. It's an invisible status. And we wanted to provide support and resources. Creating community for first-gen students helps cultivate a sense of belonging."
Miller notes that Heather Bush, assistant professor and access services and instructional librarian, along with Margret Skaftadottir, Ph.D., coordinator of academic coaching at the Bevan Center for Academic Excellence, will co-chair the First-Generation Student Initiative during the 2022–23 academic year.
Michelle Obama, Sonia Sotomayor, John Legend, Oprah Winfrey, Elizabeth Warren, Ruth Bader Ginsburg, John Lewis and Albert Einstein were first-generation college graduates. Today, about 33% of students pursuing higher education in America are the first in their family to attend college. At Eckerd, the number is around 22%, which is the average for smaller liberal arts colleges.
For many first-generation students, college presents unique and difficult challenges. Students whose parents did not attend college are more than twice as likely to leave college within the first year, according to the U.S. Department of Education. And a 2018 report from the National Center for Education Statistics notes that first-generation college students face significant hurdles to academic success—such as "understanding the significance of the syllabus, what 'office hours' means, or how to cite sources in written assignments"—and are less likely than students whose parents attended college to complete their degrees.
But those who receive guidance often are among the first to provide help to those who come after them. "Both my wife and I are first-generation college graduates," James Annarelli, Ph.D., interim president of Eckerd College, told the audience at the College's annual Ceremony of Lights event last August. "My mother loved learning and desperately wanted to attend college. But she was thankful just to be able to graduate from high school since her father did not value education for women. My dad had a ninth-grade education and had to quit school to help support his family.
"I tell you this because as a first-generation college graduate, I was continually reminded by my parents of the importance of recognizing and appreciating the privilege that I had been given and the accompanying obligation that I had, to use my education to serve the greater common good," he added.
As a part of building the community, faculty and staff members have been supplied "Safe Zone"–style "First-Gen" stickers for their office doors to let students who may be first gen know that the person behind the door has been in their situation.
Adds Chelsea Creaturo, a former research analyst in Eckerd's Office of Institutional Effectiveness and current interim registrar who helped start the initiative and is a first-generation college graduate herself, "For first-gen students to hear you say, 'You got this,' that goes a long way."