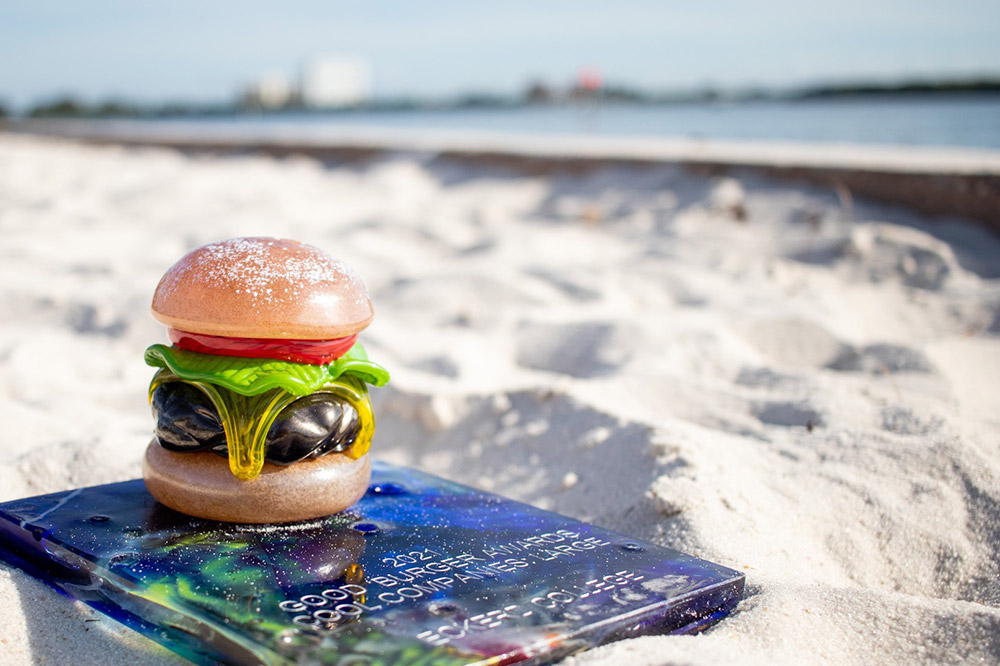 Wedded alumni Jesse Turtle '91 and Mila Turtle '90, parents of a 2018 Eckerd graduate, strode to the stage at Jannus Live on Nov. 4 to accept a ceramic cheeseburger plaque recognizing Eckerd College as a Good 'Burger—an organization "in greater St. Pete making a positive impact in our community," according to the St. Petersburg Chamber of Commerce.
"It was appropriate to have the Turtles accept on our behalf because they are indicative of what a lot of people don't appreciate about Eckerd College," says Kelly Kirschner, Vice President and Dean of the Division of Executive and Continuing Education. "People see that Eckerd brings a lot of students to the area from around the world, but, like the Turtles, some of them stay and join the workforce or open businesses in St. Petersburg."
The annual Good 'Burger Awards hosted by the St. Petersburg Chamber of Commerce lets residents nominate local businesses, organizations and individuals that do good things for the community in various categories and then select the winners through an online poll, says Courtney Smith, the former Events, Leadership and Workforce Development Manager at the chamber. Voting is limited to one vote per IP address, and the chamber strives to get 10,000 votes per year, she adds. Eckerd won its award in the category Cool Company: Large for the 2021 cycle. Even though Kirschner serves as a voting member of the Chamber Board of Governors and the College is a sponsor of the awards, Smith says those factors had no bearing on the winners.
"It's completely community-driven, so it isn't the chamber saying that [you're good]; it's the community," Smith says.
Since its founding in 1958, Eckerd College has grown to serve 2,017 students with 414 faculty and staff on its 188-acre waterfront campus in South St. Petersburg. In 2016, Eckerd had an estimated $371 million economic impact on St. Petersburg and $557 million in the region.
"Great communities have thriving businesses that are supplied with talent from great educational institutions," Kirschner says. "This community recognition affirms our importance in the ecosystem and why we are a 'cool company.'"
Smith concurs. In October, she left the chamber to join Eckerd as the new Executive Director of Continuing Education—managing summer school, conferences, Pre-College Programs and more.
"I love it. It's an incredible new journey for me, and this is a very caring atmosphere," Smith says. "Being in this type of supportive environment has been great."