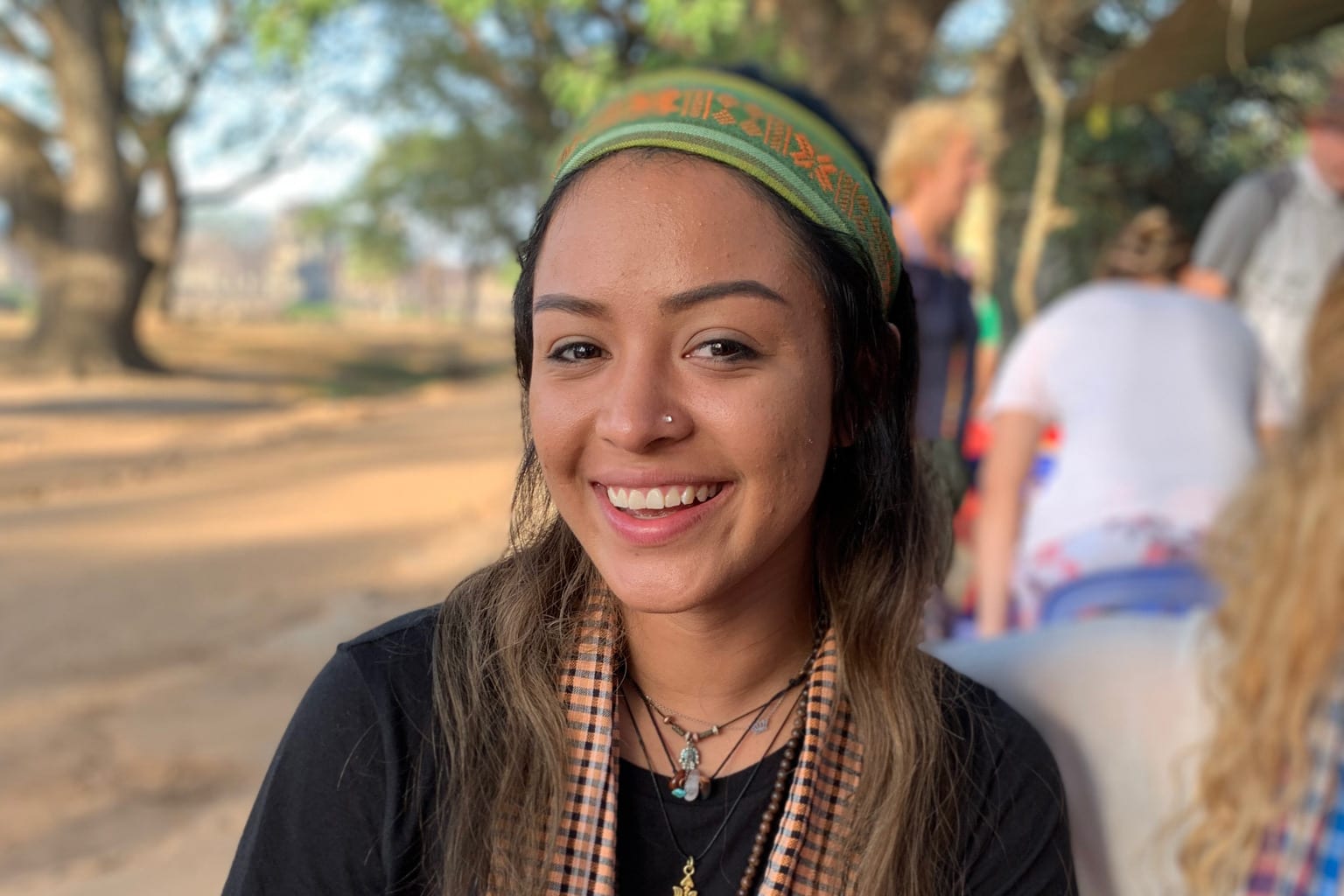 Tiffany Velasquez '21, a junior from Texas, visits Cambodia. Photo courtesy of Tiffany Velasquez.
Cambodia felt different from her parents' native El Salvador and Mexico that Tiffany Velasquez saw as a child, but some things looked familiar.
"Seeing the children who were trying to sell you bracelets—or anything they could to make some money, to survive—was similar," recalled the junior human development and psychology student from Spring, Texas. Still, witnessing firsthand the pervasive culture of human trafficking convinced Tiffany that she'd love the chance to return and study the difference between the plight of Cambodian children and other impoverished youths.
Thanks to the ASIANetwork Freeman Student-Faculty Fellowship (SFF), she will get her chance. Human Development Professor Nancy Janus selected Tiffany and three other students—Alicia Censabella, Jamie Myre and Alicen Nico—to be her research partners for a 21-day trip to "discover factors that may be impeding efforts to reduce child sex trafficking in Cambodia," according to the project proposal.
Janus received word of the $24,400 award on Feb. 5. "I was actually watching a movie in my friend's dorm room with another student who will be a part of the fellowship when [Professor Janus] called," Tiffany remembered. "I said, 'Don't play with my emotions, Nancy.' I was so excited!"
ASIANetwork, a consortium of more than 170 North American colleges, strives to strengthen the role of Asian Studies in undergraduate liberal arts education in an increasingly interdependent world. The SFF was awarded to seven schools this year, Janus said. This was the professor's second time applying for this specific competitive program. In addition to completing the field study, the fellowship requires Janus and one student to attend the 28th Annual ASIANetwork Conference on April 17–19 in Columbus, Ohio, to prepare for their trip and see the work of last year's awardees.
All four students traveling with Janus have taken a course with her or her Winter Term course Human Trafficking Field Study: Cambodia and have distinguished themselves with their passion for the issue. "They are just great students," Janus said. "When we travel, I get to know them very well and vice versa." Eckerd College has offered the Cambodian course at least six times during Janus's time as a faculty member, and this fellowship trip will follow a similar pattern.
The research team will travel to several cities to collect data from and interviews with government agencies, charities, non-governmental organizations and academic institutions to localize the factors that make human trafficking in the sex and labor trades particularly pernicious in the region. Janus's team will deliver the final report at the 2021 ASIANetwork Conference, shortly before Tiffany graduates.
As a member of Eckerd College's Peace Corps Prep cohort, Tiffany hopes to earn an international volunteer placement postgraduation and then return to the U.S. to complete a graduate international law program that will equip her to eradicate the global human trafficking problem through governmental or nonprofit work. "I feel so strongly about this work that I can't see allowing myself to not succeed," she said.