Footsteps echoed across the bleachers as students found their seats on October 26, and the powerful voice of Danielle Allen, Ph.D., boomed through McArthur Gymnasium at Eckerd College.
The author, Washington Post columnist and Harvard University professor began her lecture "How to Be a Confident Pluralist" the way she often does, telling about her family's rich history in civic engagement, fighting for civil rights and women's suffrage. Growing up, she discovered empowerment as the "bedrock for human thriving" and the central goal of many political movements. Above all, Allen always believes in maintaining the human dignity of the person in front of her.
"A lot of things feel impossible," she said. "But it's not impossible. It's necessary. So the question becomes how."
Allen had been invited to Eckerd to speak with first-year students in the Human Experience class and seniors in the capstone of an Eckerd education, the Imagining Justice course. Allen's two books, Our Declaration: A Reading of the Declaration of Independence in Defense of Equality and Justice by Means of Democracy, are included in the curriculum this semester as students engage in discussions about American political institutions.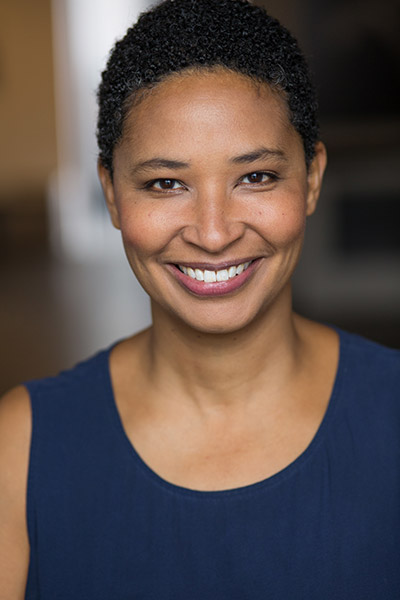 A restored democracy, Allen believes, is the answer to the political dysfunction in the American system. Democracy, by definition, includes disagreement. Protecting freedom means protecting disagreement. Being a confident pluralist is the key to disagreeing well, and it requires two crucial actions. The first is reconnecting to the civic experience, power, and responsibility. This comes when people understand what matters to them and why. That is the confidence aspect of "confident pluralism." It's being sure of personal standards of living.
"Everybody's going to have a different answer to this question," Allen said.
That's where pluralism comes in. Citizens of democracy have a public responsibility to chart a course together, Allen explained. This process naturally induces conflict. It is important to listen in order to hear and understand others when these conflicts arise. Solutions will be found by using negotiation as a form of discovery to reach compromises. Good compromises include full participation of all voices affected by the issue at hand.
To close her presentation, Allen thanked Eckerd's Class of 1968 for sponsoring her visit, noting that '68 was a great year of conflict between the war in Vietnam and the assassination of Dr. Martin Luther King Jr. She called students to action, asking them to live out the values of a healthy democracy because it can exist only as long as people want it and live it.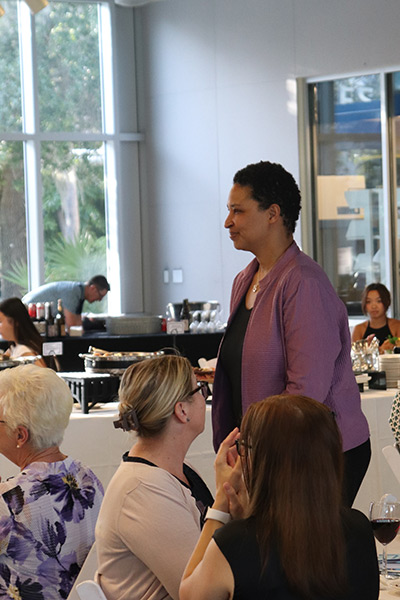 Allen meets with the Eckerd community at the Presidential Reception in Wrenn Hall. Photo by Justin Hollis '24
"Telling the truth about what you think is the seed of empowerment," she said.
Mics were passed throughout the crowd after her speech for a Q&A session. The first question was about Allen's pro-Israel position regarding current conflicts in the Middle East. The student quoted Allen's recent Washington Post column. Tension spread through the audience at the accusatory tone of the question. In her answer, Allen practiced the back-and-forth negotiation she'd talked about in her speech, an eloquent demonstration of her ideas. She began by repeating the question in her own words to ensure understanding. Then she gave her response and thanked the student for reading her recent article, for sharing their response to it, and for their opinion.
In a question about how confident pluralism functions when opposing voices are disrespectful, Allen has found that continuing to respond with respect often leads to a productive conversation.
"It was great to hear from such a good speaker," said Jennings Goodwin, a first-year student from Raleigh, North Carolina. "Her speech was well structured and engaging."
Another first-year student, Amelie Brazelton from Minneapolis, Minnesota, admired Allen's composure in her responses to challenging questions.
"She's clearly well educated and comfortable in front of a crowd," Amelie said. "Very impressive."