When she was working as a graduate teaching assistant at Syracuse University, DeAnna Bay-Markins, Ph.D., learned from a colleague that Camp Kesem needed help. The camp, part of a network of free sleepaway summer camps that each year serves more than 8,000 children ages 6 to 18 whose parents have or have had cancer, was looking for a mental health professional to serve at their camps.
She jumped at the chance and has since filled the role several times for Camp Kesem chapters in her native New York, as well as served as a hotline operator with Kesem's national team. "I did that from 2018 through now," she said recently. "The college students who run the camps work their tails off to make that one week of camp special. They were so incredibly motivated and empathetic and willing to go above and beyond anything to help. I was floored by that. The need is really great because there are hundreds of different programs for kids who have cancer, but just a few for kids with parents who have cancer."
Now she's bringing that dedication and passion for addressing mental health issues to Eckerd College as an assistant professor of human development. Bay-Markins holds Bachelor of Science degrees in psychology and Spanish from Wagner College, a Master of Education degree from Springfield College, and a Doctor of Philosophy in human development and family science from Syracuse University. She also is a certified recreation therapist and a child life specialist.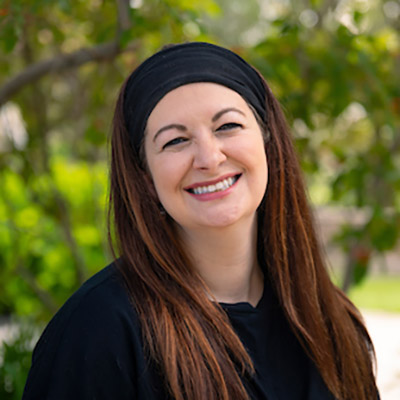 Assistant Professor of Human Development DeAnna Bay-Markins, Ph.D.
For the last three years, she served as an assistant professor of psychology at Southwestern College.
"It's so hard to find someone who hasn't been touched by cancer," she says. That's partly why she has narrowed her focus to the treatment of children whose parents have had the disease. The title of her dissertation is Psychosocial Well-Being of Youth Impacted by Parental Cancer.
"With children, one of the patterns that emerged was that they didn't know how to talk about it at school among their peers," she says. "One family told me they asked their children not to talk about it because they thought it was a private matter."
Bay-Markins grew up in Syracuse. Her father taught in an outpatient program for children, and her mother was the principal at a school that is part of a psychiatric facility. "I come from a long generation of helpers," she explains. "My grandfather was an occupational therapy assistant, and both of my grandmothers were teachers."
But until she entered college, she wasn't sure where her path would lead. "I kind of wanted to go into marine biology," she says, "but in middle school, I told a guidance counselor I wanted to be a psychologist who also worked with dolphins. The guidance counselor told me that wasn't a thing. I went home crying. But my mom stood up for me and said if anyone could figure out a way to do it, I would."
And she did.
Along with her work at Camp Kesem, Bay-Markins has worked several summers at Water Planet, a Panama City Beach facility that offers therapeutic dolphin programs to children with emotional and mental health challenges, as well as those with chronic and terminal illnesses. Some of the children who go through the program have been diagnosed with autism spectrum disorder or have Down syndrome, ADHD or other psychosocial concerns.
When Bay-Markins learned of the opportunity at Eckerd, she remembered one of her professors at Syracuse who was an Eckerd alumnus—Bruce Carter '74, Ph.D., associate professor emeritus of psychology and child and family studies. "I emailed him and asked if he had any advice for the interview," Bay-Markins explains. Carter not only gladly complied, he made the two-hour drive from his home in Sebring to the Eckerd campus to personally give his recommendation. "I did not know he was going to do that," she says.
"I was on the faculty at Syracuse University when DeAnna was a graduate student there," Carter recalls. "She was my teaching assistant at least once, and she was a student in several of my graduate classes. I was also on a number of committees that evaluated her. I drove the 90 miles from Sebring to St. Pete because I was certain DeAnna would be an excellent match for Eckerd College."
That's the same feeling Bay-Markins got when she first arrived on campus in July. "I felt like I was moving into a good place," she says. "I've been working on and off between teaching, and I kept thinking about getting to the students while they're in college and starting them with the lessons that I learned on the job.
"These are very transferable lessons, and it would be great if I could reach them so they don't get burned out on the job. Being aware of certain things, but not being scared of them. Give them the tools to go out on the job with confidence."