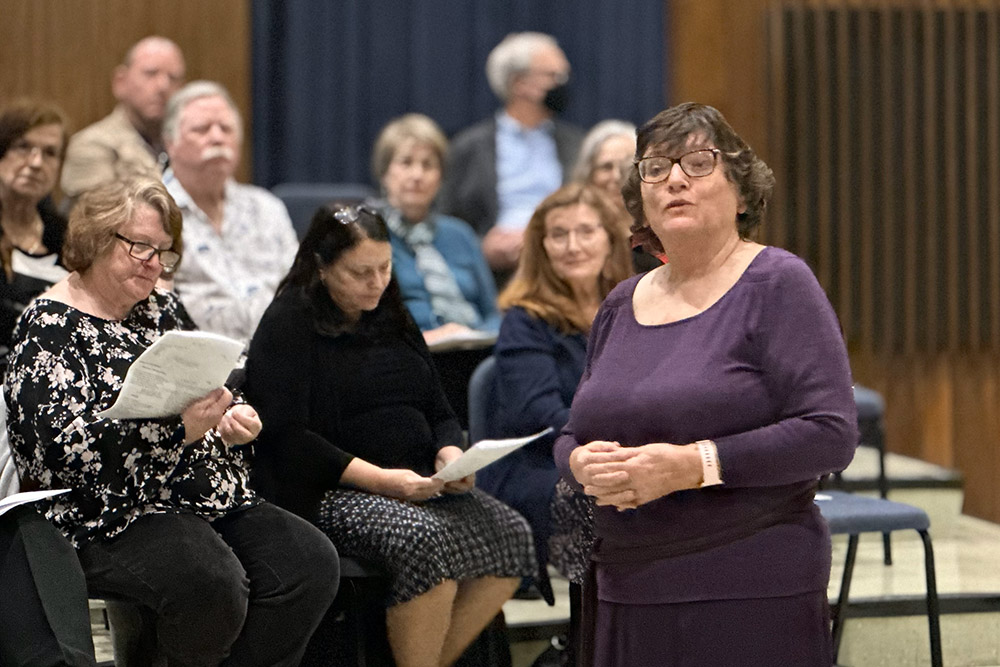 Professor of Music Joan Epstein will be retiring soon, after 42 years at Eckerd. Photos by Joe Salcedo '23
To celebrate her upcoming retirement after 42 years as a professor of music at Eckerd College, friends, colleagues and students gathered to perform Duck Songs—a collection of compositions she'd penned during her teaching career.
Her pieces were performed by the talents of Todd Frizzell, tenor vocalist; Brent Douglas, Eckerd music instructor, pianist and director of choral music; and Ethan Sellers, a senior marine science student and trumpeter from Hubert, North Carolina, who has studied under Epstein since 2019.
This was a very special performance because for the last 10 years Frizzell and Epstein have been searching for an opportunity to present the full collection of Epstein's Duck Songs.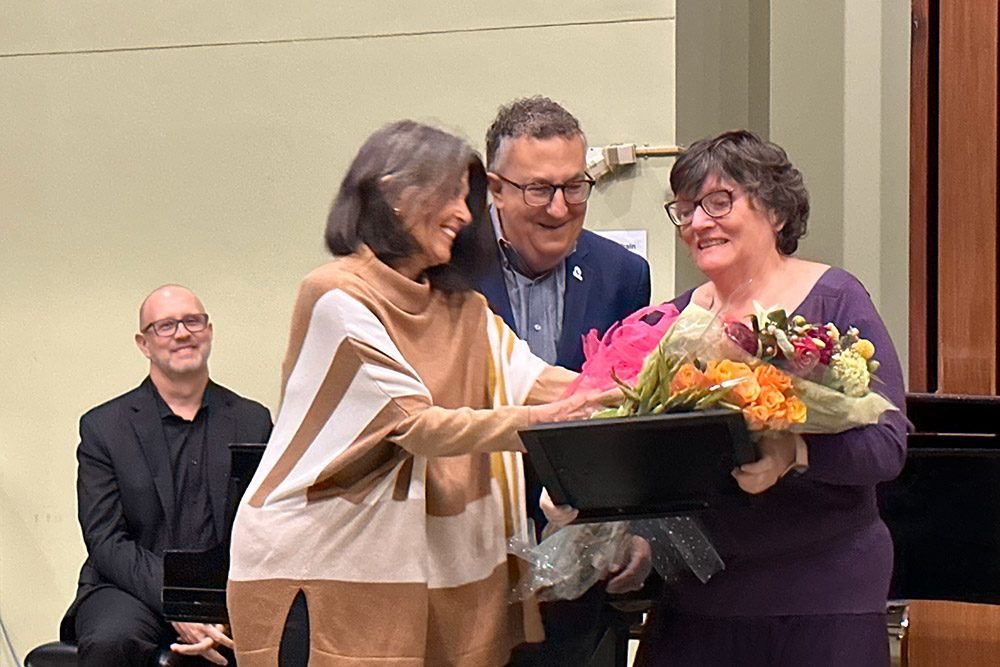 Affectionately known as "Professor E," Epstein personally invited Ethan to play a piece she wrote for herself nearly 30 years ago. It seemed a sweet sentiment for me to perform the piece, he says, because it pays homage to the instrument that is near to both our hearts: the trumpet.
Highlights from the two performances
The crowning moments from the two performances on Feb. 12 and 13 came during the first performance with Epstein's family, friends and colleagues in the audience. After the final bow, several esteemed faculty members—including President Jim Annarelli, Ph.D., and interim Vice President for Academic Affairs and Dean of Faculty Julie Empric, Ph.D.—gave speeches to commemorate Epstein's time at Eckerd. The Board of Trustees had designated her as professor emerita at its February meeting, and she was presented with a plaque to honor this great achievement.
"It was also an exceptional honor to have President Annarelli, Dean Empric, [Creative Arts] Collegial Chair K.C. Wolfe and my new colleague [Assistant] Professor [of Music] Leslie La Barre offer tributes to me after the concert," Epstein says.
Her father, sisters, daughters, colleagues and students as well as alumni and members of the Academy of Senior Professionals at Eckerd College took part in the special evening. Most performances of her music over the years have taken place off campus, so this was the first time many in the audience could experience her work.
"It was emotional to finally connect with those closest to me on this intimate, creative front," Epstein says.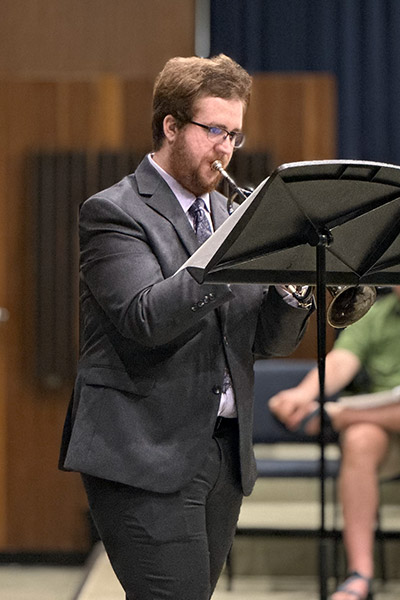 Senior Ethan Sellers plays at the celebration.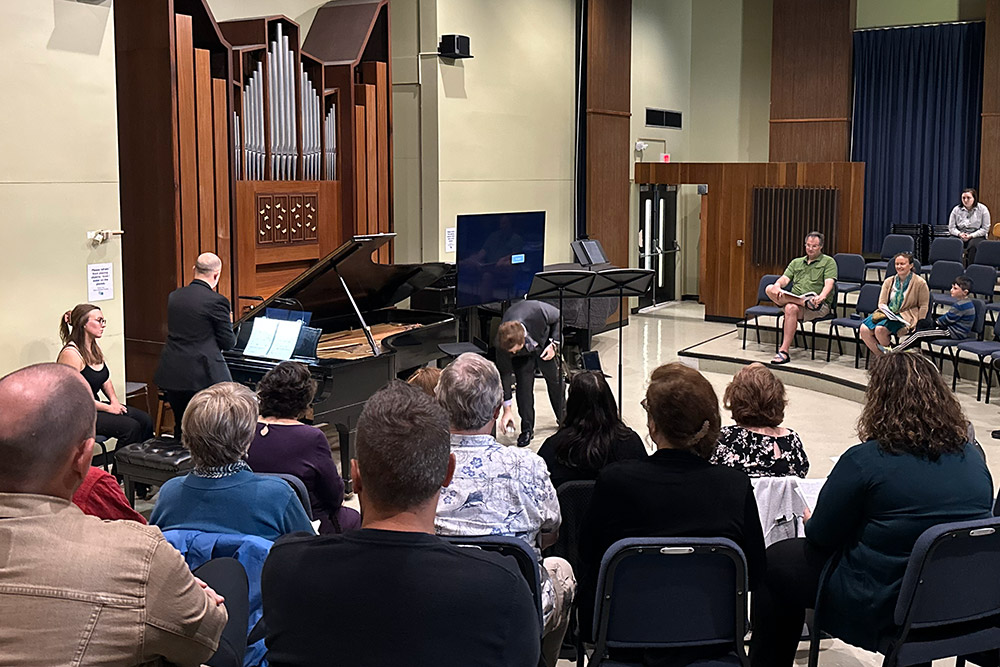 The second performance was primarily attended by students who brought with them a spirit of interaction, which Epstein remembers as quite lovely. She connected with students from her Winter Term course, Song Writing, to showcase her own unique style—much different from their final compositions for class.
"I had vigorously supported their creative work during January and thus they were nice enough to return the favor," Epstein says.
She considers herself a generalist at heart, as a great many of the students she taught over the years have not been music majors. She enjoys connecting with a wide range of people with different interests. Many of the students in attendance were first-year students with whom she had never interacted before. They were very engaged with the music, and Epstein made it a point to connect with them in a Q&A session after the show.
Ethan, one of Epstein's most faithful students, says that learning from Epstein has made music more of a personal experience. He has played the trumpet for 12 years and went to a competitive music school back in Pennsylvania. Epstein emphasizes the history and background of all the pieces she teaches. This encourages her students to connect to the piece and channel emotion into their performances. This has been a game changer for Ethan because it's not just about the notes on the page. It helps him connect with the story instead of making music for the sake of making music. 
"This concert was one of the most important things I've ever played. Musically, it was different from anything I've ever done, and there were some really difficult parts in there," Ethan says. "It felt like a culmination of the last four years of doing music at Eckerd, and I got to show off everything she's taught me. It felt like I was thanking her."
After her official retirement on June 30, Epstein plans to travel to Portugal, spend time with her grandchildren and create new music. She'll be sad to go but is ready to pass the baton to a younger colleague who will bring a new perspective to the arts.