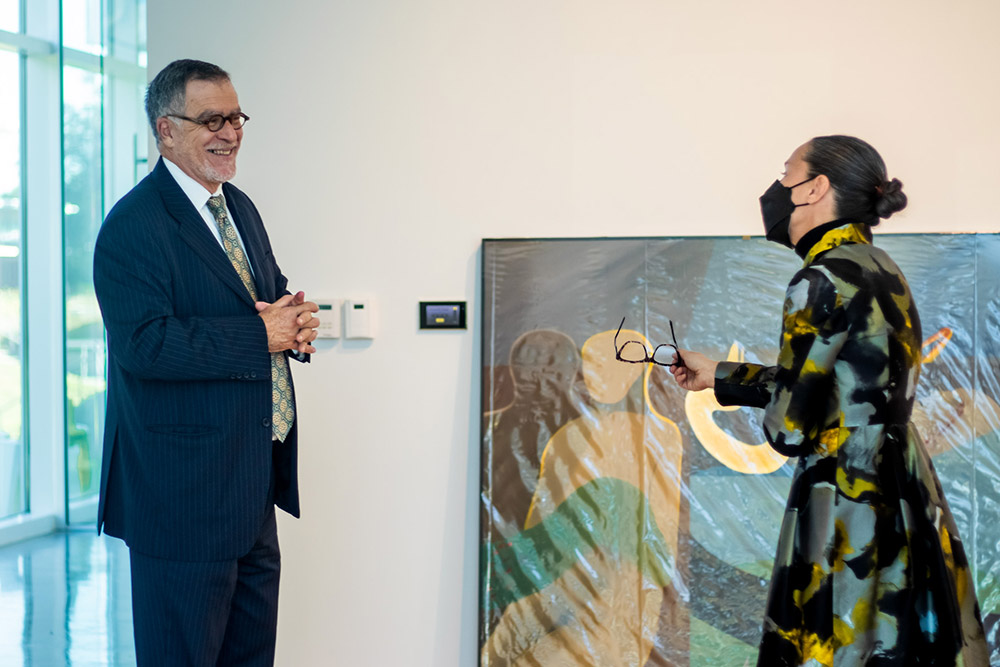 President Fernández enjoys the art in the main gallery of the Nielsen Center for Visual Arts with Nicole Manuel '98, Creative Arts Collegium coordinator and collection manager.
Nine works by Latin American artists from Cuba, Chile, El Salvador, Mexico and Panama were donated to the Eckerd College permanent collection in October as part of an anonymous gift made in honor of Eckerd College's fifth president, Damián J. Fernández, Ph.D.
Valued at $124,000, the gift increases the Latin American representation among artists in the College's vast collection, says Arthur Skinner '72, professor of visual arts and the visual arts discipline coordinator.
"I am grateful and moved by this donation of works by Latin American artists—the quality is remarkable and the artists are among the most influential," Fernández says. "The pieces add depth and diversity to the College's permanent collection, a reflection of Eckerd's commitment to the arts and inclusion. On behalf of the College community, I thank the donors for their generosity."
The nine works are by living artists Brooke Alfaro, Maria Martinez-Cañas, Lucía Maya and Cesar Menendez, as well as deceased painters Amelia Peláez and Rodolfo Opazo.
Three of the pieces, including the 1954 painting Peces by Cuban artist Amelia Peláez, will be mounted for display in the Upham Administration Building next year, Skinner says. "Peláez was born in 1896 and died in 1968. The president was very surprised that the owner parted with such a valuable piece," he adds.
Remaining pieces will be stored with the permanent collection, which boasts thousands of works from renowned artists including Eckerd's own: the late Robert Hodgell, says Nicole Manuel '98, Creative Arts Collegium coordinator and collection manager. She currently is working with first-year research associates and the Eckerd College Library to digitize parts of the collection.
"Many of our Hodgells are unique to us; whereas, some of our prints appear in the inventories of major museums," Manuel says. "Digitizing unique pieces gives the ability to search them and be able to pull them out for viewing if someone needs them for academic purposes."
Skinner says the pieces also can be used for lectures and gallery exhibitions as is appropriate.
"Unfortunately, we can't display all the art we have, just not enough walls. I've heard people say we should have a museum," Skinner comments. "We are very fortunate to have three galleries on campus. When these spaces are reopened to the public, we will be happy to display our collection for the broader community."
The entire gift of Latin American art will be exhibited in the Elliott Gallery of The Helmar and Enole Nielsen Center for Visual Arts during the month of January. Gallery hours are 10 a.m. to 5 p.m., Monday through Friday.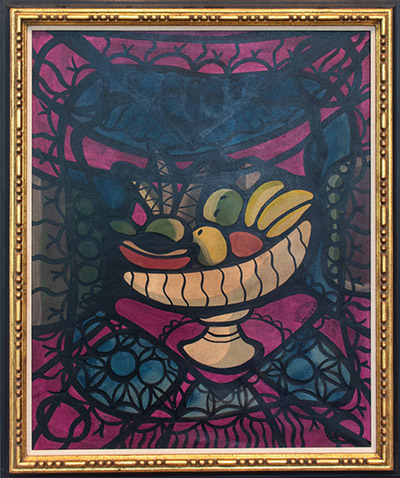 "Frutero" by Amelia Pelaez (Cuban, 1896-1968); 1950, oil on canvas