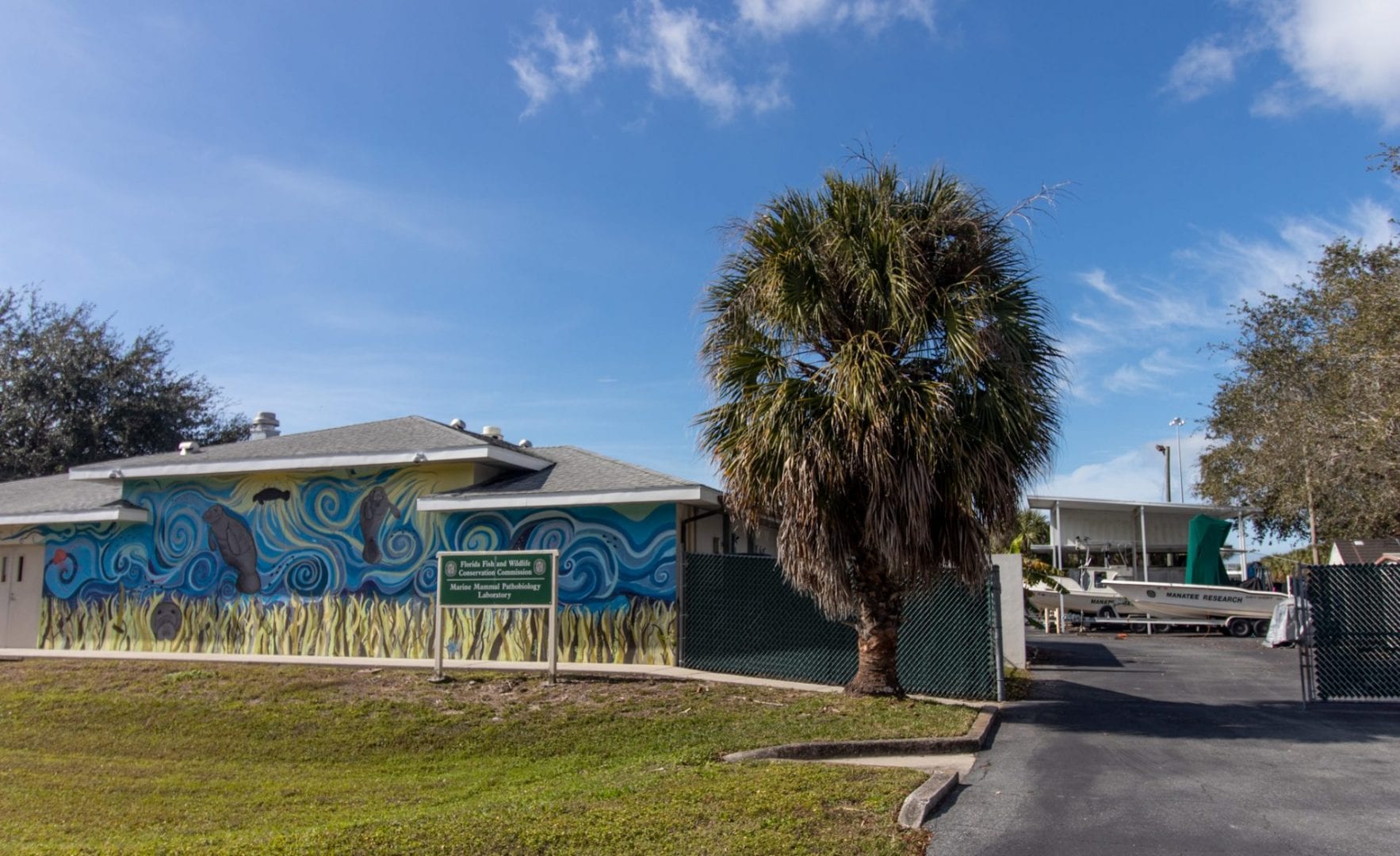 The existing Marine Mammal Pathobiology Lab is one of five state marine mammal field stations in Florida.
The new MMPL will be owned and operated by FWC, which currently operates the existing MMPL that sits on Eckerd property just outside the College's gates.
"This facility will have a two-part mission and is one of five state marine mammal field stations in Florida," said Andy Garrett '99, an FWC research administrator and manatee rescue coordinator. "We respond to sick and injured dolphin and manatee reports, assess the animals, and, if necessary, transport them to critical care facilities for rehabilitation. We also collect and necropsy the carcasses of dead marine mammals and provide the data to state managers, who use the information to inform management decisions and set policies."
Garrett said the new facility will have more cold storage and necropsy floor space than the existing MMPL, as well as having an observation deck. "My dream is to have a viewing area that allows visitors to look down into the necropsy room, which is the best vantage point for viewing our work," he explained.
The new facility is in the planning stage now that funding is secured, and Garrett expects the construction to take several years to fully complete. Until then, FWC will continue to operate the existing MMPL, which welcomes college students—including around 20 Eckerd College students annually—to volunteer and intern with the state agency. Eckerd faculty also make use of having such a resource outside their door by ushering whole classes to the current pathobiology lab to hear from employees and see wild species up close.
"We work with schools all over the state, and our hope is the new building will allow us to better provide virtual access to our work, so we may continue to work with educators from anywhere," Garrett said."
Funding for this project comes from the NFWF's Gulf Environmental Benefit Fund, which finances projects benefiting the natural resources of the Gulf Coast that were impacted by the Deepwater Horizon oil spill. Garrett said the relationship between the pathobiology lab and Eckerd College has always been special because it was the late John Reynolds, Ph.D., a former professor of marine science at the College, who convinced the State to build the current MMPL on Eckerd property. The lab was opened in 1991, and Eckerd students began volunteering soon after. Even Garrett volunteered with the MMPL during the second semester of his senior year. That experience, along with a recommendation from Dr. Reynolds, landed Garrett a biologist position at the MMPL after graduation and springboarded his marine science career.
"Having experience volunteering or interning at a state research facility like the MMPL is a pretty powerful line to have on your resume and can make a difference when applying for jobs in marine science or securing enrollment in graduate or veterinary schools," Garrett said.