Probiotic bacteria aren't just good for humans, according to the hypothesis of Eckerd College Assistant Professor of Marine Science and Biology Cory Krediet.
Much like the yogurt and vitamins people take to maintain good health, Krediet hopes to use a $23,000 grant to find the good bacteria that help some coral survive deadly diseases such as coral bleaching and stony coral tissue loss (SCTL) disease with his project "Investigating the Potential of Native Coral Associated Bacteria to Increase Acropora Cervicornis Outplant Resilience."
"The approach of using probiotics bacteria is to really beef up the corals in the restoration area and outplant them back into struggling reefs," Krediet said. "During hurricane season, coral reefs act first and foremost as shoreline protection from storm surge and wave energy. It's not just beaches that have to worry about erosion. Coral reefs are our first line of defense."
He and his team of seven student researchers are using Aiptasia sea anemones as a model organism for corals and examining the bacteria found in the surface mucus to see if the unique bacteria are what aid in the resilience of some species.
"A lot of the cost comes from DNA sequencing. We don't have the equipment, so we have to send it to labs to be amplified and sequenced at about $6 to $10 a sample, and we'll need hundreds of samples," Krediet explained.
Everyday Floridians are helping Krediet's team complete this most important research. Since 2004, the state has allowed car owners to choose novelty license plates that say, "Protect Our Reefs," knowing that a portion of the purchase price will go toward Mote Marine Laboratory and other higher educational institutions for research and preservation programs. In May, Mote awarded Krediet more than $23,000 to continue his coral research. When students returned to campus for the Fall Semester, the work began.
Brandon Rose, a junior marine science student from Geneva, Illinois, said the group is also examining how the bacteria-and-host relationship responds to heat increases and pH stress—two current environmental changes affecting large swaths of marine life.
"Coming to Eckerd, I wasn't completely partial to corals, but I've always had an interest," Brandon explained. "Then I went on a Winter Term trip to Belize with Dr. Krediet and saw some fantastic corals and talked to him about fostering and developing and finding corals."
Now Brandon wants to focus his scientific career on the study and preservation of the living ocean habitats. "The reefs are in a state of peril, and we are at crunch time to try to figure it out," he said.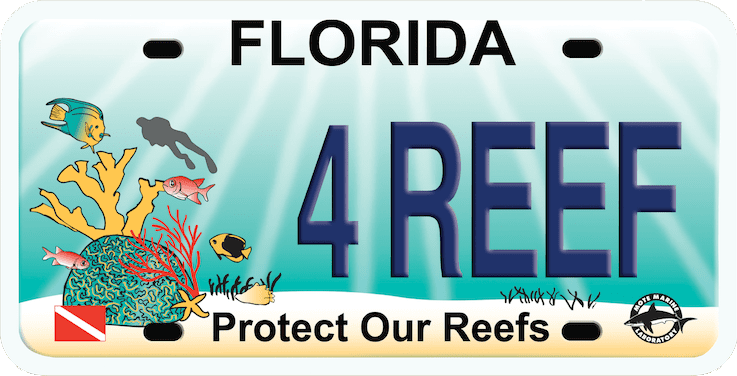 Florida drivers who purchase of a "Protect Our Reefs license plate help to fund coral reef research.