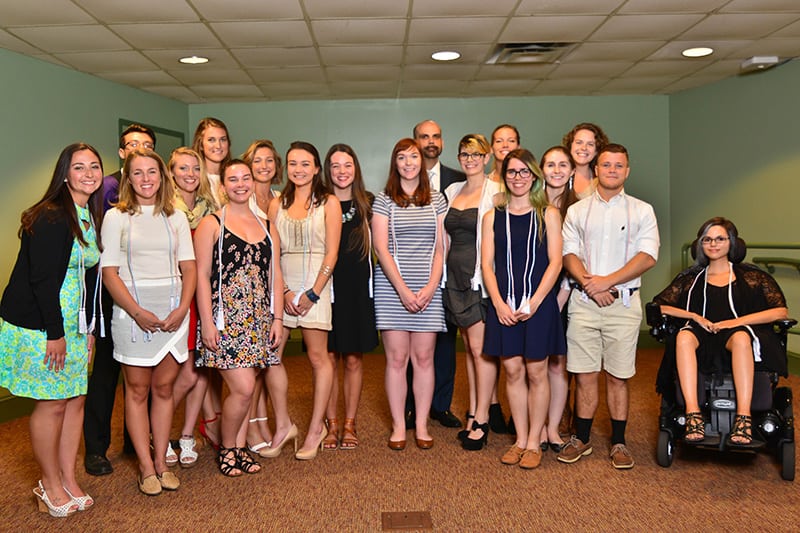 2017 Phi Beta Kappa student inductees
Leadership of the Phi Beta Kappa (PBK) Society recognized Eckerd College's commitment to excellence and stellar programming during the honor society's Triennial Council meeting held in Boston Aug. 2–4.
Founded in 1776, PBK is the nation's oldest and most prestigious academic honor society. The certificate of recognition for the College's chapter, called the Zeta Chapter of Florida, came with a $500 award to use for future programming.
"We have sponsored PBK Visiting Scholars for the past four years, a rare honor since all the chapters must request this activity and the process is quite competitive," said Carolyn Johnston, our new chapter president and the Elie Wiesel Professor of Humane Letters and professor of history and American studies at Eckerd College. "Last year, [Indiana University Distinguished Photography] Professor Osamu James Nakagawa was our distinguished visiting PBK speaker."
The national PBK leadership also recognized the exceptionally close relationship Eckerd's chapter has to two area alumni chapters, Tampa Bay and Manatee/Sarasota, Johnston explained.
Having a PBK chapter "is, as [Eckerd College President] Don [Eastman] has said, 'the Good Housekeeping Seal of Approval on our academic program.' It is difficult to get a chapter, especially for a school as young as ours," said Marjorie Sanfilippo, associate dean of faculty, executive director of Eckerd's Center for Academic Excellence and our Zeta Chapter historian. Since being granted a chapter in 2004, Eckerd has inducted 281 members to the society, she explained.
Some of our notable alumni inductees include George Atkinson '67, founder and executive director of Institute on Science for Global Policy; Ian Johnson '89, senior vice president of investment operations at Fidelity Investments; and Eric Seiber '94, an associate professor and director of the Center for HOPES in the College of Public Health at The Ohio State University.
Only 10 percent of American colleges and universities have Phi Beta Kappa chapters, and Eckerd was awarded the sixth of seven chapters established in Florida.