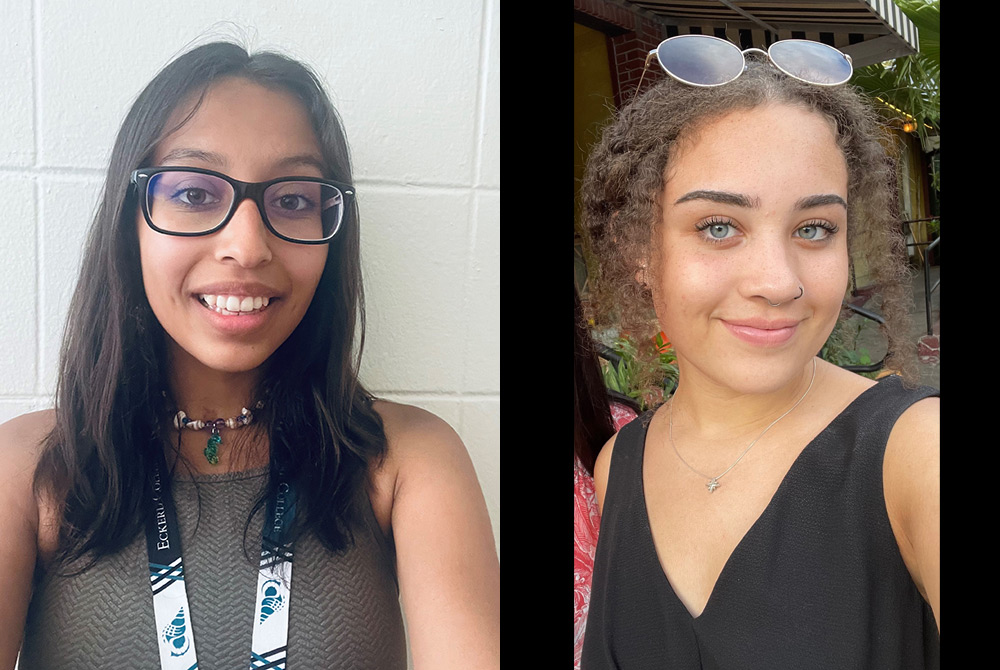 Eckerd students Mari Medina '26 (left) and Jordan Nielubowski '25 are Racial Justice Student Fellows.
Mari Medina grew up in Las Vegas, New Mexico, with parents who loved to travel. It was during those trips that the first-year Eckerd College student came to understand discrimination.
"I'm white-passing and the rest of my family is not," she says. "I saw the difference in the way people treated me versus my family, and I want to make sure to do my part in eliminating the systems that created that."
So even before she started her college career, Mari applied to be a Racial Justice Student Fellow in the St. Petersburg/Pinellas Higher Education for Racial Equity Consortium.
She was selected—along with Eckerd's Jordan Nielubowski, a sophomore human development and psychology student from Hagerstown, Maryland—to join the second cohort this fall.
The SPHERE Consortium chose eight students, two each from four Pinellas County universities and colleges, for the yearlong fellowship.
"Working with leaders in the community and the SPHERE Consortium, this class of Racial Justice Fellows will build on the work of the first cohort and help to establish real change through projects focused on shaping policy and transforming systems to create more equitable outcomes for all," says Michelle Madden, campus diversity officer at the University of South Florida's St. Petersburg campus.
The fellowship will put college students at the center of creating systemic change by providing opportunities to inform policy and address barriers through a racial justice lens. Students will learn about mechanisms that enable racial healing and serve in summer internships to work on projects that support racial healing and transformation in the local community. Each student will receive up to $2,000 during the 2022–2023 academic year.
"We hope that SPHERE's one-year fellowship and summer community internships will introduce our students to a lifetime commitment of addressing racial injustices," says Judith Scully, a professor of law and director of the Social Justice Advocacy program at Stetson College of Law.
"Our curriculum is merely a foundation for our students to stand upon as they begin to see themselves as courageous leaders with a focus on racial equity."
The other six fellows selected this year are: Katherine Mack and Dean Mucaj from St. Petersburg College; Zenea Johnson and Jessica King from Stetson University's College of Law; and Dala Daniels and Kima Sibayan from USF–St. Petersburg.
"I'm so proud to see our second cohort of SPHERE Racial Justice Fellows stepping up to this challenging and rewarding program," says Amanda Hagood, an Eckerd College animal studies instructor and a SPHERE curriculum committee member. "It helps our students engage deeply and courageously with the problems of systemic racism at both campus and community levels, and builds the leadership skills needed to take all of that heart-work and headwork forward. We, as the faculty and staff supporting this process, can learn so much from our student fellows."
Fellows follow a curriculum that covers issues on racial history, diversity, equity and more; have regular meetings with mentors; and will complete a six-week internship in the summer of 2023 that focuses on deepening their understanding of systemic racism and developing opportunities to drive healing and transformation. Last year, Racial Justice Student Fellows completed internships with organizations such as the NAACP, the City of St. Petersburg, the St. Pete Youth Farm, and Community Tampa Bay.
Over the course of the academic year, students also will be involved in several approved activities, events or discussions related to race equity and racial justice and will be able to participate in biweekly planning meetings with consortium institution representatives to help shape the vision, goals and activities of a Truth, Racial Healing and Transformation Center for Pinellas County. This can include participating in other meetings at their home institutions as well as engaging with community members.
"It is important to create translational opportunities between what students are learning in the classroom and activating their interests and passions to have an impact in the community," says Julie Rocco, director of strategic investments at the Foundation for a Healthy St. Petersburg. "Race equity work is hard, but it is uplifting when you believe there are others who are eager [to join] this effort and aspire to what many in our community and the Foundation strive to achieve."
SPHERE is a joint initiative among Eckerd College, St. Petersburg College, Stetson University College of Law, USF–St. Petersburg and the Foundation for a Healthy St. Petersburg. The collaboration emerged out of a community task force that was convened to connect efforts in addressing inequalities that exist in the region. These institutions, which collectively serve more than 40,000 students, have been collaborating since the fall of 2020 to create a consortium working to dismantle racial hierarchies in the region.