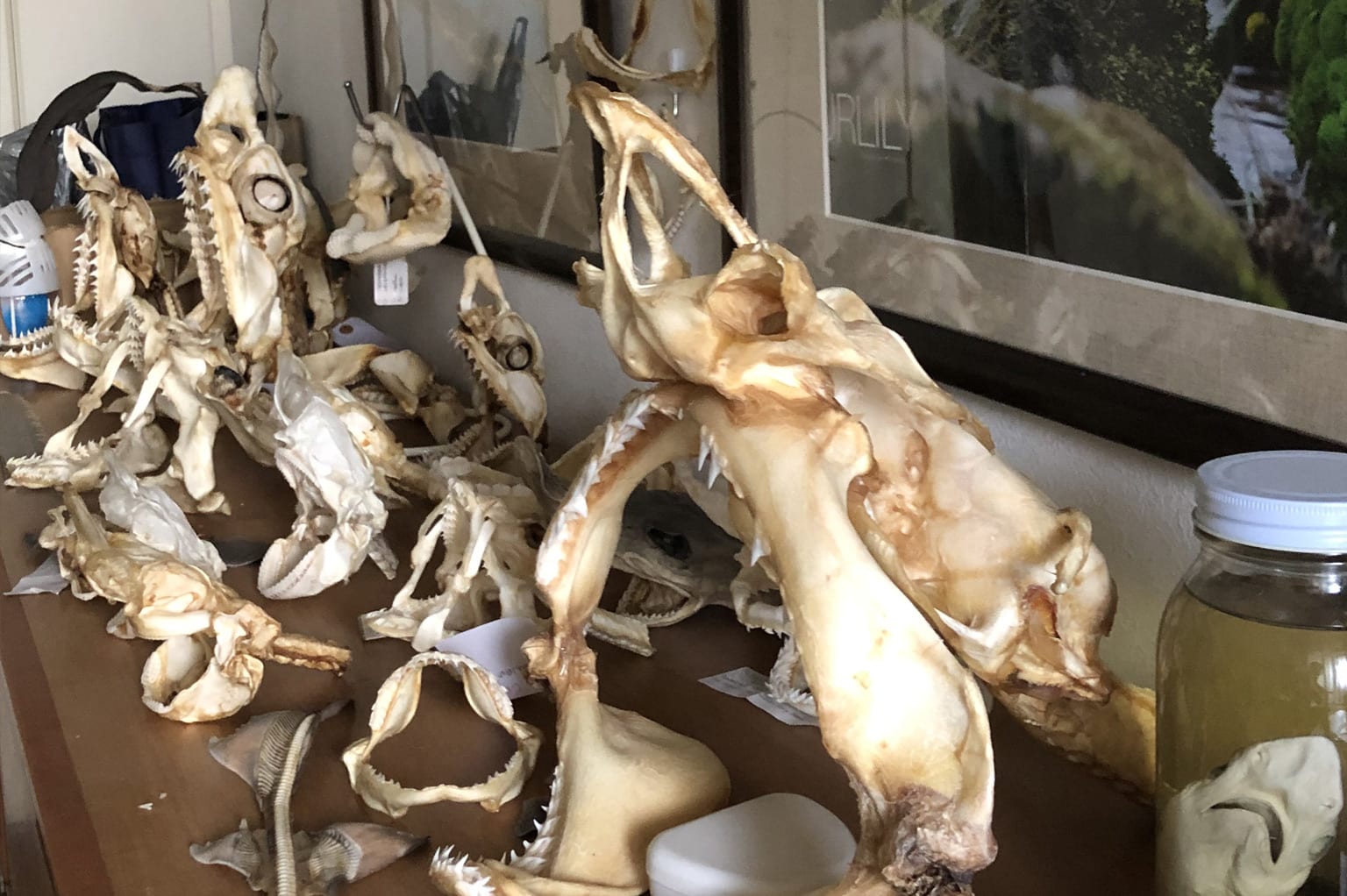 Eckerd College first-year student Seisho Song personally prepares and preserves shark skulls and skeletal pieces for educational purposes including these in Professor Szelistowski's lab.
Qingsong "Seisho" Song can't find bonnethead or blacknose sharks in his hometown, Urayashu, Japan.
"When I was looking for where to continue learning marine biology, I learned about Eckerd College, and the fit was perfect," Seisho recalled. "I really wanted to be in a place where I could do research. And because it is on the water, I can fish too."
While many young people are into sharks—they've got their own week on TV—not all of them are Seisho. The first-year student collects shark skulls and skeletal remains that he personally prepares and preserves for educational purposes. Associate Biology and Marine Science Professor William Szelistowski found out about Seisho's work shortly after Seisho arrived at Eckerd and offered the student space in his lab to continue his work on Florida species. "He said he would use some of my work in his classes," Seisho beamed.
For several years, Seisho has been receiving the remains of deep-sea shark species that were caught in fishing nets or fished for food and cleaning them for academic uses. "In Japan, there are basically no regulations for sharks for fishermen. Sometimes they get caught in the net and fishermen release them. Other times, unfortunately, they die," he said. "I use these to compare to the papers written about them to see if the researchers are sharing the truth," he said.
"It's not a hobby for the faint of heart. The smell alone was enough to make his neighbors call the police on his parents. "It was the blood, I learned. Now I'm able to prepare them without such a bad smell," he laughed.
Most of Seisho's collection remains in his parents' home, while other specimens have been donated to science and displays. "I never take money for specimens because the fishermen gave [them] to me for free, so profiting would not be fair."
In Florida, he'll house what he can in Szelistowski's lab and ship the rest back to Japan. A fascination that began on a tour of the Bryce Canyon, Utah, when he purchased a megalodon tooth and wondered about the ancient creatures, has blossomed into appearances on Japanese television and a budding career in marine science.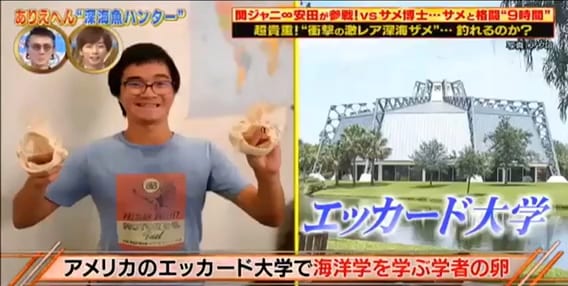 Seisho Song also appears in a Japanese fishing television show, sometimes participating remotely from the Eckerd College campus.
Seisho credits his friend deep-sea fisherman Yuma-san for graciously providing him with specimens and data, shark journalist Numaguchi Asako for sparking his curiosity, and Alien Shark contributor Mareike Dornhege, Ph.D., for showing him there was a scientific career to be made in sharks.
Seisho looks forward to continuing his academic career at Eckerd College and to fishing between classes and on weekends. Perhaps he'll meet a fellow fisherman or fisherwoman who can help him cross some specimens off his list.