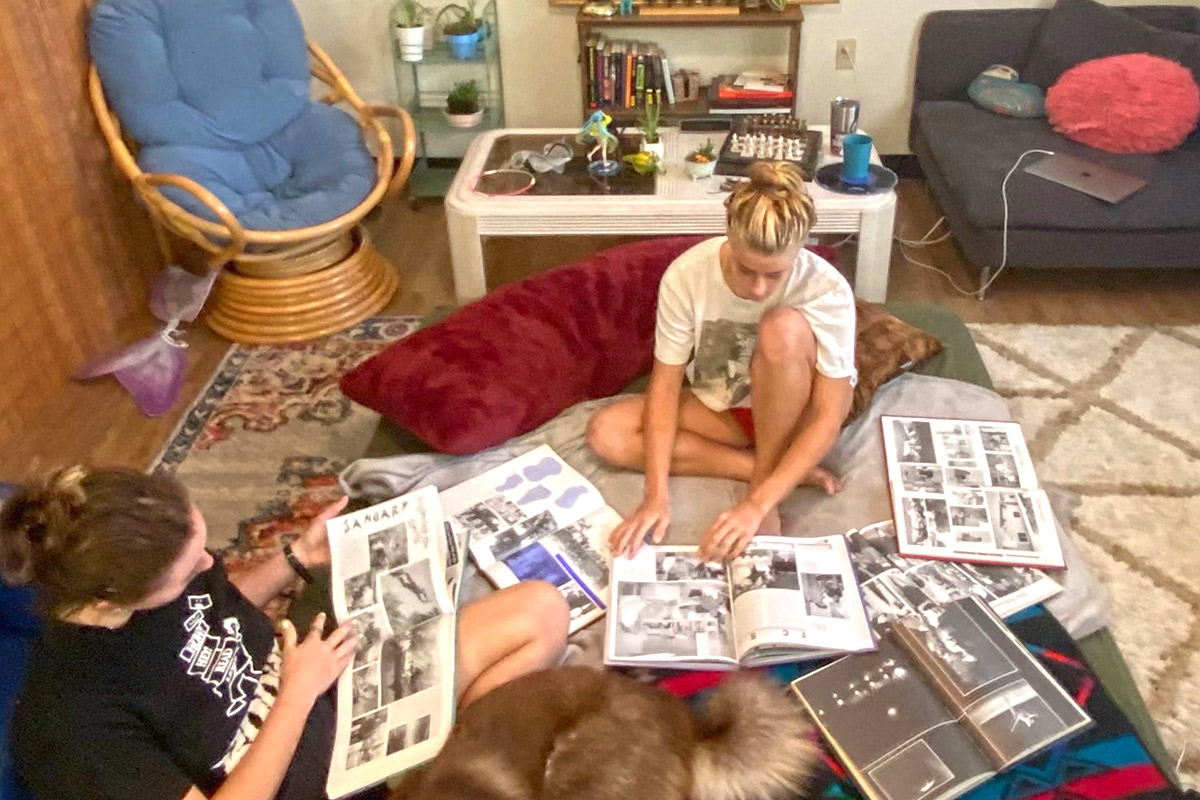 Roommates Olivia Bickett '22 and Ally Dotson '22 are part of a new organization that aims to record the happenings at Eckerd as told by the students themselves in an upcoming yearbook. Photo: Alexandra Harsha '22
Eckerd College hasn't had a yearbook in 20 years. Ally Dotson thinks that should change.
"When we [the editors] were going through the archives of old Eckerd yearbooks, it was so cool to see like, oh, this tradition … like Kappa Karnival used to be this big introductory event outside of Nu [residence hall] where people just cook out on Kappa Field for the first week of school to welcome everybody," says Ally, a senior American studies student from Lago Vista, Texas, and editor-in-chief of the new WeirdBook Club. "So it wasn't this whole carnival ride thing that it is now."
Capturing the history—and the "weird"—motivated Ally and Olivia Bickett, a senior marine science and interdisciplinary arts student from Rumsey, Kentucky, to form a new organization dedicated to bringing back the Eckerd College yearbook.
Olivia says she's wanted an Eckerd yearbook for the past few years but didn't see anyone taking the initiative to put one together, so she took the project into her own hands. "Over the summer I just kind of thought I would gauge interest and see if anybody else had similar ideas … and I got a surprising amount of responses," Olivia recalls. "I got together with a few people like Ally, Owen [Labate] and [Maureen Bastion and Alexandra Harsha], and we said, 'Yeah, we want a yearbook. We're going to make it happen.'"
This won't be your typical yearbook though. In perfect Eckerd fashion, "It's a WeirdBook, you know; [stuff] is weird and we're going to try to lean into it a little bit!" Ally says. The five student editors don't plan to include the typical individual headshots and obligatory student success stories, although photo and storytelling opportunities will still be the focus of the book. The WeirdBook will be a record of the happenings at Eckerd for the students, told by the students themselves, "Especially with it being run by students at college instead of students with an adviser in a classroom like high school," Ally says.
The WeirdBook staff sees a lot of value in a physical yearbook making a comeback for the 2021–22 school year. To many students, including the editor-in-chief, social media doesn't replace the nostalgia of holding your memories in your hands. "Everybody, to an extent, has Instagram, Facebook, Twitter," Ally explains, "that instant gratification of taking a photo and doing with it what you will. But I think there's something really special about having a tangible collection of pictures, a personalized history book pretty much … I think it's a really cool way to mark history."
Senior photo editor Owen Labate agrees, "Condensing the culture and community into pages and bringing it to the students can bring the Eckerd community closer together."