The sizzle of browning curly fries fills the newly renovated Triton's Pub at Eckerd College, mixing with the chatter of gathering students and the aroma of cooking food. Clusters of students sit on and hover around the updated furniture as they eat, study or just hang out. In front of various food stations, lines of customers lengthen—eager for a meal off the new menu.
Over the summer, this dining establishment was given a rebrand and provided with updated equipment. Improvements include a fresh paint job; a can't-miss lighting feature; new furniture; extended hours; and an expanded menu containing meals that cater to students who are vegetarian, vegan and gluten intolerant. Some new additions include a soy-marinated portobello mushroom Philly cheesesteak, cod fish tacos, a pesto mushroom burger topped with Eckerd College Community Farm lettuce, and a spinach and avocado dip. Tried-and-true favorites, such as curly fries and chicken tenders, remain on the menu. Students also are able to enjoy the Pub's extended hours now that closing time changed from 10 p.m. to 1 a.m.
Another goal of the remodel was to create a more welcoming, inviting space. One key change that students might notice is the long wooden dining table in the center of the Pub, which invites people to gather family style and relax. Duke Walsh, Bon Appétit's general manager, says, "Our goal was to create a more inclusive, inviting space—and I think we achieved that." He has worked with the Bon Appétit Management Company for more than seven years and has managed Triton's Pub for over a year now. "I'm excited to see where it goes," he says.
Students are especially excited about the extended hours. Maya Wilhelmy Sánchez, a junior animal studies and psychology student from Chicago, says, "I think it's great that students can go to the Pub whenever they want."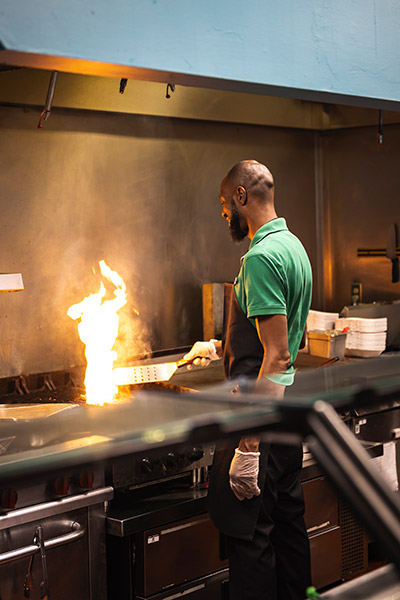 Firing up some good eats.
So far, the changes have yielded positive results. According to Walsh, more students than ever are coming in to eat, socialize and study.
Despite all of these changes, there are still more updates planned for the Pub. "There have been some tweaks that happened up until the day everyone got back," interim Assistant Dean of Students for Residence Life and Family Relations Jamey Handorf '06 says, "and there'll be tweaks continuing into the near future." Digital menu screens are next on the docket, he adds, pending work from outside contractors. Updated equipment also is on its way, intended to improve the popular wrap and sandwich station.