Launching careers in health and medicine from Florida
So you want to be a doctor, a dentist or veterinarian?
We include Medical, Dental, and Veterinary School Mentoring in our Pre-Health Program.
Professors — not teaching assistants — lead both lectures and laboratories, which makes for better pre-dental, pre-med and pre-vet instruction. While most pre-health students choose natural science majors like biology or chemistry, you're free to opt for a less travelled path. You'll have a faculty mentor and a pre-health advising committee to help plan your approach to medical, dental, veterinary, or other health profession school.
It's a strategy that works! Our students have gone on to Medical School at places like Harvard and the Mayo Clinic; and Veterinary Medical School at Auburn and the University of Florida.
General pre-health timeline
Pre-Health Advisory Committee
Along with your academic mentor, faculty members from various disciplines, discuss your plans, evaluate options, and prepare you for the application process. Connect with a committee member for more info.
Friends in high places
Over the last nine years, more than 60 Eckerd students have done summer research and physician shadowing at Harvard's Massachusetts General Hospital Center for Genomic Medicine in Boston.
Research in your first year
Every year, 20 to 25 new students receive first-year research associate positions to work side by side with our professors on their research.
Anthropology courses give you an edge
Unlike most other liberal arts colleges, our Anthropology faculty are experts in human health, both living and past. You can study medical anthropology, skeletal biology, forensic anthropology, dental anthropology, and paleopathology — subjects that have direct relevance to pre-health students. When applying to medical or dental schools, this valuable academic experience often sets our students apart from graduates from other colleges with a strict Biology major.
"Any school can teach you what to think about science, coaxing you to memorize endless facts, but Eckerd teaches you how to think about science. The expert, caring faculty and small class sizes give every STEM graduate hundreds of hours of hands-on training on how to analyze scientific questions like a pro, how to read scientific literature critically, and how to communicate about science with people from all backgrounds. Then the fantastic liberal arts foundation builds the skills you need to contextualize the role of science and technology in society and think about how best to apply scientific tools to solve human problems. Your professors are almost all Ph.D. experts in their fields who … care about teaching young folks like you. You wouldn't get that at most other schools."
— Timothy Lee, Class of 2018, Mayo Clinic School of Medicine
This class explores medical cases in diseases and conditions such as Alzheimer's, Parkinson's, Epilepsy, Amyotrophic lateral sclerosis, and the Autism Spectrum.
This class investigates what drugs are, how they are developed, and how they interact with the body to elicit their effects.
Human Osteology and Anthropology
This course entails a detailed study of the human skeleton and dentition.
Pre-health students take a variety of laboratory classes. The James Center for Molecular and Life Sciences is a bright building with research lab spaces, modern instrumentation, faculty offices, and laboratory classrooms. There are indoor and outdoor places to study, and the coffee shop in the lobby provides the caffeine to fuel long study sessions.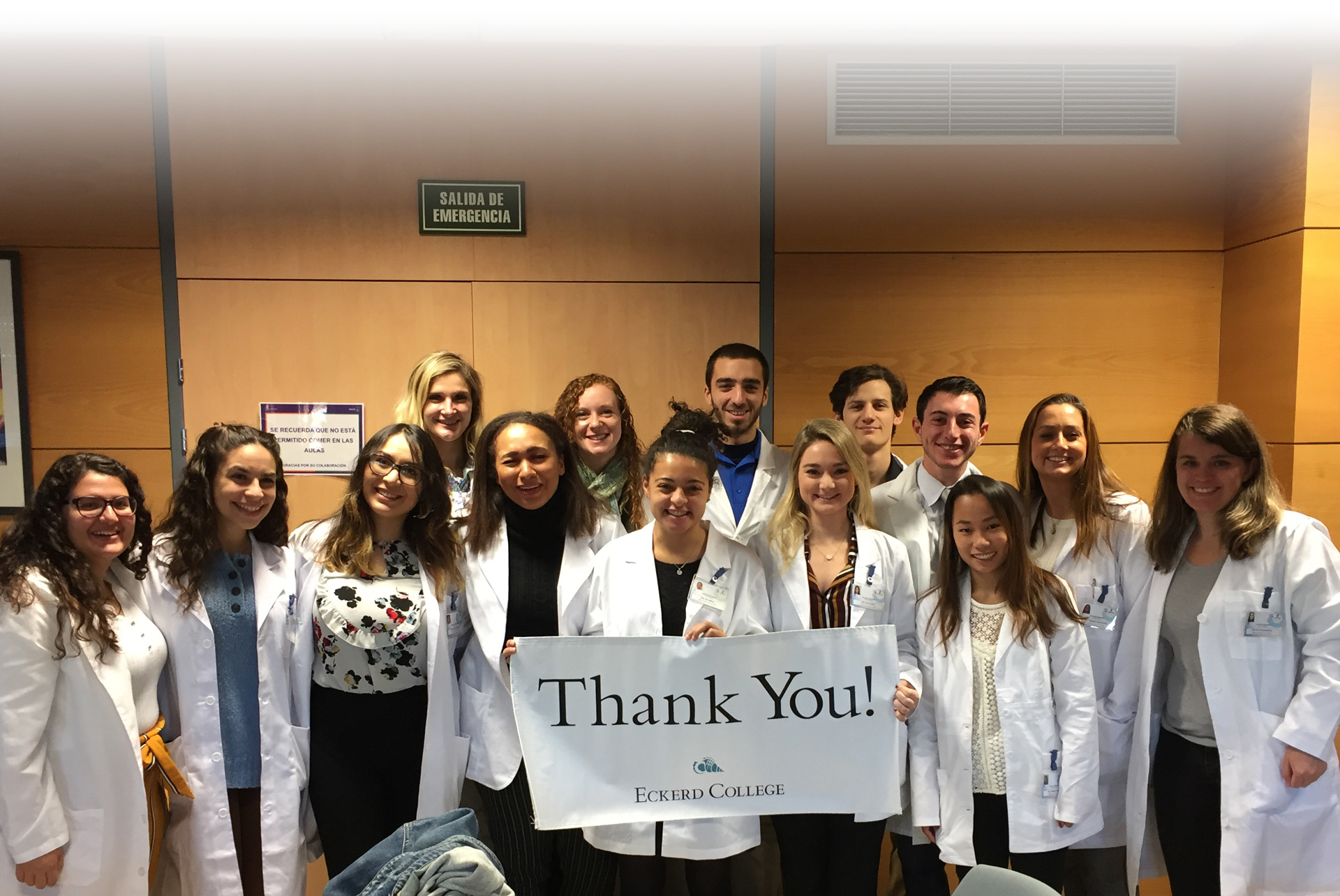 Where our pre-health graduates go after Eckerd
Graduates from Eckerd College have been accepted to Medical, Dental, Veterinary, Optometry, Pharmacy, and Physician Assistant programs at the following institutions:
Auburn University
Cooper College of Medicine
Creighton University
Drexel University
Florida Atlantic University
Florida International University
Georgetown University
Harvard University
Indiana University
Mayo Clinic School of Medicine
Pennsylvania State University
Rocky Vista University
Ross University School of Medicine
St. George's University
University of Arizona
University of Buffalo
University of Central Florida
University of Cincinnati
University of Colorado
University of Florida
University of Illinois
University of Missouri
University of North Carolina
University of South Carolina
University of South Florida
University of Wisconsin
Western University of Health Sciences
Sign up for more about Eckerd and our pre-health program