Study at Eckerd College as an exchange student
Eckerd offers more than 40 majors across a variety of fields such as the natural and social sciences, the arts, and international business. Eckerd is a liberal arts college and students take courses outside their major to ensure an education with depth and breadth. Consider taking a course in a field that interests you outside your major while you are Eckerd. We encourage you to take the opportunity to explore the many educational opportunities offered at Eckerd.
Student Life
Eckerd College has a broad range of extracurricular opportunities. Explore student life at Eckerd.
Costs
Check with your home institution regarding tuition, room and board and what is included in your exchange program.
Housing
Most exchange students live in standard double rooms. Single rooms may be available for an additional cost.
Meals
We recommend the Tier A-250 plan which includes 25 meals per week and $125 of flex dollars to be used during the semester.
Insurance
All students are required to have health insurance. You may sign up for the United Health Care insurance or you can waive the insurance if you provide proof of equivalent coverage.
Room deposit
$50 refundable at end of the semester if no damage is incurred.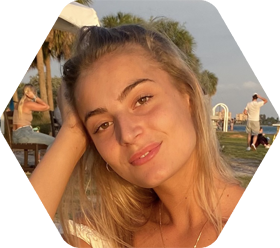 "Eckerd was a unique place to study for its stunning campus, open-minded people and … small-sized classes that really encourage exchange between students. Everything was utterly different from what I was used to but, without a doubt, the best few months of my life." —Jeanne, Exchange student spring 2021
Application Process
Note: These application directions are only for exchange students who are applying from partner institutions. If you are an ISEP applicant, you will apply directly through the ISEP portal.
Step 1: Due by March 15 for Fall admission; October 15 for Spring admission
Request your home institution to nominate you via our Nomination Form.
Complete the general application by filling out the Exchange Application.
The application will require to include the following:

General information (name, year, major, etc.);
English language evaluation results (for non-native English speakers only): TOEFL iBT score of at least 79, computer based 123 or written 550; or IELTS score with an overall band result of 6.5 or higher; or Duolingo English Test score of at least 110;
Official academic transcript;
A copy of your passport;
A personal statement indicating the reason why you would like to study abroad at Eckerd College.
Step 2: After you are admitted to Eckerd College, you will need to submit additional forms:
Complete an Eckerd Housing Request form.
Provide Health and Immunization information.
Submit additional documentation needed for your student visa.
Contact us at globaled@eckerd.edu if need any assistance.