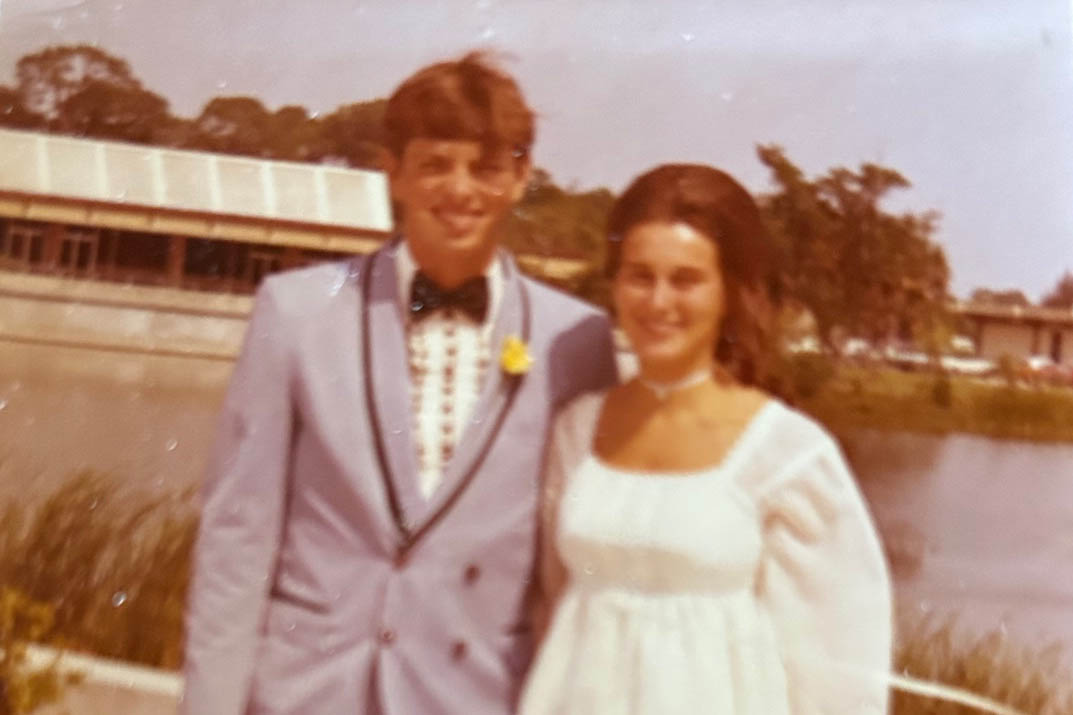 Janet Gibbons and David Moore were married May 23, 1971, in Griffin (now Wireman) Chapel on the Eckerd College campus. Photos courtesy Janet Moore '71
When the mood strikes her, Janet Moore will dig out the red Eckerd College T-shirt with black lettering and pull it on. She's proud of her alma mater. But she also likes to see how people react to it.
This past summer, she got the reaction of a lifetime.
She and her husband, David, met at Florida Presbyterian (now Eckerd) College as first-year students in 1967. "On our first date," she says, "we sat on the ground in the quad to watch an outdoor movie."
The couple graduated in May 1971, got married on campus during graduation weekend, and currently live outside of Scottsdale, Arizona. They have two daughters—Megan, an obstetrician/gynecologist soon to join her husband at Mayo Hospital in Arizona, and Malia, who subtitles TV programs and films and lives with her husband, Enrique, and their two sons, Adrian and Diego, in Seville, Spain.
Because of the pandemic, the Moores hadn't seen Malia and her Spanish family in three years. So at a reunion in Tennessee in July 2022, about 30 family members gathered together. "I was taking the grandkids to Rock City, a park and tourist attraction in Georgia, and I decided to wear my shirt to promote Eckerd," Janet explains. "I walked out of our bedroom and Enrique said, 'Eckerd? We're working with Eckerd.'"
Enrique is the residence director for the International Studies Abroad Study Center in Seville, Spain. This year, for the first time, Eckerd students were part of the program. Led by Yanira Angulo-Cano, Ph.D., professor of Spanish at Eckerd, 11 students spent a full Fall Semester at the Study Center.
They took classes at one of two local universities in Seville. Angulo-Cano taught two courses—a mandatory Spanish Seminar, which involved going into the city to learn more about the history and culture of Seville, and a course her students designed pertaining to their discipline. Students also collaborated on a blog to document their experiences. Those who chose to study at the Seville Center lived with one other Eckerd student in a host home.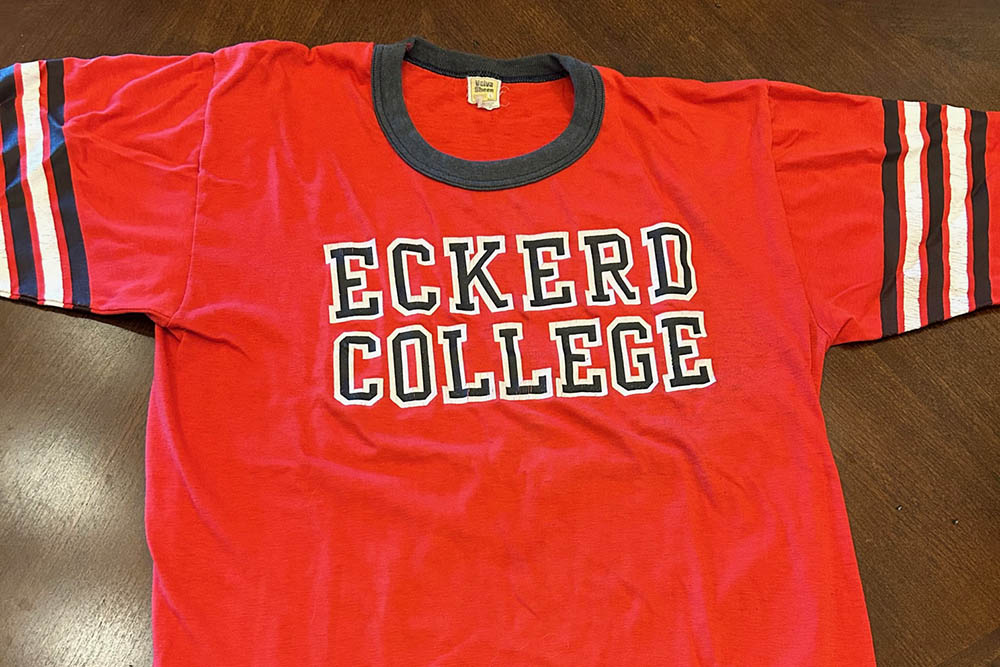 Janet Moore '71 was wearing this T-shirt when her son-in-law realized the Seville connection.
"Enrique learned about Eckerd when we began working with ISA to launch our study center," Angulo-Cano explains in a text message. "All this time, we had no idea that we would be working with an Eckerd alumna's [family member] to create opportunities for Eckerd students to study abroad."
Janet and David's son-in-law is extremely devoted to his students and providing opportunities for them to learn about Spain, Janet says. "He is the best tour guide I have ever known!"
Last month, Malia and Enrique hosted a Thanksgiving dinner for all the American students studying in Seville through ISA. "The Thanksgiving dinner for the students is something that Malia encouraged Enrique to do for the students who might be feeling a bit homesick and missing a big holiday," Janet explains. "It started with her boys making paper turkey feathers and pilgrim hats for everyone and using all our traditional family recipes—except the turkey. You could not buy a big, whole turkey in Spain, but the restaurant could prepare chicken or goose. So they did their best to Americanize.
"I strongly believe that visiting other countries, cultures and even different areas of one's own country is very important in developing one's character and understanding of differences," Janet adds.
"We were very fortunate to be able to take our children to interesting places in Mexico, Hawaii, Guatemala and Chile. The girls and I lived with a family in Guatemala while studying Spanish there."
Janet's path to Eckerd also is an example of stepping outside the box. "My first time on an airplane was to fly to Tampa to start college at FPC," she recalls. "I lived in Windsor, Connecticut, but I had lived in Dunedin, Florida, for five years, so I found out about Eckerd. I was trying to decide between a college in Maine or Eckerd. Really, go to Maine or to Florida? It was an easy decision."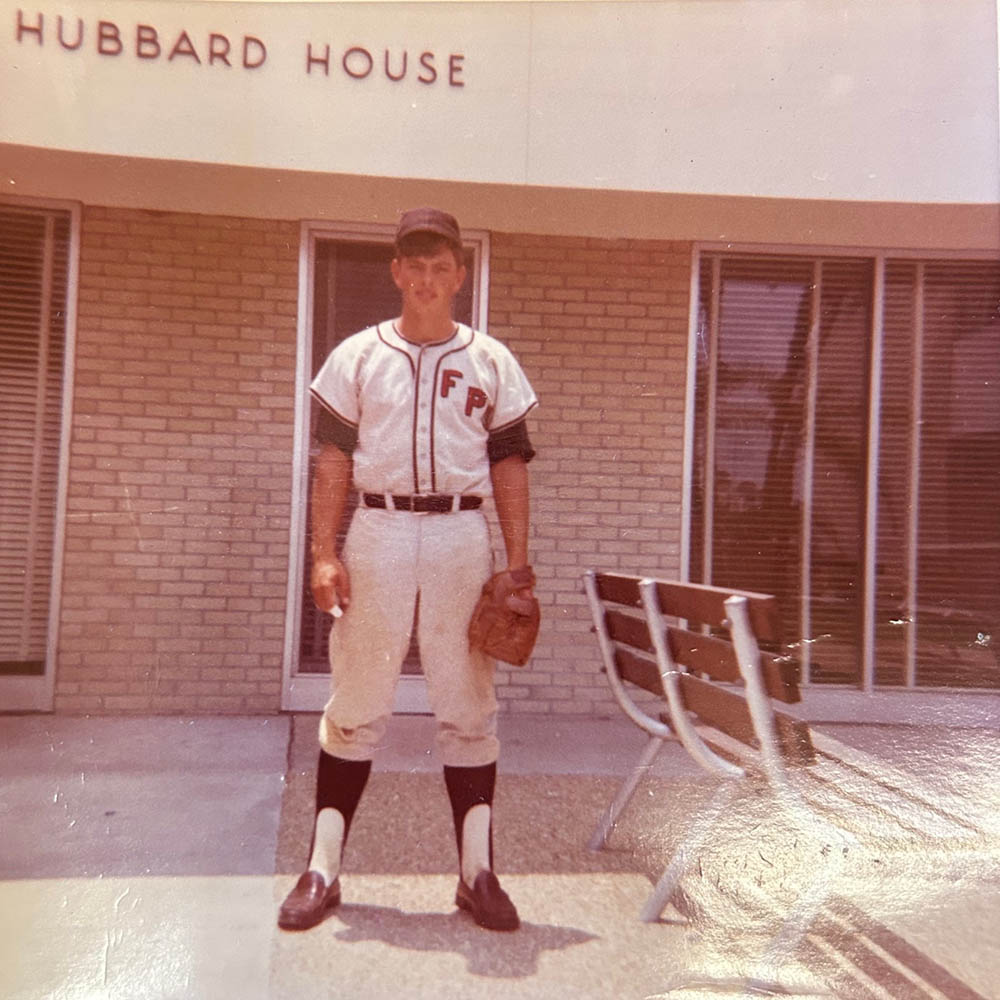 David Moore '71 played as an outfielder for the Florida Presbyterian (now Eckerd) College baseball team. Photo taken in the spring of 1968.
She majored in German and worked evenings as a hostess at the Oyster Bar up the road from FPC. David majored in political science and played collegiate baseball all four years. Both Janet and David were Resident Advisors their senior year.
The first year after graduation, they lived not far from campus. And then they left. "We've never been west," David said, according to Janet. "Let's go to Arizona!"
"We packed our cat and a few belongings into our two-seater Porsche 914," she says, "and drove to Arizona with fellow Eckerd graduate John Lonsinger."
Janet taught and substituted in the public school system for 36 years—mostly in special education but also reading, math, English as a second language, and German. David was division president at 7-Eleven and, later, the chief operating officer for Circle K's 4,000 stores. He also was a board member and top fundraiser for Muscular Dystrophy and United Cerebral Palsy. The couple currently owns JJ Madisons, a casual-dining restaurant in Mesa, Arizona.
And that red Eckerd shirt with black lettering? "It's in the second drawer of my dresser," Janet says. "I wear it frequently."